---
---
---
News from Solar Energy International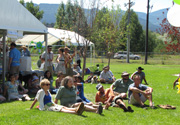 Thank you for an incredible 20th Anniversary Celebration!
SEI wants to thank everybody who celebrated our 20th anniversary with us, and those of you who couldn't make it, but whose hearts were with us! We had delicious food, great music, solar cooking demos, and many solar friends. If you weren't there to hear SEI's Executive Director Johnny Weiss' inspring words, check them out by clicking here. And view photos from the party on SEI's Facebook page.

We couldn't have done the last 20 years without all of you, our alumni and friends! And we're looking forward to the next 20!

---
Upcoming PV Workshops Around the Country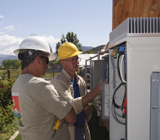 SEI has workshops coming up all over the country, from Arkansas to Washington State to places in between. If you want to learn about solar electricity, now is the time to register for these popular workhops!
And don't forget about getting some hands-on experience in our PV Lab Week workshops at our world class PV training facility in Paonia, CO:
SEI's PV Workshops fill up fast, so register early!

---
SEI to Offer AIA Credits!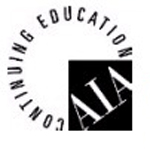 SEI is pleased to announce the acceptance into the award-winning American Institute of Architects (AIA) CES Provider Program as one of the newest Approved Providers! Many SEI courses will be submitted for approval in the future, but the initial approval of PV101: Solar Electric Design and Installation Online and In-person will be available to thousands of architects worldwide on the fundamentals of solar electricity for sustainable design.

The PV101 course specifically meets the CE requirements for Sustainable Design found under AIA's education requirements. These training opportunities will help serve the CE needs for the 83,000+ licensed architects and associated professionals of the AIA world-wide. The AIA-member continuing education requirement includes 4 hours of education in sustainable design as part of the existing 18-hour annual requirement. For more information about this requirement, visit the AIA website.

If you are an AIA member seeking CE credit through Solar Energy Intentional, contact Monique Turek at monique@solarenergy.org or refer to our upcoming Online and in-person PV101 - Solar Electric Design and Installation training opportunities.
---
Advocate for Solar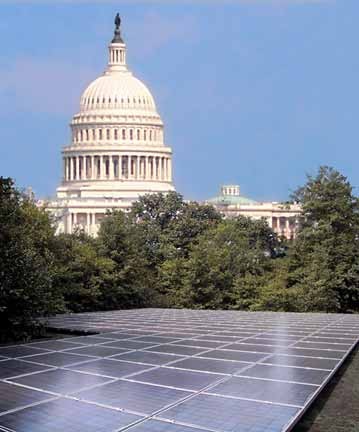 The Solar Energy Industries Association (SEIA) is the national trade association of the U.S. solar energy industry. Through advocacy and education, SEIA is working to build a strong solar industry to power America. SEIA also helps their members participate in the political process through the SEIA Political Action Committee (PAC).

SEIA PAC is one of the key resources to help elect candidates for political office who promote a legislative and regulatory climate favorable to the solar energy industry. "Through SEIA PAC," says Rhone Resch, president of SEIA, "we play a constructive role in the political process as it happens, helping to elect candidates rather than scrambling to respond after legislation has been proposed or passed".

If you would like to learn more about SEIA PAC and contribute to their initiatives, complete and sign the SEIA PAC prior authorization form. If you would like more information regarding SEIA PAC or have any questions please contact Victoria Adams, Director, Political Affairs at 202.556.2909 or via e-mail at vadams@seia.org.
---
Mile High Solar at Denver Airport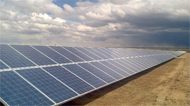 With the completion of a 4.4-megawatt ground-mounted PV system, the Denver International Airport (DIA) now has more than eight MW of solar power – more than any commercial airport in the U.S. It now receives over 6 percent of its electricity via solar power.

DIA hopes to continue its green initiatives and cost savings with the project. Constellation Energy built, owns and maintains the solar PV system for this project. And DIA signed a 20-year power purchase agreement with the utility to buy the electricity produced. The airport expects to receive approximately 7,000 megawatt-hours annually from 19,000 Yingli solar photovoltaic panels.

Read the entire article at RenewableEnergyWorld.com.



---
Natural Building and PV Internship Opportunity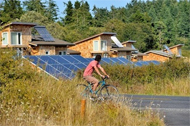 If you're an SEI alum looking for some fun hands-on experience, join the Lopez Community Land Trust (LCLT) NGO for a three week internship between August 15 and September 3. LCLT is going to be building a shed with an earthen plaster and lime finish, installing a seed library, building a ferro-cement retaining wall with lime finish, and installing a 3 kilowatt photovoltaic system, on beautiful Lopez Island, Washington.

LCLT will provide housing in someone's home, lunch for each work day, 4 eight hour work days each week, and a $75/wk stipend. This is physically demanding work, so interns needs to be fit. More information can be found at the LCLT website. If you're interested fill out the application form and send it to Sandy Bishop at lclt@rockisland.com.
---
Featured Alum - Timothy Schettino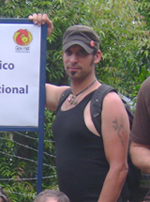 After taking workshops at SEI Tim "Pop-top" Schettino went over to Oman with the US Fulbright Program to work on traditional irrigation systems. Tim works in the Bedouin area of Oman where he says the nature is phenomenal. He has helped to launch an Aflaj Research Unit at the University of Nizwa, which is only the second such entity in the world. Tim recently wrote to SEI and said "Every day the things I learned at SEI have proved an asset and I am so thankful I had that experience before going to Oman!"
---
Upcoming Events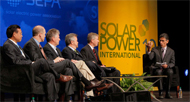 Solar Power International
Oct. 17 - 20, Dallas, TX
Four days of product exploration, discussion, professional enrichment and networking. Visit SEI at booth #1050.