---
News from Solar Energy International
Still Spaces Left in Upcoming Online Workshops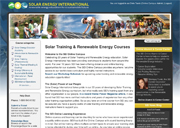 There are still a few spaces left in some online workshops that are coming up this month. If you're looking for solar training, but want to avoid travel, now's the time to register for these informative online courses, which run October 24 - December 4:
And if you're excited to travel, we have upcoming hands-on workshops in some beautiful warm-weather places like Austin, Tucson, Costa Rica and Cuba! Visit our website to see a list of classes or call our Registration Team at 970-963-8855 for more details.
---
Continuing Education Courses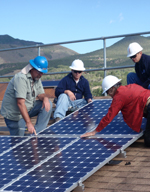 We've been getting many emails and phone calls from NABCEP Installers that need continuing education credits for their recertification. SEI offers a full range of on-demand online continuing education courses. These inexpensive, yet highly informative classes start at $49 for 3 credit hours.

The best part is that you don't have to wait to enroll. These courses
are available for you to enroll in and start right away:
---
Colorado Mountain College Going Green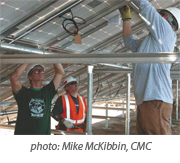 Colorado Mountain College (CMC) is currently installing a 100 kW PV system on their campus in Rifle, Colorado. Installed by Sunsense Solar, including SEI alumni and staff, this system came about through a solar power purchase agreement between the college and Hybrid Energy Group, LLC, a Denver-based solar energy development and finance company. The state-of-the-art arrangement raises clean energy standards through an ownership structure that leverages private dollars while reducing the college's energy costs.

CMC plans on installing two more 100 kW solar farms at their Leadville and Breckenridge campuses, helping them reach their goal of producing at least 15% of their electricity consumption from renewable sources.
---
Energy Independence for Native Americans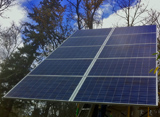 SEI staff recently traveled to northern Minnesota as part of our Native American Outreach Program to work with local electricians to help guide the installation of a 2.2kw grid-tie with battery backup PV system on the home of Winona Laduke. SEI also led a 2-day PV training for local native community members around this installation.

LaDuke is a member of the Mississippi Band Anishinaabeg who lives and works on the White Earth Reservation. She is the Founding Director of the White Earth Land Recovery Project, a non-profit devoted to restoring the land-base and culture of the White Earth Anishinaabeg, and Honor the Earth, a Native-led organization established to address the two primary needs of the Native environmental movement: the need to break the geographic and political isolation of Native communities and the need to increase financial resources for organizing and change.

The SEI led installation and training represents another milestone in Laduke's effort to mobilize her community towards energy and food independence. It also represents the continued success of SEI's Native American Outreach Program which has provided training and installation support for communities across America.

SEI is grateful for the tremendous support we received from the Putnam Foundation, Direct Power & Water, REC Solar, AEE Solar, SMA America, Trojan Battery, Davidson Electric, and all those involved on the ground at White Earth, who helped make this project a success.
---
Plans Submitted for 1,000-MW Offshore Wind Farm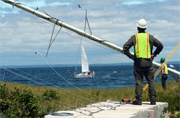 Deepwater Wind has officially submitted plans to develop a 1,000-megawatt wind farm off the coast of Rhode Island and Massachusetts.

Deepwater Wind says its massive project, dubbed the Deepwater Wind Energy Center (DWEC), represents the "second generation" of offshore wind farms in the United States. No wind farms have yet been built off American waters. However, those that have been proposed and approved — such as Cape Wind in Nantucket Sound — are much smaller.

The project was among those hailed by Interior Secretary Ken Salazar during a visit to Rhode Island in August. Salazar and other Obama administration officials have worked to draw developers into the nation's nascent offshore wind industry.

Read the entire article at RenewableEnergyWorld.com.
---
Visit us at Solar Power International!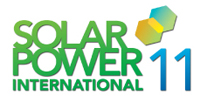 For those of you at SPI in Dallas right now, stop by SEI's booth #1050 and say hi. We are representing big time this year with over 21 staff and instructors attending. Alumni, show your SEI team spirit with our complimentary SEI buttons available at our booth, and take a sneak peak at our new PV textbook soon to be published.
---
Featured Alum - Justin Pickford

Justin Pickford spent the entire month of June at SEI taking our PV101, PV201L, PV203, PV301L and the NABCEP Entry Level Exam. Justin's enthusiasm, sense of humor and amazing positive attitude made him quite memorable to the staff and instructors. Within 10 days of looking for a job, he had an interview and landed his first job as a PV Installer for REC Solar in Colorado. Congratulations Justin!