---
News from Solar Energy International
New Workshop Schedule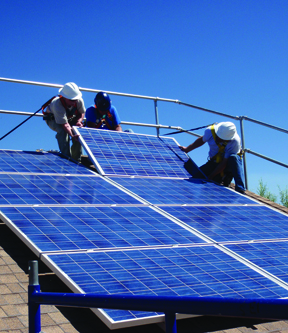 SEI has recently posted our new workshop schedule on our website. Along with workshops in over a dozen locations throughout the US and Latin America, from New Jersey to California, to places in between, we have 30 upcoming online courses, and a new PV course offering.

SEI's new PV351: Photovoltaic Systems - Tools and Techniques for Operation and Maintenance Lab Week (Grid-Direct) is an intensive, advanced training designed for solar professionals already working in the PV industry who want to take their skills to the next level. Students in this class will learn the theory behind and gain hands-on experience with a wide range of state-of-the-art analytical tools.

Our online and in-person workshops tend to fill up quickly, so register soon!
---
SEI Announces Expansion of Professional Certificate Program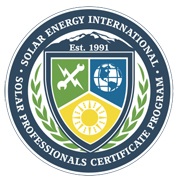 After a successful year of offering a pilot professional certificate program in Colorado (see story below), we are pleased to announce the expansion of this program nation-wide to serve the entire solar industry.


SEI's Solar Professionals Certificate Program
goes beyond a "certification test prep" format of training and takes participants to a higher level of educational experience through a rigorous training program to truly prepare them for the solar industry and a career.

SEI Professional Certificate Options:
Residential and Commercial Photovoltaic Systems Certificate

Battery-Based Photovoltaic Systems Certificate

Solar Business and Technical Sales Certificate

International and Developing World Applications Certificate

Renewable Energy Applications Certificate

Solar Professionals Trainer of Trainers Certificate
There is a growing number of available workers in this industry who have been trained by organizations with varying degrees of training duration, quality of instruction, and industry recognition. The SEI Solar Professionals Certificate Program proves to employers that you have received the most comprehensive and rigorous training in the industry. The Program includes a selective admissions program to help ensure the success of our students and provide a quality workforce for the solar industry.

To determine a candidate's eligibility, we require a certificate program application to be completed by every candidate.

---
SEI 2011 Highlights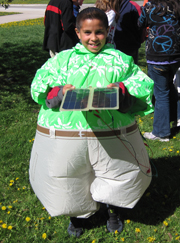 The Solar In the Schools inflatable solar fatsuit grows on a 5th-grader.
SEI had many great accomplishments in our Outreach programs in 2011. Our Solar in the Schools (SIS) program reached more than 4000 students with vital hands-on messages about renewable energy. And well over 1000 students used equipment borrowed by their teachers from the Solar In the Schools lending library.

Other 2011 highlights include a free women's PV training SEI offered in conjunction with Grid Alternatives, installing a PV system and training Native technicians on the White Earth Reservation with Winona LaDuke's White Earth Land Recovery Project, and training Solar Electric Light Fund technicians in Haiti (full article coming in the January enewsletter).
---
Colorado Renewable Energy Professionals Academy Graduates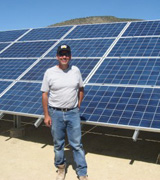 CREPA grad Steve Morris at his internship with Dynamic Integrators
SEI is proud to announce our first certificate program cohort to complete SEI's Renewable Energy Professional's Academy. This pilot program has been a partnership between Solar Energy International, Colorado Solar Energy Industries Association, and the Colorado Department of Labor.

All program participants completed 3-5 SEI courses and NABCEP Entry Level Testing. Upon completion these graduates have been given the opportunity to take on an internship with COSEIA member employers and have gained real world experience with some of Colorado's leading solar integration companies.

Congratulations to the following 17 SEI Graduates for 2011:
Darren Rahn

Whitney Overstreet

James McMahan

D.Loren Ross

Jason Creamer

Jay Goodwin

Whitney Owen

Ronald J Davis

Michael Voglein

Steve Morris

Charles Dudock

Mike Sorensen

Jason Heard

Chris Pfenning

Dana King

Michael Worchel

Jeffery Kean
---
Walt Ratterman Scholarship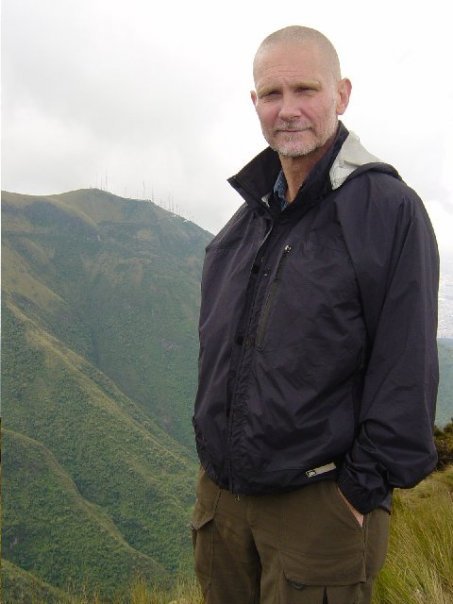 SEI is honoring our past instructor and friend Walt Ratterman, and his dedication to bringing solar energy to the developing world, with a scholarship program. The Walt Ratterman Scholarship is for people from developing countries who want to bring renewable energy technologies to their communities. The scholarship covers tuition in our online or in-person workshops.

In 2011 we awarded the scholarship to Andrew Nathan of Cairo, Egypt, and Abdoulaye Diop of Mission Goorgulu in Senegal
.

If you are from the developing world, or know of someone who could benefit from this scholarship opportunity, please contact SEI at sei@solarenergy.org.
---
Bringing Power to Indigenous Communities in the Phillipines and Peru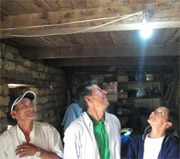 SEI's friends at Green Empowerment recently completed the initial stages of 2 separate micro-hydro projects, one in the hamlet of Vista Alegre, just outside of Cajamarca, Peru and another in a remote, mountainous region of the Philippines. In addition to creating sustainable micro-enterprises powered by micro-hydro, other benefits include community solidarity, local watershed protection, improved health, and reliable access to indoor lighting, radio programming, and cell phone communications.

To date, both projects have completed the majority of planning, organizing, and the initial stages of installation. However the greatest need for these projects is funding in order to reach the goals of completion by 2012. For more information and to make a contribution, please click on the link below or contact Anna Garwood at: (503) 284-5774 or anna@greenempowerment.org.
---
Featured Alum - Morgan Williams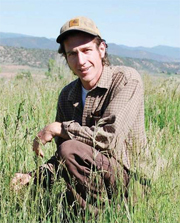 Morgan is the founder and Executive Director of Flux Farm, and President of Biochar Solutions, which has been selected as a Virgin Pioneer as part of the Virgin Earth Challenge. Biochar Solutions produces and sells engineered biochar and customized biochar products. Biochar, which Al Gore has called "One of the most exciting new strategies for restoring carbon to depleted soils, and sequestering significant amounts of CO2 for 1,000 years and more" is a carbon negative, charcoal based, soil amendment that can help reclaim and improve marginal soils by increasing soil water holding capacity and enhancing fertility.