Table of Contents
Support SEI's Outreach Programs
Upcoming Workshops
SEI Welcomes Jeff Scott
Installing Solar Around the World
Join Our Team
Cow Power
Tribute to 2 Solar Pioneers
Featured Alum - Scott Martin
---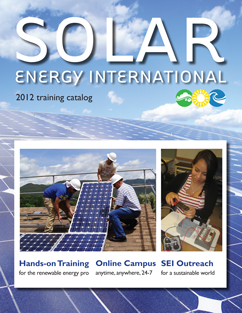 Download SEI's latest catalog of courses!
---

Featured Workshop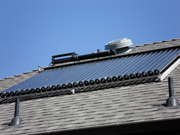 Solar Hot Water Design & Installation
May 14 - 18 -- Carbondale, CO

---
Upcoming Hands-on Workshops

PV101: Solar Electric Design & Installation (Grid-direct)
Apr. 23 - 27 -- Grass Valley, CA
May 7 - 11 -- Boulder, CO
June 4 - 8 -- Paonia, CO

PV202: Advanced PV System Design & the NEC
May 7 - 11 -- Boston, MA
Aug 6 - 10 -- Carbondale, CO

ST101: Solar Hot Water Design & Installation
May 14 - 18 -- Carbondale, CO

PV201L: Solar Electric Lab Week (Grid-direct)
Apr. 30 - May 4 -- Paonia, CO

PV301L: Solar Electric Lab Week (Battery-based)
May 7 - 11 -- Paonia, CO
---

Upcoming International Workshops

Sustainable Community Development: Renewable Energy for Rural Villages
November 3 - 11 -- Nicaragua

---
Upcoming Online Workshops
PVOL101: Solar Electric Design & Installation
(Grid-direct)
April 23 - June 3

PVOL203: Battery Based Design
April 23 - June 3

PVOL202: Advanced PV System Design & the NEC (Grid-direct)
May 21 - July 1

---
---
Solar Energy International has a strong community presence on social networks. Please consider joining these SEI groups:
---
Your Generosity
Ensures our Success!
SEI depends on our donors to continue our educational programs.

Please join us! In 2012, we have ambitious and exciting plans to expand our Outreach Programs and reach more people than ever before. As always, we need your help to make this happen.

Click here for details on how to donate to SEI.


Forward this newsletter
to a friend



---
News from Solar Energy International
Celebrate Earth Week by Supporting SEI's Outreach Programs
S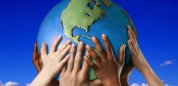 olar Energy International's goal is to reach 12,000 people in 2012 with renewable energy (RE) education. We will do this through our in person and online trainings, Solar In the Schools, International Program, Native American program, and free Introduction to Renewable Energy online course. Workshop tuition is kept low to make RE education accessible to everyone. That does mean that as a non-profit organization, SEI needs your support to reach 12,000 people again this year!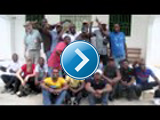 We have made donating to SEI easy: you can make your tax deductible donation online, print your receipt for taxes immediately and feel good about supporting an organization that makes an impact in so many ways (read more about our International Program in the "Installing Solar Around the World" article below).

Click here for more info on these important programs
---
Upcoming Workshops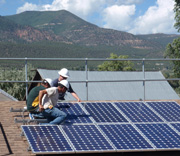 Time is running out to register for the online courses PV101 and PV203 which begin April 23. These courses teach the fundamental concepts of designing and installing safe, code-compliant systems (PV101), and how to design battery-based systems (PV203). They are also a great chance to get your NABCEP educational hours necessary to sit for the NABCEP exam.
Online learning not your thing? We also have in-person workshops coming up in California, Massachussettes, and Colorado.
---
SEI Welcomes Jeff Scott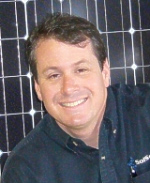 Jeff Scott recently joined SEI as Business Development Director, focusing on SEI's contract trainings, curriculum leasing, and new textbook series sales. Jeff began installing solar in 1996, while living in Japan. Jeff returned to the states in 2000, and began a career in green building. In 2004, Jeff started an engineering and design company focusing on renewable energy technologies. His company installed numerous grid-tied residential and large commercial systems. We're very excited to have Jeff part of the SEI team!

Read more about Jeff Scott.
---
Installing Solar Around the World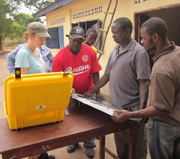 SEI Development Associate, Holly Loff, recently sat down with Carol Weis, SEI's PV Program Coordinator and PV Instructor, to discuss her travels to install solar in Haiti.

In this three-part blog series, Carol speaks to her international efforts which epitomize SEI's mission. Carol has traveled to Haiti multiple times to deliver trainings to local PV trainers, and to Sierra Leone to train healthcare workers on the use of solar suitcases with WE CARE Solar.

Click here to read part one of the three-blog series.
---
Join Our Incredible Team!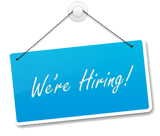 Are you currently working in the PV industry (and have been for 2+ years) and are looking for an exciting career change? SEI is hiring a full-time PV Curriculum Manager to work with our PV Team in developing cutting-edge curriculum. This position will be based out of our Paonia, Colorado, office.

Interested in learning more? Contact Kathy Swartz, Renewable Energy Training Director, for a full job description. Resume and cover letters are due May 4, 2012.
---
"Cow Power" Catching On in US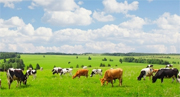 For years, third world ranchers have been using methane from manure to run electrical generators down on the farm. This clean-burning biogas is not only a good local fuel in countries with little or no infrastructure, now even countries like the U.S. are reaping energy from this foul-smelling source.

Some 80 percent of the estimated 160 biogas energy projects in the U.S. are currently installed on dairy farms, which then combust the gas to generate electricity. The combined installed capacity of all dairy farm projects is nearly 60 MW.

Read the entire article on RenewableEnergyWorld.com

And to learn more about biogas for developing countries, attend SEI's Renewable Energy for the Developing World workshop June 25 - 29 in Carbondale, CO.
---
Tribute to Two Solar Pioneers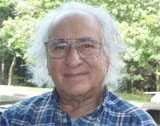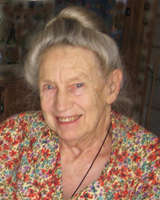 Richard Gottlieb of Sunnyside Solar (founded in 1979 in VT) died Feb 15 at the age of 76. For over twenty years, Richard regularly taught hands-on workshops as a part of SEI's Northeast solar training efforts. He was a mentor and friend to SEI Co-Founder Johnny Weiss throughout the years. A strong family and community oriented person, Richard dedicated his professional work to expanding the solar industry through technical training, equipment sales, and public education. The solar community will miss his dedication to renewable energy, his liberal spirit, and the joy we got from seeing the twinkle in his eyes.

SEI is also saddened by the loss of solar cooking pioneer Barbara Kerr who passed away on April 2. Barbara was one of the primary founders of the current solar cooking movement. In the early 1970s she and her friend Sherry Cole designed a cardboard solar box cooker and later helped develop a panel-type solar cooker known as the CooKit. Barbara was a founding board member of Solar Cookers International and co-founded the Kerr-Cole Sustainable Living Center in Taylor, Arizona. Barbara was also on SEI's advisory board and her passion for solar energy and solar cooking in particular will be sorely missed.
---
Featured Alum - Scott Martin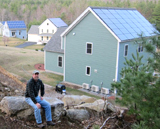 Scott Martin recently wrote SEI to let us know he just received his dream job as PV Project Manager for a company in Townsend, MA called Transformations, Inc. Transformations, Inc. is a residential development and building company whose specialties are developing sustainable Zero-Energy Communities, building Zero-Energy Custom Homes, and installing Solar Electric Systems for existing homes.

As PV Project manager Scott's responsibilities include site assessment, shading analysis, system design, overseeing installations, system commissioning, system monitoring and being a single point of contact for the customer throughout the entire process. Scott wrote, "There's a lot to learn, and the work is fast paced. I'm going to be extremely busy for quite a while until I learn the ropes, but the courses I took from Solar Energy International were excellent and I know I'm up for the challenge. I'd like to say thank you to all of the staff at SEI for a great experience. . . you guys are awesome!!!"