News from Solar Energy International
Fall / Winter 2012 and Spring 2013 Training Schedule is Announced - Register Today!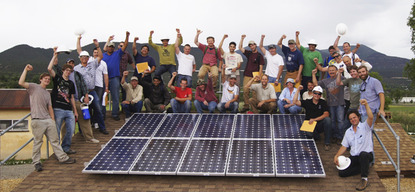 2012 has been an amazing year and we are excited to be looking forward to 2013. This year we served more students than ever before in our 20+ years of offering renewable energy education. Our online campus alone had more than 8000 registered students. The PV lab facility in Paonia, Colorado has been a buzz all summer long with exciting new lab training opportunities like PV351L: Tools and Techniques for Operation and Maintenance Lab Week (Grid-Direct). Help us make 2013 an even bigger year towards a more sustainable future!

---
SEI Wins Grant Award to Take Professional Certificate Program to Central America

Solar Energy International has been awarded $190,000 by the Energy and Climate Partnership of the Americas through the US Department of State to take their professional solar training to Central America. This targeted program called the Solar Professionals Academy of the Americas (SPAA) is a spin-off of SEI's successful Solar Professionals Certificate Program that prepares technical professionals through rigorous solar training requirements and networking opportunities.

Read more about SEI's SPAA grant award...
---
SEI Wins Award for Certificate Program

The Interstate Renewable Energy Council (IREC), awarded four Innovation Awards and six Special Recognition Awards at its 2012 Annual Meeting. All recipients were selected through a competitive process.
"Each year, IREC recognizes individuals and organizations for projects, programs and policies that are helping advance the understanding and use of renewable energy technologies in our cities, states and local communities," said Ken Jurman, immediate past chair of IREC. "The 2012 Annual Innovation Awards acknowledge and shine a light on innovative initiatives that have made an impact in the categories of State and Local Government, K-12 Educational Programs, Community Renewables, and Clean Energy Workforce Development."
Read more about SEI's Award...
---
The Solar Woody Teardrop Camper Project

SEI's Director of Online and Student Services, Chris Turek, blogs about his summer project...

"Ever since I started working for Solar Energy International I was excited by the idea of having my own battery-based PV system attached to an RV or camper that I could take my family out into the Colorado wilderness and have a few days to a week of power. My wife really isn't the "roughing it" type and preferred running water, lights, and a TV if she was going to venture out into the "wild". She also had some major concerns about the bears in the area and was totally against tent camping and required something with hard sides.

I knew I could figure out the structural building part myself, but I needed some real training to build the battery-based PV system. SEI's new PVOL203 Prep: Battery-Based PV System Fundamentals online course was the perfect fit for me to take and learn the basics I was going to need for the small battery-based PV system I was planning on integrating into the camper."

Read Chris Turek's entire blog...
---
SEI's Student Services Team is the BEST!

SEI has the best technical solar training in the world, but there is a lot more that goes into serving thousands of students every year. Everything from advising, taking registrations, to making students feel comfortable when they come to our in-person trainings. SEI's Student Services Team is world class!

Chris Smith, SEI Student Services Team member, blogs about her summer experience helping students during their visit to Paonia, Colorado...

"A big event during each week of class is the potluck for students, instructors, and staff. Despite the fact that many students stay in motels, everyone figures out how to bring something delicious to share."

Read Chris Smith's entire blog...
---
Johnny Weiss Becomes First IREC
ISPQ Master Trainer Emeritus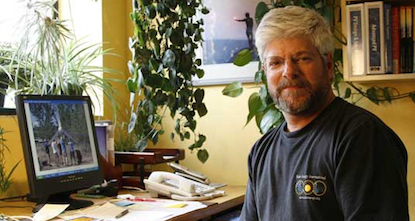 The Interstate Renewable Energy Council is pleased to announce that Johnny Weiss of Solar Energy International is the first IREC / ISPQ credential holder to become a Master Trainer Emeritus. The IREC ISPQ Award Committee voted unanimously to confer this status during a special meeting on September 6, 2012.
"Johnny has held IREC ISPQ Master Trainer Certification since 2006," states Pat Fox, Director of Operations for the IREC Credentialing Program. "IREC is pleased to recognize his continuing significant contributions to the renewable energy industry by conferring Emeritus status."
Read more on IREC's web site...
---
SEI's Solar in the Schools Program is Rollin'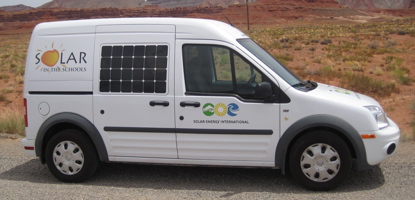 Solar In the Schools is proud to present the new Solar Roller educational vehicle. This 2010 Ford Transit Connect is loaded with K-12 solar educational gear including the electricity-generating Energy Cycle, solar fountains, classroom solar cell kits, portable standalone systems, a solar-powered singing fish, and much more. In its first summer it has already been a hit at several outdoor festivals, helped teach summer school in Carbondale and traveled to Arizona to train elementary school teachers.

This efficient, dedicated Solar In the Schools vehicle was paid for with generous contributions from the Aspen Skico Environment Foundation and the Putnam Foundation. The solar modules on the sides are very low efficiency but then again they're very low cost (they're just stickers).

The Solar Roller replaces the program's much-loved Solar School Bus, which has been retired after serving the program since 2006. The bus is headed for pasture, quite literally, where the new owner intends to live in the bus and a nearby Tepee while he earns a degree in Sustainability.


---
Join SEI on a Trip to Nicaragua - Nov. 3rd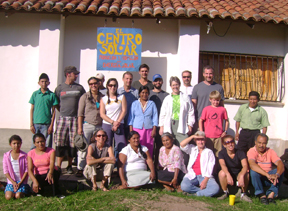 Learn about renewable energy technologies for the developing world in the developing world! This workshop will include classroom sessions, and a lot of hands-on field work including installing a PV system on a rural home, health center or community center, building solar cookers, and building your own solar battery charger.
More information about this training opportunity...
---
SEI Alumni Highlight - Kristin Lester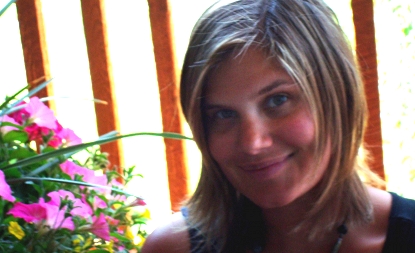 Kristin was one of SEI's stand out certificate program students and graduates this past year. As part of the pilot program in 2011, the Colorado Renewable Energy Professionals Academy which became the SEI Solar Professionals Certificate Program in 2012, Kristen completed a full program of training leading to a start in a new career.

In a recent email Kristin said, "The professional certificate program through SEI has been invaluable in preparing me for a career in renewable energy technology. The courses at SEI provided a strong foundation of knowledge and the passionate and dynamic instructors; tremendous inspiration. As a result of my participation in the training program I am now employed with a technology company in Eagle County, Colorado. This would not have been possible without my participation in the program at SEI. It has been truly life changing. My deepest gratitude to all who helped facilitate my participation and to the amazing team of instructors and administrators at SEI!"

More info about the SEI Solar Professionals Certificate Program...