SEI Launches New Veterans and Active Duty Military Outreach and Scholarship Program

Solar Energy International (SEI) is pleased to announce a truly inspirational scholarship and outreach program for veterans and active duty military personnel. SEI has experienced a dramatic increase in recent years of veterans who wish to attend SEI training and are looking for funding opportunities to take full advantage of all that SEI has to offer.

We need your help as our goal is to train at least 20 Vets this coming year. Donate today to give these heroes a scholarship to complete SEI's Solar Professionals Certificate Program.
Read more about SEI's Vets and Active Duty Military Program...
Help the SEI Vets program by donating today!
---
Fall / Winter 2012 and Spring 2013 Training Schedule - Register Today!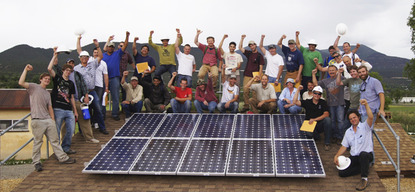 2012 has been an amazing year and we are excited to be looking forward to 2013. This year we served more students than ever before in our 20+ years of offering renewable energy education through in-person classroom lectures, hands-on labs, and online learning. Our online campus alone had more than 8000 registered students!

---
November is Online Learning Month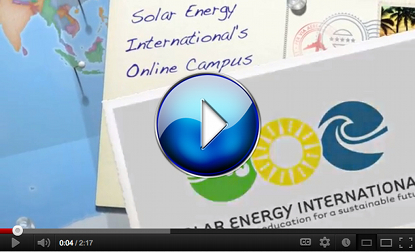 November 2012 is Online Learning Month for Solar Energy International (SEI)! As we enter into the cold winter months here at SEI's Lab Facility in Colorado - the SEI Online Campus starts heating up! Watch the video above.

Online courses start November 5th and run through December 16th. We are offering basic solar electric design, advanced systems, battery-based system design, and business and technical sales. Get a $50 Gift Card to our SEI Bookstore for anyone registering for a paid online course in November!

Read more about SEI's November Online Learning Month...


---
SEI's Solar In the Schools PV RC Racers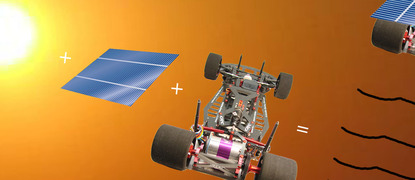 The Solar In the Schools (SIS) K-12 outreach program is hitting the road with cutting-edge solar

RC

cars built and driven by students. Four teams of students will be working under supervision this winter to build high-performance PV-direct radio-control model cars. The project will require students to construct their own array and customize the mechanical and electrical systems of their 1/10 scale cars to maximize solar performance on the track.

Help the SIS program by donating today!
(choose SIS from the program dropdown)
Read Noah Davis's entire Solar PV RC Racer blog...
---
SEI Announces 2012 Solar Professionals Certificate Program Graduates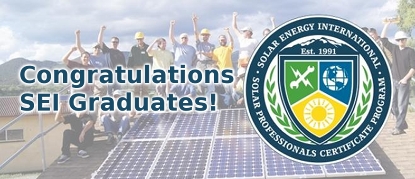 SEI's Solar Professionals Certificate Program (SPCP) has been a huge success since it was launched earlier this year. This program is the most rigorous training in the industry where participants are selected based on their career interest and aptitudes and are required to complete a full training program requiring at least 120 training hours.

Out of the thousands of people SEI trained this year in individual courses and labs, this group of students chose to go above and beyond to complete a career focused training program with SEI.
If you are interested in graduating from SEI, click here for more info >>

Caleb S. Barrett
Jeffrey Neubauer
Thomas P. Williams
Girvan Luther Pigott
Kelly Larson
Noah Davis
Shawn Brown
Karen Conduff
Jason Kechijian
Daryl E. Hosein
Robert Bennett
Gregory Griffin
William Host
Samantha Coras
Kelly Faust
Edward Dengler
Andrew Endris


John Pitts
Laura Conchelos
Gary Lindley
Sharon A. Levine
Thomas Durston
Glenn Drost
Christopher Chisholm
Andrew Nyman
Michael Mazotti
Gregory S. Blake
Tim Abate
Robin Anliker
Michael Rooney
Sean Murphy Jr.
Larry C. Jensen
Jesse Hoff


---
SEI Travels to Antigua for Solar Training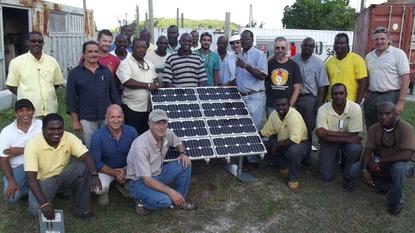 SEI recently held a PV101: Solar Electric Design and Installation training on the island of Antigua. The Antigua Public Utilities Authority (APUA), under the banner of its Green Antigua campaign, enacted an interconnection standard to allow PV systems to be tied into their grid. One of the requirements for the installer is that they must take SEI's PV101 and PV203 (battery-based) training.

Read the full Antigua training story...
---
SEI and Grid Alternatives Team Up - Solar PV Installations for Low Income Housing

Longtime SEI partner GRID Alternatives (GA) is expanding to Colorado! SEI's Co-Founder Johnny Weiss and Noah Davis, Manager of SEI's Solar In the Schools Program, recently helped with several 'barn-raising' style PV installations with low-income homeowners in Denver.
GA Founders, Tim Sears and Erica Mackie, have the mission to empower communities in need by providing renewable energy and energy efficiency services, equipment and training.

Read full story about SEI and Grid Alternatives...
---
SEI's Social Media is Growing - 10,000+ Likes!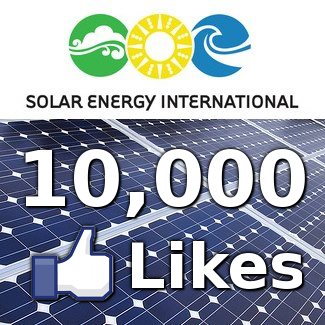 Earlier this month, we hit a milestone on our Facebook page of reaching 10,000 Likes. At the time of this newsletter, we have actually already increased that number to 12,460.

We are using our social media much more effectively by using this medium to share photos, video, and run special promotions for all of our social media contacts. Make sure to Like us on Facebook or follow us on
Twitter, YouTube, or LinkedIn.
---
SEI Alumni Highlight -

Jason Kechijian

Jason Kechijian

is one of SEI's stand out alumni and certificate program graduates. We caught up with Jason recently to see how he is doing in his solar career and ask him a few questions about how SEI helped him attain his goals.

Read the full interview with
Jason Kechijian
...
More info about the SEI Solar Professionals Certificate Program...