Thanksgiving Greetings from the SEI Team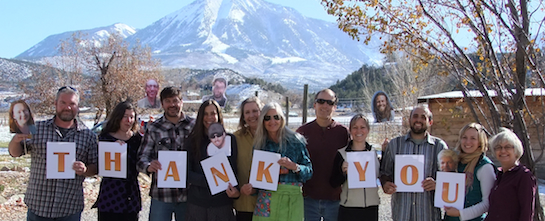 You make SEI the incredible non-profit organization that it is.
By Kathy Swartz, Interim Executive Director

It's hard to believe that 2012 is coming to an end. The days are getting shorter, the nights are colder, and snow is in the mountains. In this time of Thanksgiving, we have so much to be thankful for at Solar Energy International.

We are thankful for you— our alumni, our friends, and our supporters. You make SEI the incredible non-profit organization that it is. We've had over 25,000 people take training from SEI during our 21 years of non-profit service to the renewable energy industry. You trust us to provide you with incredible training and to be the voice of non-biased, "here's how it is" training. Thank you for believing in SEI and our mission.

Read the full letter...
---
Give the Gift of Renewable Energy Education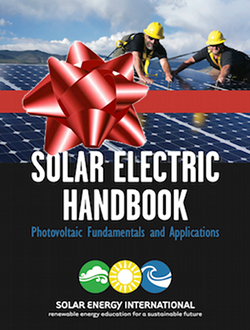 We have just received notice that the next print run of our SEI Textbook - Solar Electric Handbook: Photovoltaic Fundamentals and Applications, will be shipping Mid-December. The first batch of textbooks sold out within weeks of the initial release.

Give the gift of Renewable Energy Education by purchasing the Solar Electric Handbook: Photovoltaic Fundamentals and Applications. This is the perfect gift for the solar professional who has everything or anyone wanting to learn about solar photovoltaics.
Order Today >>
Call for alumni and bulk purchase discounts! 970-963-8855 Option #1
---
SEI Partners with Veterans Green Jobs for Veterans and Active Duty Military Outreach and Scholarship Program

Solar Energy International (SEI), the solar industry's leading nonprofit career and technical solar training provider, has partnered with Veterans Green Jobs, a national nonprofit organization that puts veterans to work in the green economic sector.

The partnership allows the two organizations to advance training and employment opportunities for military veterans nationwide. Veterans Green Jobs will provide career counseling services and match qualified veterans with jobs in the solar industry during and after their participation in a training program with SEI.

We need your help as our goal is to train at least 20 Vets this coming year. Donate today to give these heroes a scholarship to complete SEI's Solar Professionals Certificate Program.
Read more about SEI's Vets and Active Duty Military Program...
Help the SEI Vets program by donating today!
---
2013 Training Schedule is Now Available
Register Today!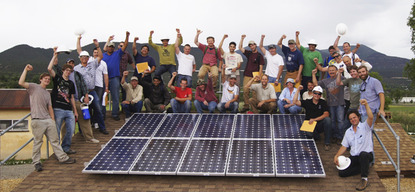 2012 has been an amazing year and we are excited to be looking forward to 2013. This year we served more students than ever before in our 20+ years of offering renewable energy education through in-person workshops, lectures, hands-on labs, and online learning. Our online campus alone had more than 8000 registered students!

---
SEI and SELF Team Up for
Solar Training in Benin, Africa

SEI and SELF (Solar Electric Light Fund) have teamed up to train 6 new solar technicians and provide a refresher course for SELF's other solar technicians in the northern region of Benin, Africa.

SELF is a US based non-profit that provides solar power solutions for water pumping, community garden irrigation, schools, and health clinics. They have made a long term commitment to help with social and economic development in the region around Kalele in Benin.

SEI is providing the training program for all of the local technicians to improve their skills and work toward a region with sustainable renewable energy jobs. This region has a great need for inexpensive, reliable power in a place where the solar resource is abundant while grid electricity is scarce and expensive.
Read the Full Story...
---
SEI's Solar In the Schools PV RC Racers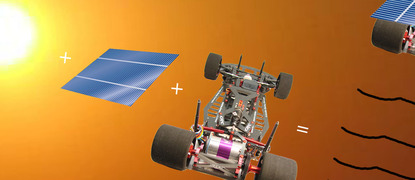 A quick Solar In the Schools (SIS) update from last month's newsletter... Over the last month, the SIS K-12 outreach program has made progress gaining support and partners for this new project, but we need your help.

SIS is hitting the road with cutting-edge solar

RC

cars built and driven by students. Four teams of students will be working under supervision this winter to build high-performance PV-direct radio-control model cars. The project will require students to construct their own array and customize the mechanical and electrical systems of their 1/10 scale cars to maximize solar performance on the track.

Help the SIS program by donating today!
(choose SIS from the program dropdown)
Read Noah Davis's entire Solar PV RC Racer blog...
---
SEI Alumni Highlight - Azuriel Mayo

SEI's Alumni highlight for the month of November goes to Azuriel Mayo. We had the opportunity to catch up with Azuriel to see how he is doing.

"I have had the blessings of being raised by a family that has a strong sense of interest in our impact as humans on this planet. My father was into recycling long before it was vogue and he was acutely aware of the waste that we humans generate. During the first oil crisis of 1972, he found ways to recycle large plastic bags at the food cannery where he worked. Later, he designed a house that had a wonderful deck that was protected from winter winds and had winter sunshine and summer shade due to the eave overhang."
Read the full interview with Azuriel Mayo...
More info about the SEI Solar Professionals Certificate Program...
---
Appropriate Development Solutions Workshop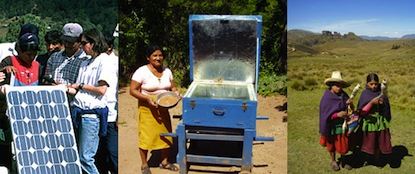 SEI wishes the best to Laurie Guevara-Stone, a long-time staff member of SEI, as she has started her own company called Appropriate Development Solutions (ADS). Appropriate Development Solutions (ADS) educates, promotes, and trains people in appropriate solutions to energy and water issues in the developing world. For more information visit the ADS website at www.approdevsolutions.com and Like ADS on Facebook...

Join ADS and Grupo Fenix for a natural building workshop in Nicaragua in February. Click here for details...
---
Thanksgiving Solar Oven Recipe - Baked Pumpkin Mashers with Savory Maple Sauce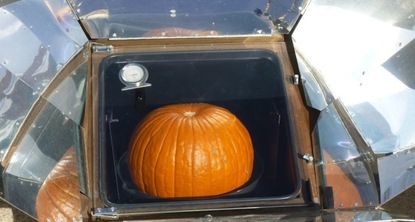 Photo Courtesy of Adventure in Solar Cooking
Pumpkin Mashers
1 x Small - Medium Pumpkin Baked in your Solar Oven
Don't own a Solar Oven? Get one here!
1 Tablespoon Cinnamon
2 Teaspoons Nutmeg
1/4 Cup Milk

Savory Maple Sauce
1 x Large Shallot Diced
1 Cup - Organic Pure Maple Syrup
1/2 Cup - Unsalted Butter
1/2 Cup - Vegetable Broth
2 Teaspoons Rosemary
2 Teaspoons Sage
2 Teaspoons Thyme
Salt / Pepper

Pumpkin Mashers
Place the Pumpkin in your solar oven for a full day of slow baking. After the outside is soft enough to push through easily with a fork, cut in half and scoop out the pumpkin into a mixing bowl. Blend the pumpkin to a puree adding the cinnamon and nutmeg. Add just enough milk till you get a thick mashed potato like consistency. Salt and Pepper to taste.

Savory Maple Sauce
Saute the butter and shallots to clarify. Bring vegetable broth to a boil adding the rosemary, sage, and thyme, and shallots. Reduce to low simmer adding maple syrup. Simmer on low for about 20 mins.

Plate the pumpkin mashers and drizzle maple sauce over top - enjoy!
---