Seasons Greetings from the SEI Team
2012 a Year in Review - 2013 Here We Come!
Our PV hands-on lab season may be over for 2012, but SEI is busier than ever during the winter months.
By Kathy Swartz, Interim Executive Director

I often receive the question…so what does SEI do when your lab classes wind down for the season in Paonia, Colorado? The answer is…plenty! Though the year is drawing towards a close, SEI does not. In fact, we are busier than ever. For our regular readers, I thought you may appreciate some highlights from the past two months.

Read Kathy Swartz's Full Blog...
---
Give the Gift of Renewable Energy Education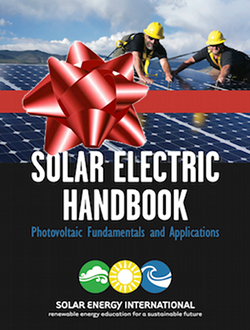 The new shipment of our SEI Textbook - Solar Electric Handbook: Photovoltaic Fundamentals and Applications, is shipping now. The first batch of textbooks sold out within weeks of the initial release.

Give the gift of Renewable Energy Education by purchasing the Solar Electric Handbook: Photovoltaic Fundamentals and Applications. This is the perfect gift for the solar professional who has everything or anyone wanting to learn about solar photovoltaics.
Order Today >>
Call for alumni and bulk purchase discounts! 970-963-8855 Option #1
---
SEI Assists the Natioinal Park Service with Solar PV Integration

- Eastern Utah
Solar Energy International (SEI) has been assisting the National Park Service (NPS) in eastern Utah over the past couple years with solar electric design and installation consulting services. The various Parks in the region have numerous PV systems, mostly of the "stand-alone" variety due to their remote locations. Being early adopters, these National Parks are now replacing 20-year-old, off-grid PV systems that have served the parks and public well.

Read Jeff Tobe's Full Blog...
---
2013 Training Schedule is Now Available
Register Today!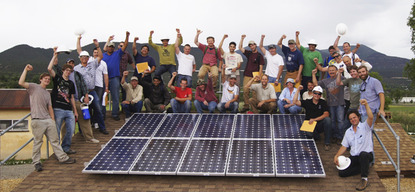 2012 has been an amazing year and we are excited to be looking forward to 2013. This year we served more students than ever before in our 20+ years of offering renewable energy education through in-person workshops, lectures, hands-on labs, and online learning. Our online campus alone had more than 8000 registered students!

---
Make a Difference: Attend PV America East, Philadelphia, PA - February 5-7, 2013
I have been thinking a lot about ambition lately. Ambition specifically in regards to our world's energy future, and climate and social justice. We live in such an exciting moment of discovery and innovation, where we get to be designers of our collective future.

UN climate negotiations wrapped up recently in Doha, Qatar, where the world came together on a climate deal for our future. NGOs, civil society, and renewable energy industries continue to put forth ambitious statements and agendas for a resilient energy future. Being part of the renewable energy industry is an exciting opportunity in time.

Read Matt Harris's Full Blog...
---
SEI to Bring Spanish PV Program to 50 Central American Solar Technicians in 2013
If you read the news back in September, you saw that the US Department of State awarded Solar Energy International (SEI) $190,000 to be a part of the Energy and Climate Partnership of the Americas (ECPA).

This project will be modeled after SEI's successful Solar Professionals Certificate Program that prepares technical professionals through rigorous solar training requirements and networking opportunities. The entire program will be taught in Spanish. We are calling this targeted training program the Academia de Profesionales Solares de las Americas (APSA), or Solar Professionals Academy of the Americas, in English.

Read Matt Harris's Full Blog...
---
A Personal Appeal from Johnny Weiss

As we come to the end of another great year of providing renewable energy education to the world, we would like to thank our supporters for your generous donations that have made it possible for our organization to continue our good works. We are asking for your continued support.
Many people who are just now discovering our organization's mission around renewable energy educational products and services are surprised to hear that SEI, the U.S. solar industry's leading technical training provider, is NOT a for-profit organization or major university. As a nonprofit organization we have the ability to provide unbiased technical training for those seeking careers in renewable energy and communities wanting to adopt clean energy.
Read the full appeal from Johnny Weiss...
---
SEI Holiday Cinnamon Solar Cider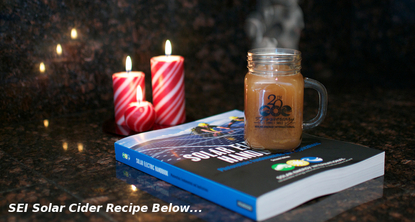 Ingredients
8 -10 apples (used Paonia Gala Apples for a less tart or intense taste)
1/2-1 cup sugar
4 tablespoons cinnamon (or 4 cinnamon sticks)
4 tablespoons allspice
Directions

You can skip this entire process by visiting Solar Energy International in Paonia, Colorado and stopping by Delicious Orchards to pick up a gallon of their delicious Big B's Apple Cider! If you are motivated to try and make your own - read on...

Quarter your apples (no need to remove peel or seeds).
In a large stock pot add your apples and fill with water--just enough to cover the apples.
Add your sugar.
Wrap your cinnamon and allspice in a doubled up cheese cloth and tie, and add this to the apples and water.
Boil in a parabolic solar cooker for one hour (uncovered) checking on it frequently.
Adjust the parabolic solar cooker to let simmer (not boil) for two hours (covered).
Take out of the parabolic solar cooker after two hours of simmering and let cool.
Remove spices and mash up the apples to a pulp like consistency (a potato masher works well for this).
Once cool pour into a strainer over a large bowl. When most of the juice has drained away, put the remainder of the pulp into a doubled up cheese cloth and squeeze over the bowl until no more juice comes out.
(At this point you can either restrain the juice to get out the little bits of pulp that remain with a cheese cloth draped inside the strainer to catch them or just leave it like I do).
You can store in an air tight container in your refrigerator for up to a week or you can freeze it for later use if you like.
Reheat in a solar oven or parabolic solar cooker and enjoy either plain or you can add caramel syrup or caramels, whipped topping with cinnamon or, like my neighbors did if you like it really sweet, with marshmallows or marshmallow creme.
---