SEI Conducts Solar Training in Kuwait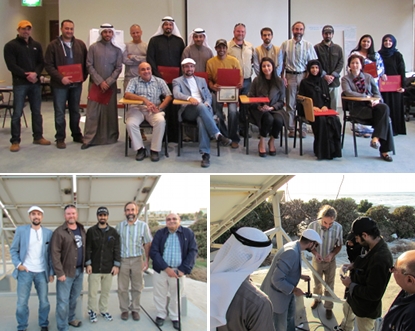 SEI conducted its first training in Kuwait at the Kuwait Institute for Scientific Research in December 2012. SEI instructors Kris Sutton and Jay Peltz guided a group comprised primarily of engineers and scientists through a week long session of PV 203 for battery based systems.

These participants are on the front lines of Kuwait's emerging renewable energy movement. SEI is building a partnership with NTEC, a Kuwaiti based technology development corporation to become the leading provider of renewable energy training in Kuwait and hopefully the broader Gulf Cooperation Council. We will have more details in coming newsletters!
Click here for more information about SEI's business services...
---
Johnny Weiss to Help Develop
SEI Alumni and Friends Association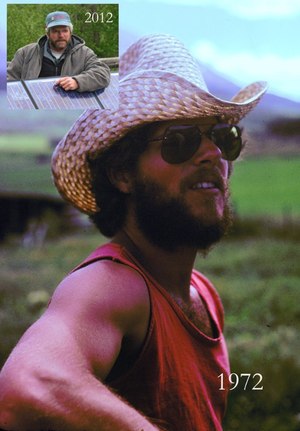 Solar Energy International (SEI) is announcing the creation of its Alumni and Friends Association. Johnny Weiss, SEI's Co-Founder, is transitioning to the role of advising consultant for SEI and will help develop the new association beginning January 1, 2013.

For more than two decades, SEI has served more than 25,000 alumni from over 90 countries and has grown to be one of the most respected professional solar training providers in the
renewable energy industry.

"I am proud of SEI's leadership in the field. Our mission to help others learn about renewable energy is as strong as ever, and utilizing solar power has never been more important. Now is the perfect time to develop our Alumni and Friends Association," Weiss said.

SEI's Alumni and Friends Association will be dedicated to helping connect SEI alumni and long-time solar advocates with each other and to new trainees wanting to get careers in the renewable energy industry. More information will be made available in upcoming SEI newsletters.

---
2013 Training Schedule is Now Available!
Seats are Filling Fast - Register Today!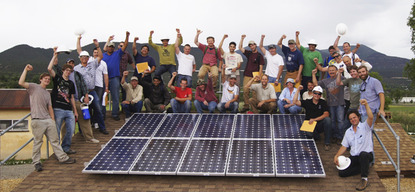 2012 was an amazing year and we are excited to be looking forward to 2013. Last year we served more students than ever before in our 20+ years of offering renewable energy education through in-person workshops, lectures, hands-on labs, and online learning. Our online campus alone had more than 8000 registered students!

---
SEI's Colorado Winter Wonderland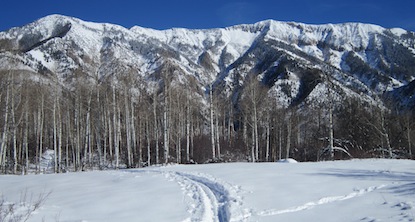 Winter is in full swing in Colorado at our PV lab facility and office. There is a deep layer of snow coating lab roof tops and modules. One of the great things about Colorado in the winter is once the sun comes out everything turns into magic, with the flat surface of every snow flake catching the sun, turning our lab facility into a winter wonderland of glittering diamonds. Staff has been busy keeping the arrays clear of snow for some fantastic cold weather energy output, as well as preparing for the upcoming summer labs.

Read Tawnya Parker's Full Blog...
---
SEI's New Textbook is in Stock - Order Today!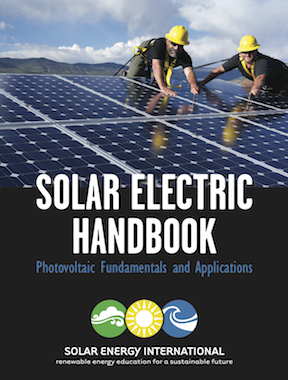 The new shipment of our SEI Textbook - Solar Electric Handbook: Photovoltaic Fundamentals and Applications, is shipping now. The first batch of textbooks sold out within weeks of the initial release.
Order Today >>
Call for alumni and bulk purchase discounts! 970-963-8855 Option #1
---
PV America East and Many More Conferences in 2013 for Solar Energy International

We are just a few short weeks away from what can be considered the beginning of conference and trade show season. SEI is looking forward to another abundant year in this realm participating on many levels at some of the most recognized renewable energy conferences and tradeshows the industry has to offer.

Beginning in February, SEI will be busy participating in three conferences from the East Coast to the Rocky Mountains - MIAGreen 2013, COSEIA's Solar Colorado, and PV America 2013 East. We are excited to be participating on different levels from exhibiting, to sponsorship, to providing technical PV trainings. If you are curious to learn more about SEI's participation in these events contact Matthew Harris (matthew@solarenergy.org).

Read Matthew Harris's Full Conference Blog...
---
SEI Conducts Electrical Inspector Trainings in Oregon and Washington

In the month of January, Solar Energy International is proud to be offering Photovoltaic Systems: Inspections, Codes and Standards, sponsored by the Department of Energy's Solar Instructor Training Network.

This training will be taught by Solar Energy International instructors who were trained by the International Association of Electrical Inspectors (IAEI). This technical training is geared for inspectors and AHJs. Local solar contractors and installers may also find this training helpful.

Training Dates: January 26th - Oregon City, Oregon
and January 28th - Tacoma, Washington

Visit the SEI web site for more information...
---
Congratulations to SEI Friends and Alumni
Solar Power Generation USA Awards
Largest Community Owned Solar Garden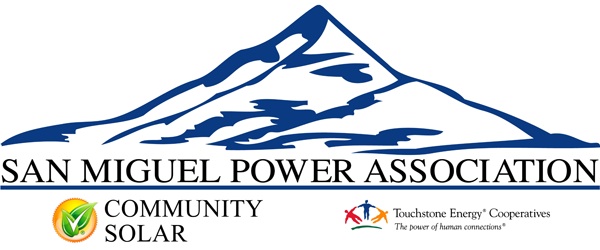 A special congratulations goes out to friends and Alumni of SEI who made up the award winning partnership to build the largest community owned solar garden in the United States. Martifer Solar, Sunsense Solar and Clean Power Finance are among the winners of the Solar Power Generation USA awards.
Taking the prize for best solar collaboration was the SMPA Community Solar Project, located in Colorado's Paradox Valley, the largest community owned solar garden in the United States. The project, a collaboration between the San Miguel Power Association, the Clean Energy Collective, Martifer Solar and Sunsense Solar, successfully navigated a whole host of challenges to be completed within budget and in a record time.

Read full press release...
---
SEI Alumni Highlight - Garrett Lees
University City Photons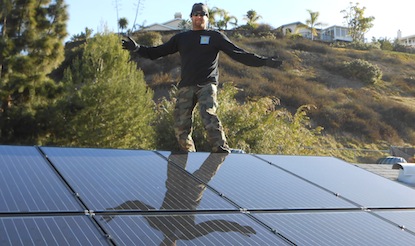 SEI Alumni, Garrett Lees, recently spread his wings and launched his own solar electric company and named it "University City Photons" in honor of his hometown and as a tribute to Albert Einstein, who called the particle of sun-energy a "photon".

Awarded Phi Beta Kappa from UC Berkeley, Lees returned to San Diego to teach at UCSD. One fateful morning in September 2001, however, the nation awoke in crisis and Lees left UCSD to join the U.S. Army where he served for 9 years in military intelligence and received the Joint Services Achievement Medal for operations support. Staff Sergeant Lees was honorably discharged and once again returned to San Diego where he delved into his newly-found passion, solar energy.

After attending the workshops at Solar Energy International in Paonia, Colorado, Lees began volunteering with Grid Alternatives, a non-profit organization that provides solar energy to low-income families in San Diego. He also supervised two construction crews as project manager for a well-known San Diego solar electric company.

He enrolled in a course at the Golden State Contractors School in Mission Valley and soon after passed the State of California's Contractors State License Board exam for the C-46 Solar Contractor License.

Congratulations to Garrett and SEI wishes him the best in bringing solar energy technologies to his local community.
University City Photons
Garrett Andrew Lees
Solar Design and Installation
Owner, C-46 Solar Contractor #978633
---
SEI's Deep Fried Solar French Fries Recipe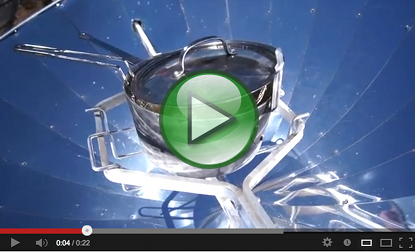 Matthew Harris of Solar Energy International demonstrates the power of the sun and a parabolic cooker by preparing a delicious batch of SEI's Deep Fried Solar French Fries in this short video clip.

Ingredients and Tools
Parabolic Cooker

Solar Oven

Large pot

Oven mitts

Sun glasses (for safety and style)

Slotted spoon or tongs

2 pounds unpeeled russet potatoes (about 3 large), scrubbed

Canola oil (for deep-frying)

Salt and pepper
Directions
Cut potatoes lengthwise into 1/4-inch-thick slices.

Stack 2 to 3 potato slices at a time and cut lengthwise into 1/4-inch-wide sticks.

Pre-cook potato sticks in a solar oven for 10 minutes (

Potatoes hold a lot of water which can reduce your frying oil temperature, so it's good to dry them out a bit)

Place large pot into parabolic cooker

Pour enough canola oil into large pot to reach depth of 4 inches leaving 3 or more inches at top for boil over room.

Attach deep-fry thermometer to side of pot; Adjust the parabolic cooker's tilt and orientation to the sun to heat oil to 350°F.

Working in batches, add potato sticks to oil and fry until golden brown, about 6 minutes.

Transfer to clean towels to drain.

Sprinkle with salt and pepper.

Serve immediately.