SEI Endorses Solar Industry Certifications and Becomes UL PV Installer Testing Center


For more than 20 years, SEI's technical PV training has helped prepared thousands of people who have gone on to start careers and businesses in the solar industry. In the two decades of educational service to the renewable energy sector, SEI's student body now has significantly grown to include students from all the trades, including electrical, roofing, and the broader construction industry. This is the motivation for SEI's endorsement of the leading solar industry certifications.


Solar Energy International (SEI) is formerly endorsing the leading certifications in the solar industry:

Read full press release...


---
Rocky Mountain Institute's

(RMI) Efforts to Lower Balance of PV Systems (BoS) Costs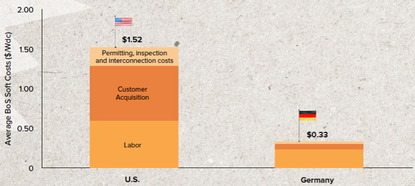 Did you know that Balance of Systems (BoS) Costs are 75% lower in Germany than in the U.S.? With Georgia Tech Research Institute (GTRI), RMI aims to: 1) use lean principles to identify the key drivers for the difference in installation labor hours between the U.S. and Germany, and 2) analyze and develop hardware designs, labor- related best practices, and other changes that will help the entire industry lower BoS costs.
RMI is asking installers to participate in a 10 minute survey of the residential installation process and/or an on-site time and motion study of a PV installation. For their participation, installers will receive a confidential and customized company-level assessment of installation productivity. To learn more and to participate in the survey or the time and motion studies, visit our webpage at:
http://www.rmi.org/simple. Feel free to contact us for more questions at simple@rmi.org.
---
2013 Training Schedule is Now Available!
Seats are Filling Fast - Register Today!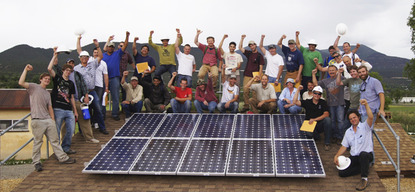 2013 online courses, in-person workshops, and hands-on lab sessions are filling fast. Last year we served more students than ever before in our 20+ years of offering renewable energy education through in-person workshops, lectures, hands-on labs, and online learning and it looks like 2013 may exceed those stats. Our online campus alone had more than 8000 registered students!
For over 20 years, SEI's Work-Trade Program has enabled people from around the world to hone their renewable energy technology skills and improve their capabilities while helping to strengthen and grow SEI. In fact, the majority of our current staff were once work-traders!
Program Overview:
SEI offers its Work-Traders a credit equivalent to $15/ hour for each hour worked. You can trade up to 100% of the tuition of each class. We strive to have all of our work-traders complete their work portion before taking any workshops, so most work-traders work in the spring or early summer and then complete their workshops after that.
Read more about SEI's Work Trade Program...
---
SEI Team Member Reflects on Transitioning from Off-Grid Living to an Apartment Dwelling

Blog from Rebekah Hren - SEI PV Instructor and Curriculum Developer
For over a decade I've owned an incredibly energy-efficient, passive and active solar, off-grid house, way out in the boonies. But I don't currently live there; instead I'm renting an apartment in an urban area to be closer to work (and to have a reliable high- speed internet connection). This change has caused me to reflect on the difficulty of going solar – or even increasing energy efficiency – when you live in a condo or rent an apartment.
Read Rebekah Hren's full blog...
---
SEI Alumni and Team Members from Around the World Become Solar Ambassadors




Blog by Laura Walters - SEI PV Instructor and Curriculum Developer

In the beginning of October, I hopped on a plane and flew to California to take part in the first-ever Solar Ambassadors Training with We Care Solar. Fourteen women from around the World and were chosen to take part in this training – fourteen strangers who were about to form a special bond.

Read Laura's Full Blog...


---
COSEIA's Million Solar Roofs Campaign and SEI's Colorado Training Expansion

In response to the Colorado Solar Energy Industry Association's (COSEIA) recent release of their Million Solar Roofs campaign, Solar Energy International (SEI) has expanded the amount of Colorado based training opportunities for 2013.
SEI is offering over 50 workshops, online courses, and hands-on lab opportunities in Paonia, Boulder and Online in 2013. All of these courses and workshops qualify for credit towards graduating from SEI's Solar Professionals Certificate Program.
Visit the SEI web site for more information...
---
SEI's Solar Professionals Certificate Program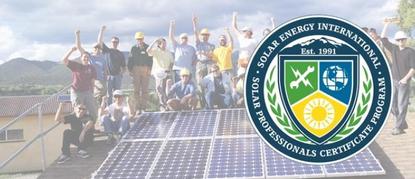 It has been just a little over a year since SEI created the Solar Professionals Certificate Program. Since the launch of SPCP, there have been over 300 applicants, over 200 students accepted into the program, and
62 graduates.


The SPCP program was started due to feedback from students who wanted a clear path to graduate from SEI's training program as well as employer requests for a program to help distinguish a job applicant's level of training from SEI.

This is a selective admissions program that accepts applicants with transferable skills and aptitudes to help ensure graduate quality as well as help ensure an applicant's dedication to complete the full program of study.

The SPCP program is NOT a certification, but rather a certificate of occupational proficiency program with a strong focus on classroom training and hans-on lab experiences.

There are multiple certificate paths in the SPCP program covering different areas of solar and renewable energy applications - all of them require at least 160 training hours.
---
SEI's Deep Fried Solar French Fries Recipe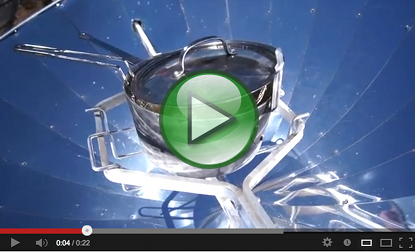 Matthew Harris of Solar Energy International demonstrates the power of the sun and a parabolic cooker by preparing a delicious batch of SEI's Deep Fried Solar French Fries in this short video clip.

Ingredients and Tools
Parabolic Cooker

Solar Oven

Large pot

Oven mitts

Sun glasses (for safety and style)

Slotted spoon or tongs

2 pounds unpeeled russet potatoes (about 3 large), scrubbed

Canola oil (for deep-frying)

Salt and pepper
Directions
Cut potatoes lengthwise into 1/4-inch-thick slices.

Stack 2 to 3 potato slices at a time and cut lengthwise into 1/4-inch-wide sticks.

Pre-cook potato sticks in a solar oven for 10 minutes (

Potatoes hold a lot of water which can reduce your frying oil temperature, so it's good to dry them out a bit)

Place large pot into parabolic cooker

Pour enough canola oil into large pot to reach depth of 4 inches leaving 3 or more inches at top for boil over room.

Attach deep-fry thermometer to side of pot; Adjust the parabolic cooker's tilt and orientation to the sun to heat oil to 350°F.

Working in batches, add potato sticks to oil and fry until golden brown, about 6 minutes.

Transfer to clean towels to drain.

Sprinkle with salt and pepper.

Serve immediately.