Help Make Solar Rollers for Students a Reality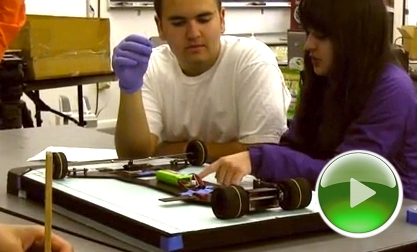 Solar Powered RC Race Cars for High School Teams
How are we going to reach high-school kids today with vital messages about energy efficiency and renewable energy? It ain't gonna be easy - they've got smartphones and girlfriends and video games and boyfriends and some of them even have their driver's license. Good luck. You would need something ridiculous, like a solar-powered race car or something.
The Solar Rollers program brings out the eco-techno-maker-learner kid in all of us - and especially so for real high schoolers. These custom-built creations are based on parts from 1/10 scale radio-controlled cars but use hand-soldered solar arrays to generate power.

Read Noah Davis's full blog...
---

Happy Earth Day 2013 - Training Starts Today!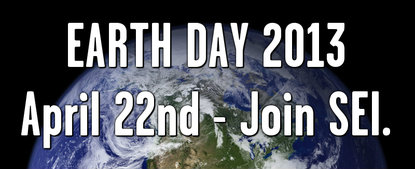 Classes Starting Today April 22nd (Earth Day)
Still Time to Register for:
---

SEI Partners with GRID Alternatives to Offer
SEI Alumni Solar Job Site Experience

We are pleased to announce an exciting partnership with GRID Alternatives to offer real world PV installation experience for our students and alumni. After completing your initial PV101 training or during your SEI Solar Professionals Certificate Program, you will have the opportunity to volunteer with GRID Alternatives during their PV installations for low-income families in support of their non-profit mission.

After establishing a strong training and volunteer record through the SEI / GRID Alternatives partnership, you may work your way up the volunteer ladder to lead a PV installation crew. This experience has NABCEP approval to earn the required NABCEP lead installer experience with some additional guidelines.

More details are available by talking with an
SEI Student Services Team Member: (970) 963-8855 x1
---

SEI's Financial Director - Paul Gibb
is "Born to Be Wild" on The Solar Scooter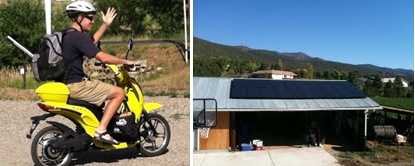 Blog by: Paul Gibb - SEI's Financial Director

I installed a PV system on my barn in November and it wasn't until May or June of the following year that I realized I had one of those "nice" problems in life – my system was outperforming the production estimates and now my newly installed net-meter was hovering in the range of -98,250 to -98,750, or 1,750 to 1,250 kilowatt-hours (kWh) less than zero!

Our cook top is electric and the bulk of our heat is from a wood-burning stove. Not a lot of options inside the house other than converting the hot water heater to electric, which didn't seem practical. We're "lucky" enough to have a large yard to maintain so an electric mower didn't seem realistic although I did replace my gas powered weed whacker with a spiffy little lithium ion model.

Where else could I replace my fossil fuel burning with solar powered ac electricity? Duh, transportation! I wasn't ready financially for the big electric car plunge but I started looking around at other battery based modes of transportation. After a fairly extensive search, I settled on the iGo ECity electric scooter.

Read more about Paul Gibb's Solar Scooter adventures...
---
After Your SEI Solar Training in Paonia, CO.
Explore Colorado's Wild Side

Blog by Tawnya Parker - SEI Training and Workshop Coordinator

Paonia is a fun mountain town, and one of Colorado's quiet gems. Located on the Western Slope of the Rocky Mountains, it is just the way we like it, off the beaten path, abundant in fresh local organic food, wine, and beer, and full of interesting folks. And if you like to explore beautiful trails, canyons, and mountains, you are in luck. Wildlife is plentiful and if you're cognizant of your surroundings on a hike you may see some - all one has to do is remain quiet, and the world around you will return to its natural sounds and movements. And I've got a list of hiking spots that will take your breath away even if you don't see wildlife!

Read Tawnya Parker's full blog..
---
Must Reads for the Renewable Energy Insider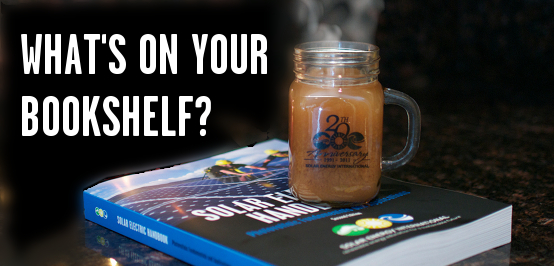 Blog by By Phil Friedman - SEI Online Course Manager

Have you read a good book lately? I might be biased, but SEI's new Solar Electric Handbook: Photovoltaic Fundamentals and Applications is currently at the top of my list of must reads.

As online course manager and occasional online instructor for SEI, I often review and interact in the course forum conversations. Often, I notice there are comments from students and instructors about books and articles they are reading. It is great fun and interesting to see what others are reading and what people recommend. Every so often, some of the recommendations overlap with what I am reading. That's always a good feeling. Great minds think alike!

Read Phil Friedman's entire blog...
---
SEI Sponsors Colorado Small Hydro Association Conference (COSHA)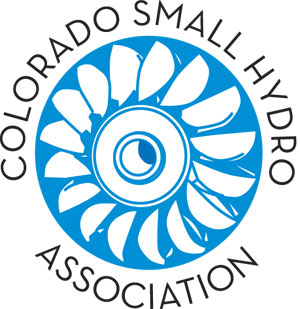 Solar Energy International (SEI) is proud to sponsor the upcoming Colorado Small Hydro Association Conference (COSHA). This year's COSHA conference is being developed in collaboration with HydroVision International 2013 Conference and Exhibition.

The one-day COSHA event in 2012 drew over 200 attendees. HydroVision International Conference and Exhibition is held annually, drawing more than 3,000 attendees from more than 40 countries and more than 300 exhibitors.

For more details, go to: http://smallhydro.co/2013conference.html
---

SEI Team Member Highlight - Chris Smith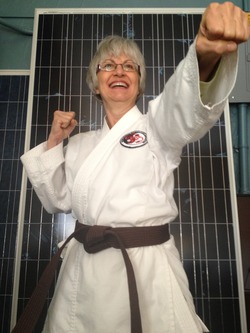 Congratulations to Chris Smith, SEI's Paonia Office Manager, who recently received her brown belt in Shotokan karate.

She's been working towards this for four years and had to break two boards.

When you come to Paonia for your summer training, Chris will sell you books and T-shirts and spar with you, if you'd like! Congratulations Chris!