SEI's Summer/Fall 2013 Solar Training Schedule is Now Available - Register Today!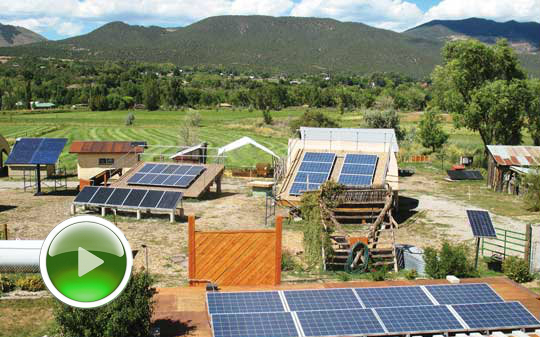 The Spring of 2013 turned out to be one of the best starts to our in-person lab training seasons we have ever had! Lab sessions have been filling and more students than ever before are continuing on with their renewable energy education through SEI's Solar Professionals Certificate Program.

Imagine yourself on top of a roof mount PV lab station in Paonia, Colorado surrounded by majestic mountains. Imagine a different kind of classroom than you have ever experienced before!
Watch video about SEI's Colorado training experience...

More details are available by talking with SEI Student Services Call: (970) 963-8855 x1
---

SEI Surpasses 30,000 Alumni and Students
Your Stories Are Our Stories!

Blog from Kathy Swartz, SEI Executive Director
During our recent annual count of the number of alumni, we surpassed the 30,000th student who has taken training from Solar Energy International. As a visual reference, if you put everyone of our current and former students into Harvard's Football Stadium - it would fill to 100% capacity. (See photo above)

Over 30,000 people have entrusted SEI with their time, their training dollars, and their future. We take our training role quite seriously because of this trust you have in us.

My favorite fortune cookie fortune of all time is… "Treat customer service like baths." We take customer and student services quite seriously—it isn't just a one-time thing with us. Our relationship with our alumni doesn't end after you pay your tuition and participate in your class or classes. It extends well beyond that: we are here to make connections for you; to help you find your dream job; to give advice; and to provide the support that you need to meet your goals.

Read Kathy Swartz's Full Blog >>
---
SEI and Saudi Arabia Solar Industry Association (SASIA) Create Partnership for Professional Solar Training in the Middle East

Solar Energy International (SEI) is pleased to partner with the Saudi Arabia Solar Industry Association (SASIA) to provide professional solar PV training to the Kingdom of Saudi Arabia (KSA) and surrounding region.
This hybrid training model between SEI and SASIA consists of online learning via SEI's state-of-the-art online learning platform and an in-person training taught by some of SEI's most experienced instructors. We've customized this training for engineers, designers, decision makers, and those who play a vital part in the Middle East's quickly emerging solar markets.
SEI / SASIA Training Schedule and Registration:
Read Full Press Release >>
---
Solar Energy International (SEI) Collaborates with UL to Offer Training and Certification for Licensed Electricians

Solar Energy International (SEI) has entered into an agreement with UL (Underwriters Laboratories) to offer the UL PV Installer Certification Exam for qualified electricians at SEI's Training and Certification Testing Center in Paonia, Colorado.
The UL PV Installer Certification Exam will be held immediately after SEI's PV202: Advanced PV System Design and the NEC (Grid-Direct) Workshop. Training starts August 12 -and the UL PV Installer Certification Exam will be offered beginning on August 16.

Read Entire Press Release >>
---
SEI Partners with Solarfest 2013
Tinmouth Vermont - JULY 5th
PV203: Solar Electric Design (Battery Based)

Solar Energy International is proud to partner with SolarFest to offer a technical solar training as part of their festival! This year SolarFest is excited to bring back their Pre-Festival Workshop Training. SEI instructor, Flint Richter, will be our lead instructor and trainer. This year's 5 day
PV203: Solar Electric Design (Battery Based)
course will include approximately 4 days of classroom time (at a nearby elementary school) with 1 day of hands-on installation.
More Event Information >>
---

SEI Celebrates Over 20 Years of MC Hammer Pants and Solar PV Curriculum Development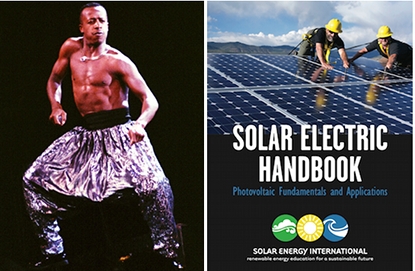 Blog by Laura Walters

- SEI PV Curriculum Team Member
Want a sneak peak into the major work that goes into keeping SEI's solar electric curriculum the best in the country (and possibly the world)?!? Here is your chance to see where some of your tuition dollars go and why SEI classes are worth every cent.

Did you know that SEI's solar electric design and installation curriculum has been evolving for over twenty years? Yeah, twenty – that goes back to the days of MC Hammer pants, Saved By The Bell, and floppy disks. Not a bad run…our curriculum has out-lived all these fads (well, I think Hammer pants are actually making a comeback, for better or for worse).

Read Laura Walters's Full Blog >>
---

---
SEI Provides Native American Training at the Red Cloud Renewable Energy Center


Blog by Jeff Tobe -
PV Lab Manager & Instructor
SEI recently completed a 4-day training and installation class in collaboration with Lakota Solar Enterprise and Trees, Water & People. This 4-day training, held in late March, was hosted at the Red Cloud Renewable Energy Center in Pine Ridge, SD. The Northern Cheyenne tribe sent a bright group of young leaders from their community to this training as part a larger effort to explore sustainable economic solutions to replace fossil fuel development on their lands.

Read Jeff Tobe's Full Blog >>
---
Blog by Noah Davis - Solar in the Schools Program Manager
The green flag waved at 11:30 am to start the one-hour race, which is a long enough period to test the overall energy efficiency of each car and its renewable energy generation system. From the very start one thing was evident: these cars were fast. The circuit was about 50 meters in length and within a minute or so all four cars were turning laps of less than 9 seconds. The fastest lap of the day was 8 seconds flat.
Read Noah Davis's Full Blog >>
---

SEI Alumni Highlight - Stephen Rogers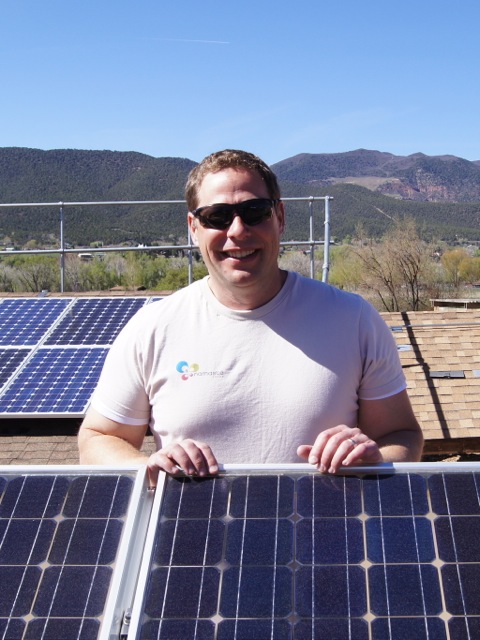 This month, we are proud to introduce you to Stephen Rogers, who recently completed SEI's SPCP Battery-Based Photovoltaic Systems Certificate program. Stephen became a journeyman electrician in 2003 and worked for a contractor in Maryland doing in Operations and Maintenance in commercial electrical systems.
Eventually he decided that he wanted to try something different and "wanted to be a part of the solution, not the problem, so why not solar?" After doing his research on solar training, a colleague suggested SEI and that's when he signed up for our SPCP. Because of his background in O&M and his SEI training, Stephen was hired as a "Lead Commercial O&M Electrician" at Namaste Solar. He's part of a new solar O&M department.
Despite being a journeyman electrician, "I had no prior PV specific or DC knowledge before SEI's training. I was so used to working with AC and DC is really a whole different area. SEI's training helped me get the skills needed to be doing a job that I love."