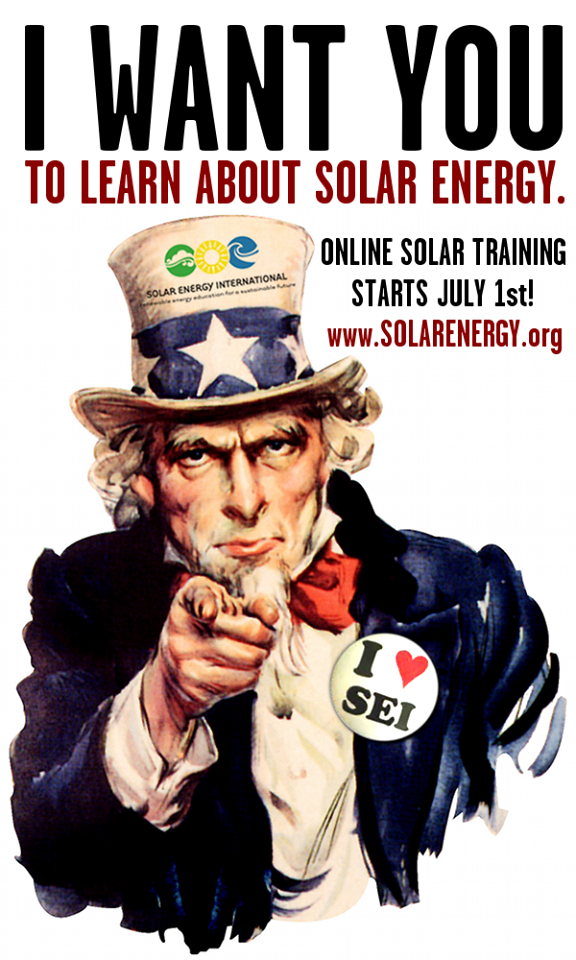 ---
Join SEI at Intersolar 2013!

Intersolar North America will take place this year from July 8-11 in San Francisco, CA. Last year Intersolar welcomed close to 29,000 professionals from over 76 countries! We are pleased to announce that Solar Energy International (SEI) is once again partnering with Intersolar to offer technical, in-depth solar trainings throughout the conference. And come visit us at our Booth #9726!
---
NABCEP PV Installation Professional Exam Committee Approves SEI's Textbook / eBook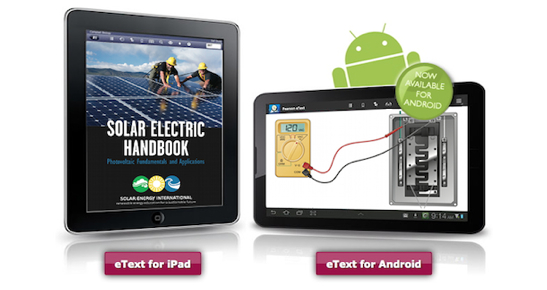 SEI is pleased to announce that the NABCEP PV Installation Professional Exam Committee has chosen SEI's Solar Electric Handbook: Photovoltaic Fundamentals and Applications Textbook / eBook Bundle as a Primary Reference! Get yours today >>
http://www.nabcep.org/resources

New NABCEP Prep Training Offered
SEI is also now offering a PV Entry Level Exam Training Package
and a Test Preparation for NABCEP PV Installation Professional Exam!
---
Conference on O&M for PV Systems


Rebekah Hren - SEI PV Curriculum Team Member
Until about 2007 or 2008, nearly every PV system installed in the United States was a residential or commercial system, and the prevailing theory was that PV systems without batteries (grid-direct) were practically maintenance-free – just "install it and forget about it". However, once smaller systems started to age, and larger solar farms and utility-scale systems came online, it became clear pretty quickly that "maintenance-free" was neither an accurate representation of the life-cycle costs, nor the operational requirements, of PV.

Read Rebekah's Full Blog...
---
SEI Expands PV program to the Americas

Matt Harris - Director
Academia de Profesionales Solares de las Americas
For many years, Solar Energy International (SEI) has been utilizing our Spanish PV curriculum throughout the Americas. Both the SEI PV Design & Installation Manual and Grid-tied PV curriculum are available in Spanish. Over the years, SEI has used these resources in hands-on workshops throughout the Americas as well as via the on-demand online course, FV101: Diseño E Instalación de Sistemas Eléctricos Solares.

With renewable energy education for end-users, technicians, and decision makers being the cornerstone of SEI's mission, expanding our educational model to serve Spanish speakers has opened up many bright and new opportunities.
For a Spanish version click here
Read Matt Harris's Full Blog...
---
SEI's Solar in the Schools Visits
Sopris Elementary for Solar Fair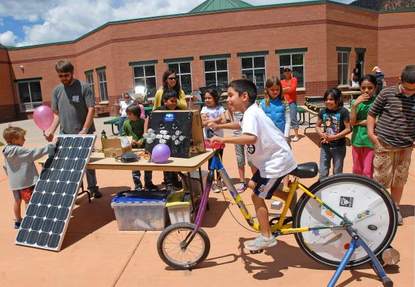 John Stroud - Glenwood Springs Post Independent
Earth benefits from many forms of energy, both renewable — such as solar, wind and hydropower — and nonrenewable sources such as coal and natural gas. But it all revolves around the sun and the energy it provides.
Just ask the students at Sopris Elementary School in Glenwood Springs, who have spent a good part of the past school year learning about the basic concepts of energy through a pilot "Energy in the Classroom" program sponsored by Solar Energy International.

Read the Full Story at the Aspen Times >>
---
SEI Team Member's Summer DIY Project
Solar Powered Evaporative Cooler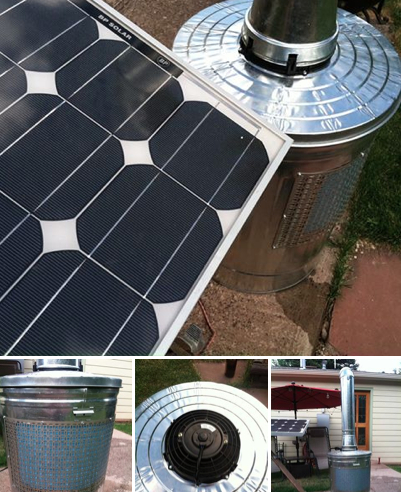 Here is a fun little summer project from Chris Turek, SEI's Director of Online Learning and Student Services. It is a Solar PV Direct - Solar Evaporative (Swamp) Cooler for his house. The fan pulls about 2500 cfm to cool the majority of his house and is 30 degrees cooler at the mouth of the ducting! Free solar cooling all summer long - no more energy hog AC window units! More info...
---
SEI Trains with the Oglala Lakota College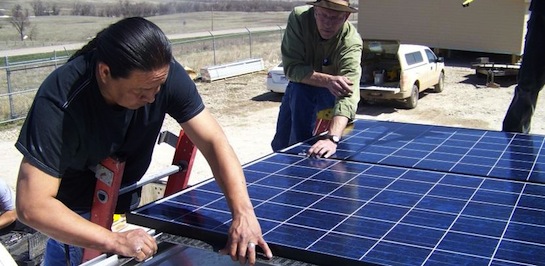 Jeff Tobe - SEI Native American Outreach Coordinator
Solar Energy International (SEI), in conjunction with Salt Lake Community College and Utah Solar Energy Association, teamed up with the Oglala Lakota College's construction program for three days of training and installation of a mobile, off grid solar system. Seventeen students and three of the college's instructors participated in the course.

Read Jeff Tobe's Full Blog...
---
Solar Energy International (SEI) Collaborates with Roof Integrated Solar Energy™ (RISE)