Happy Halloween from SEI!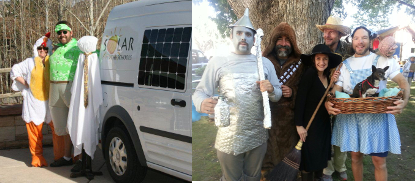 SEI team members and friends in full costume: Left to right - Kathy Swartz, Noah Davis, Matt Harris, Jay Peltz, Karolina Fernandez, Mike Sullivan, and Ben Lehman.
---
Blog by Kathy Swartz, SEI Executive Director
October! Does anyone else feel that October just flew by?? October has been a wonderful (and very busy) month here at SEI.

We finished the last of our intensive, hands-on workshops at our training facility in Paonia, Colorado. This summer, we've had 18 workshops, people from over 30 countries and almost all 50 states. Another incredible summer, full of incredible people actively engaged in world-class training. For those of you who were here this summer, you know exactly what I'm talking about. From the first morning of introductions, to Friday's graduation ceremony, shop talks at the brewery with your instructors, get-togethers with local food and after class adventures with your fellow participants—all on top of solar training.
Read Kathy's Full Blog...
---
SEI Travels to Mumbai for Intersolar India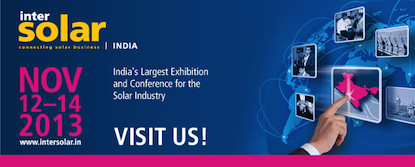 SEI instructors Brian Mehalic and Rebekah Hren will teach three, three-hour long classes, one on each day of the exhibition of the conference, focusing on areas of particular importance to the PV market in India: Considerations for Large-Scale PV Systems; Quality Assurance and O&M; and Advanced Battery-Based PV Systems.
Read Full Blog...
View Training Sessions...
---
SEI Online Solar Training Starts November 4th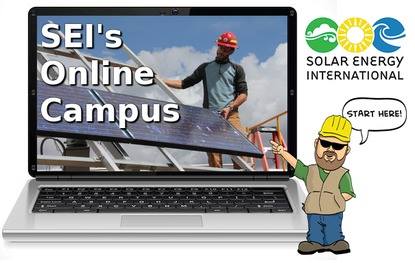 ONLY A FEW DAYS LEFT TO REGISTER!!!
Starting Monday, November 4th - SEI's Fall Online Campus is offering one of the most comprehensive sessions starts of 2013 / 2014!

Nov. 4th Solar / Renewable Energy training:
---
SEI at Solar Power International (SPI) 2013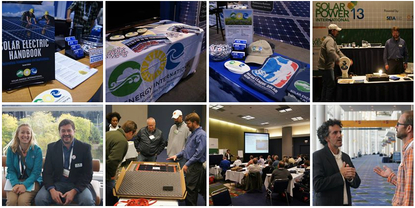 SEI was a HUGE hit at SPI 2013! SEI reached over 1500 people through paid and free conference trainings. The SEI Alumni and Friends party was a great success. Lots of people were at our booth even after most of the conference had left for the day!

View the SPI 2013 Photo Essay>>
---
Follow Matt Harris's APSA Blog
Follow SEI's Matt Harris on his blog about the Academia de Profesionales Solares de las Américas (APSA).

APSA will train 50 people, representing countries, communities, and organizations throughout Central America and Mexico to design, install and maintain solar PV systems and to successfully launch and administer businesses in this critically important industry.

Follow Matt's blog for more information...
---
Nov. 4th - SHOL101: Solar Heating 101 Online
Meet the Instructors Chuck Marken and Vaughan Woodruff (Laurel and Hardy)
Watch this video to meet our SHOL101 Online Instructors and learn more about his new course starting Nov. 4th. This online training course addresses the fundamentals of solar water heating and solar pool heating. The course goal is to firmly establish the concepts of solar heating (aka "solar thermal") technologies.
The course will familiarize students with industry history, the distribution chain, jobs in the industry, safe practices, and national codes and standards. Students will explore the different types of collectors, systems, components, and materials used in solar heating systems and determine their appropriate applications.
---

SEI Welcomes a New Staff Member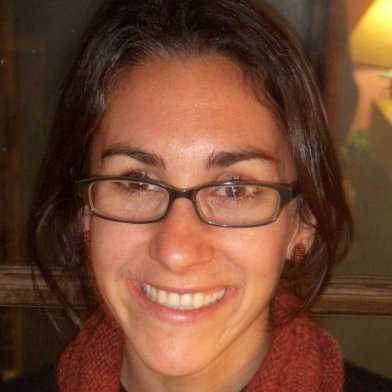 SEI is pleased to welcome Jess Finnigan to staff as SEI's new Workshop Coordinator.

Jess has a fantastic background that is perfect for this position. She was the Ventures/Custom Tours Program Coordinator at the Museum of Northern Arizona, and most recently was the Literacy Program Manager at our local library.

She has a BA in Environmental Studies, Policy Concentration from Gettysburg College and a Masters in Sustainable Communities from Northern Arizona University. She and her husband (just married last month!) own a farm in Hotchkiss and she raises chickens and pigs. Jess said, "Already, the staff, students, and alumni who I have met are so inspiring and I am excited to contribute to this great organization."

In September, Tawnya Parker, who formerly held this position, left SEI to pursue a degree in Physical Therapy. She wrote, "Each week during the summer months we have a new group of enthusiastic and open-minded students that are passionate about renewable energy. It's been a pleasure to share with you my love of the outdoors, and the wonderful access to this great mecca of untouched natural beauty in Paonia and the surrounding areas. I feel privileged to have had the opportunity to meet you all…and share popsicles with you!"
---
SEI Co-Founder Johnny Weiss and
Ongrid CEO Andy Black Present
at Solar World Congress

The International Solar Energy Society (ISES) and the Mexican Solar Energy Association (ANES) are hosting the Solar World Congress 2013 in Cancun, Mexico Nov. 3-7. It is expected to bring more than 1,000 participants from throughout the world. http://swc2013.org
SEI Co-Founder Johnny Weiss and SEI Instructor Andy Black of OnGrid Solar are scheduled to present a special pre-conference one-day workshop on Sunday, Nov. 3. The workshop is entitled "PV System Economics and Training'. Johnny will also present "Best Practices in Accreditation, Training & Certification" in a Congress Forum session and "Best Practices in PV Training" at the MicroGrid Deployment Conference following the World Solar Congress. http://microgridconference.com
---
SEI's Facebook community surpassed the 30,000 mark this month. If you haven't jumped on the Facebook phenomenon - you should. Many special promotions and information about SEI's educational efforts get posted to our social media channels.

Join us on Facebook today!
---

SEI Alumni Highlight - Alison Brown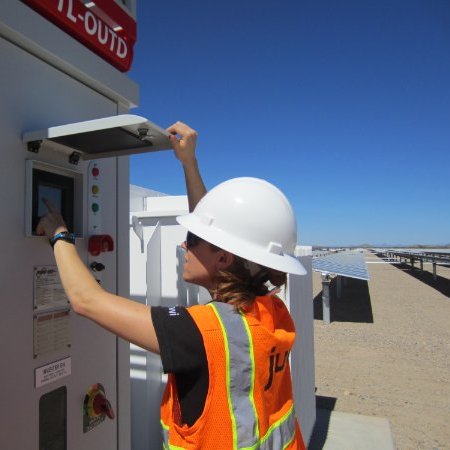 "After graduating from college, I knew I needed some hands-on experience prior to beginning a career in the solar industry, so I applied to be a work trader in 2007.

While at SEI, I took 8 classes from SEI including Renewable Energy for the Developing World in Costa Rica and the hands-on PV classes at the Paonia campus.

After I finished my classes, I installed a few PV systems in the Roaring Fork Valley before moving to the Front Range to manage and install residential PV systems. Now I am a Project Manager at juwi Solar where I have had the opportunity to work on over 60 MW of PV projects around the country. When reviewing drawings, I frequently think back to the wiring diagrams I studied with my fellow students over camp fires in Paonia.

Not only did SEI teach me how to build a PV system, the SEI family introduced me to Colorado adventures via mountain bike, xc and downhill skis. When I'm not working, I'm usually out on a trail playing in the Colorado sunshine."

Alison is now volunteering with SEI as her way to give back!
Thank you Alison!

---

SEI Alumni Highlight - Shannon Welch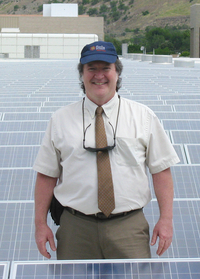 Three years after taking PV101, PV202 and PV201L, alumni Shannon Welch stopped in Paonia while on vacation to say hello, to tell his story, and to express his appreciation to the SEI staff. Shannon could be considered a typical SEI success story.

After starting out as a ski bum, Shannon worked most of his career as a project manager for general contractors in commercial construction. He was based in Salt Lake City, but found himself out of work as the economy hit the recession in 2008.

In the summer of 2009, Shannon's former wife suggested he look into being an intern and learn about solar energy at SEI. He was not in a position to do so then, but, in the summer of 2010, took a risk and got the money for class from his retirement account and headed for Paonia. His plan worked beautifully!

Shannon came to Colorado to take all three classes. In three weeks he took the basic PV class, took the grid-direct hands-on lab, and then went to Carbondale for the advanced grid-direct. He remembers instructors Rebekah, Brian, Kyle, Kris, and Zeke. Kathy Fontaine helped him find lodging in Carbondale. And SEI founder Johnny Weiss spoke with Shannon at one of the student get-togethers, and advised him to speak with SEI contract instructor Ken Gardner, who is also from Salt Lake City.

Though Ken didn't have an openings with his company, he urged Shannon to contact Bella Energy in Louisville, CO. Shannon was hired as a part-time project manager at Bella, and, after a year and a half, went to full time employment.

He had added solar energy to his existing skills, and instead of doing installations, he continued to do what he does best: project management and bidding projects.

Among the PV projects of which Shannon has been a part is a 1.65MW rooftop installation at the Salt Palace Convention Center in Salt Lake City. The PV array displaces approximately 18% of the energy usage. Shannon has always supported renewable energy and is really likes being able to use his experience and skill working in this field.