The SEI Student Services Team is reviewing candidate applications for 2014 Solar Professionals Certificate Program (SPCP) - Apply Today!
Applicants should apply as soon as possible in order for SEI Student Services advisors to schedule a training advising session before the next round of prerequisite courses.
Work Trader Position Available at SEI!

Work trader position Title:
Summer workshop helper
Click here for application >>
Description This person will assist the Paonia office manager in taking care of students and staff during the busy summer months when hands-on lab classes are offered in Paonia. Duties include taking charge of student lounge (particularly the drink station), assisting with potlucks, helping students with use of solar ovens, running errands in town, help with recycling and composting, checking and cleaning bathrooms, data entry, mailing projects, making Records of Completion, etc. While not working directly with PV systems, this person will have a chance to converse with instructors and students and will be working in close proximity to SEI's hands-on PV lab.
Dates: This job will require more than one work-trader. Dates are mid-April to end of September 2014.
Length: This person will work 8-4 Monday-Friday. Open to flexible hours, or even working less than 8 hours per day which would enable one to work another part-time job.
Lead: Chris Smith

---
SEI Alumni Interview:
Whitney Painter
Buglet Solar Electric Installation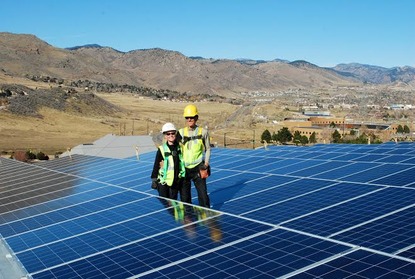 What you are currently doing in the solar industry?
We own a small PV installation business based in Golden, Buglet Solar Electric Installation. My partner, Bart Sheldrake, named the business after my childhood nickname. The two of us work together to design and install all of our systems as a team.

How long have you been working in the solar industry?
We started our business in 2006, and we've been grateful to stay busy since then!

What training did you take at SEI and how did it help advance your career?
Both of us studied at the Paonia campus; Bart took the PV Design and Installation course, and I took the same course for women. At at this moment, in preparation for NABCEP recertification, Bart is looking forward to taking several online courses as well.

Why are you a member of SEI?
We are honored to be part of the SEI community because our industry is underpinned by the quality and integrity of SEI's educational offerings. Additionally, SEI provides a connection point for a variety of folks passionate about solar energy across our state--and across the globe. We believe that it's important to extend the ethic of sustainability to supporting SEI, as we all benefit from the foundational presence it provides for our work over time.

If you would like to join SEI's Alumni and Friends Assocation - visit www.solarenergyalumni.org!
---
By Jerrod Bley - SEI Alumnus
I attended my first SEI class in July of 2013. It was the PVOL 101 course and I was very, very pleased with what I experienced. Since then I have attended a week long course in Paonia and recently completed another online course. Within a half year I have attended and completed three courses in all. I must say they have all been outstanding!

What I learned through SEI is the caliber of intelligent instruction I have been looking for over the past few years. I have taken other, shorter courses in PV technologies and applications, but they never really provided the depth of instruction I was interested in. SEI has given a leg up on the PV industry and has provided me with the know-how and motivation to make me successful in the industry.

Read Jerrod's Full Blog...