For 29 years, SEI has been dedicated to training the global solar energy workforce. We deliver hands-on experience, safety, and technical skills solar training to scale the global workforce at a pace to that significantly impacts climate change — whether that's equipping utilities with the skills to operate large-scale solar farms, or helping people access clean, reliable energy for the first time. Join our online and in-person training programs to kickstart your solar career while earning training requirements for NABCEP today.
Solar Professionals Trained
Megawatts of Solar Installed
Of the World's Solar Involve SEI Students
START TRAINING FOR FREE
Enroll now in SEI's RE100: Introduction to Renewable Energy class.
Experience SEI's Online Campus and learn the basic concepts behind the leading renewable energy technologies used throughout the world. Upon completion of the course with passing grade of 70% or better, you will receive a printable SEI Record of Completion. This course is a total of 6 contact training hours and you can sign up anytime and learn at your own pace.
SEI's Online Courses are accessible from anywhere in the world and comprehensively cover solar energy technology concepts and beyond. Utilizing SEI's handbook, online instructors and class participation, our online courses prepare you for a vital role in the solar industry.
Our in-person classroom learning brings exhaustive training through class lectures, tours, and hands-on instruction. We offer site-specific courses in Colorado, Costa Rica, Oman and United Arab Emirates – each location bringing it's own flavor of culture, ambiance and extra-curricular activities. 
Hands-on labs are the perfect way to put online or classroom learning into action in a controlled environment. By working in small groups with the guidance of qualified industry professionals, each student will put what they've learned in prior training to the test, developing skills that last a lifetime. 
VIEW ALL UPCOMING TRAINING

See all of our approaching online, classroom and hands-on professional solar training courses in one place.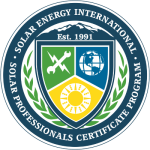 EXPLORE SEI'S CERTIFICATE PROGRAMS
SEI's Solar Professional Certificate Program (SPCP) is the industry's most comprehensive training program. With custom program tracks, SPCP prepares professionals with foundational solar skills and technical theory in the solar industry segment of their choice. The SPCP is designed for individuals who want to distinguish themselves among employers and clients who care about quality, skilled solar design, installation, operations, and maintenance. All SPCP tracks are a combination of hands-on, safety, and technical skills training.
COMPANIES WHO HAVE TRAINED WITH SEI
GET NABCEP CERTIFIED WITH OUR TRAINING
SEI's online and in-person training program counts towards the training requirements for taking the NABCEP Associate and professional certification exams. NABCEP offers two levels of credentials:
1.) PV Associate Credential, which can be taken after training.
2.) Professional Certifications, which requires both training and field experience.
EXPLORE THE SOLAR CAREERS OF OUR ALUMNI