Centro de Capacitación de Energía Solar de SEI-CFIA, Costa Rica (ENGLISH)

Travel Information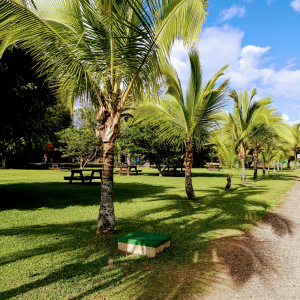 Centro de Capacitación Integral Uxarrací – Integral Training Center Uxarraci
224, Provincia de Cartago, Costa Rica
1km al oeste de la represa de Cachí en Paraíso de Cartago
The Solar Energy Training Center of SEI-CFIA in Costa Rica is located in the province of Cartago. It is located within the facilities of the Integral Training Center Uxarrací CFIA (Federated College of Engineers and Architects).  The PV201L is offered at the CFIA training center location in English.  Click here for scheduled sessions. 
The center was build in collaboration with the College of Engineers and Electricians, Mechanics and Industrialists of Costa Rica (CIEMI), and the Federated College of Engineers and Architects of Costa Rica (CFIA).
The training center has all the solar facilities conducive to practical training in solar energy, training spaces and a student lounge. It also has social areas, a large pool, picnic areas, a soccer field, basketball, volleyball and tennis courts, a playground for children, large green areas, a natural river, a game room, shop, grocery store and park. All facilities are enabled for SEI students and their families. Vacation and learn in an unparalleled solar experience in our center.
Location Reference
The center is located 3 kilometers east of the Mirador de Ujarrás, following highway 22, Cartago, Costa Rica.
Airports
Aeropuerto Internacional Juan Santamaría (SJO)
1 h 30 min (58km) from the SEI- CFIA Solar Energy Training Center

41 min. (27 km) from CIEMI.
We recommend that you purchase travel insurance when booking your airline tickets.
Transport
Bicycles: The Center has 14 bicycles, with their respective helmets, reflective vests, padlocks and lights, which will be available to students so they can use it during their stay. Write to [email protected] to reserve yours.

Buses: If you travel without a car, you can get on the public transport that goes from Paraíso to Cachí, with a stop at the door of the Training Center. You should consider that this transport does not reach Orosí, given that the entrance near the center is through a narrow bridge through which large vehicles do not pass.

Taxis / Uber: The taxi station and Ubers come from Paraíso. Consider requesting them with time.

Rental Cars: SEI has an account with Solid Auto, located in the San Jose Airport. The car pickup and dropoff is a few miles from the airport, but they offer a shuttle service. When booking, mention "Solar Energy International" to receive the pricing schedule.
Nearby Towns
–Cachí (1 mile from the Center) and Orosí (7 miles from the Center) you'll find supermarkets, restaurants and pharmacies. Outside of these towns, the area is very rural so you should consider this if you plan to travel without a car. Cachí is located closer to the Training Center, however unless you are very prepared, we do not recommend riding this distance on a bicycle as the route has many inclined hills.
-Orosí in particular is a very small touristic town with many options for accommodations. It´s safe and a nice place to stay. SEI Staff will be staying there. From there you can get around in a taxi or an Uber, and to arrive at the Training Center. The Uber costs around 9USD to the center from Orosi´s town center.
-Paraiso is another option of a small town that is located at about a ten minute drive, either in car or in taxi, from the center. If you stay in the center you will have access to all the necessities, grocery stores, ATMs, banks, etc.
About this Training Center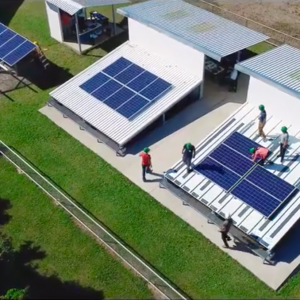 The Training Center has 3 stations where students practice designing and installing the following interconnected solar systems from start to finish. All SEI PV system stations are designed and installed under the highest quality standards, in compliance with the NEC 2014 standard and using equipment and components available in the market. The differences between the systems are important, since the student is expected to experiment with the greatest number of configurations in a week. PV systems have a great advantage: they are completely modular! From what you learn with SEI in the 201L course, you will recognize the fundamental concepts to install systems of any size in the future.
Let's look at some details about the tree stations of the 201L course in Costa Rica:
Station on roof – Inverter system with CC-CC optimizers: This interactive PV system with the network is installed on a sloped corrugated metal roof. It is mounted with a standard mounting structure parallel to the ceiling. The inverter with optimizers creates a solution that meets very simple quick shutdown requirements for residential and commercial systems. It also offers great design flexibility when there are partial shadows, circuits of PV modules of unequal length, or different inclinations and orientations of the roof.

Station on sloping roof – Microinverters System: Interactive PV system, mounted on metal structure anchored in parallel to a sloping metal roof, with microinverters. This interactive system uses single-phase output microinverters, widely used in residential systems and in sites with partial shadows. In addition, when installed on a sloped trapezoidal metal roof, the experience of working on a typical residential slope is included.

Overground Station – System with chain inverter: PV system installed on the ground, with typical structures in large commercial systems: metal structure on concrete pedestals. This system has 1 PV source circuit connected to a combination box, and has all the means of disconnection that would be required in a commercial system.
It also has all the necessary tools for the use of students and security teams.
The rest area has a fresh water station, coffee and electric current for charging electronic devices such as cell phones, tablets, laptop.
Accommodations
Rinconcito Verde
Valle de Ujarrás Lodge
Villar Cañaveral
Finca Sermide
La Casona del Cafetal
Cabinas Orquídea
House of Coffee
Chalet Orosí (Sin disponibilidad)
Hotel Tapantí­ Media
Montaña Linda Guest House
Hotel Reventazón
Orosí­ Lodg
Montaña Linda Hostel
Salto Eco Lodge
Restaurants
1. Restaurante Maui
2. Jicote
3. Casa Cogui
4. Café de Chumi
5. La Milpa
6. La Casona del Cafetal
7. Charrara Pura Vida – Centro de Recreación
8. Restaurante Tradiciones Don José
9. Soda Restaurante Rave
10. Soda el Buen Taco
11. Restaurante Rio Palomo
12. Rancho Orosí­
13. Casa del Sabor
14. Rancho José Cabecar
15. Acuarios Marisqueria
16. Pizzería Del Valle
17. Bar Y restaurant Coto
18. Bar Y restaurante El Nido
19. El Bar de la Gente
20. Soda El Potrerito
21. La Tribuna
22. Bar Restaurante Sport El Birrisito
Map of Accommodations and Restaurants near to the SEI-CFIA Training Center.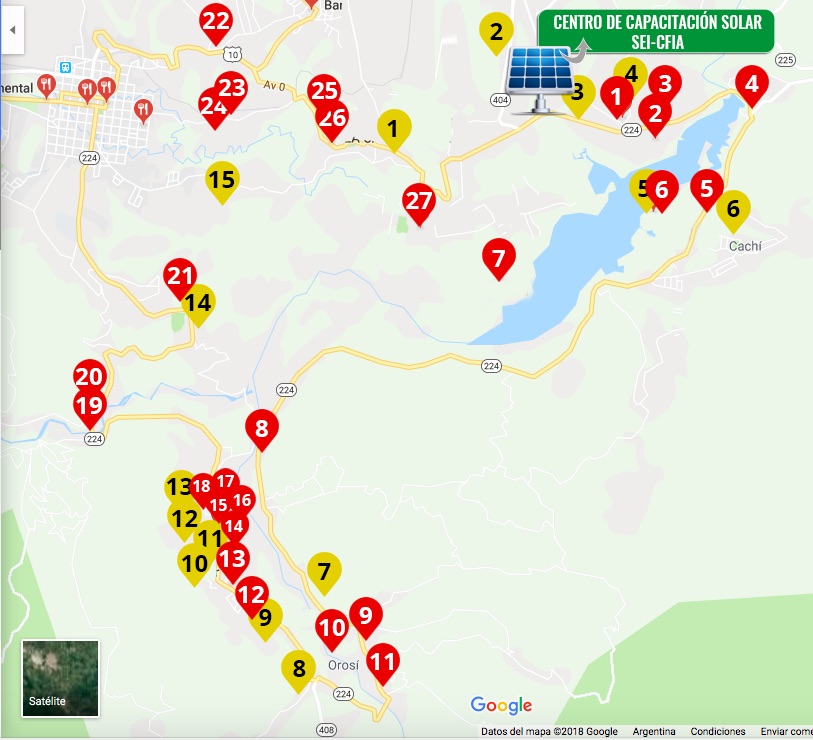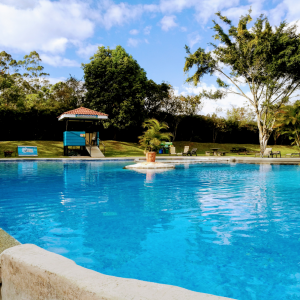 The Uxarrací center has all the solar installations conducive to practical training in solar energy, training spaces and student rooms. It also has party rooms, large pool, picnic areas, soccer field, basketball, volleyball and tennis, playground for children, large green areas, natural river, game room, store, grocery store and parking.
The entire installations are available for the use of our students and their families. Watch this video and discover all that you can do outside of your class schedule at the center.
In addition to its paradisiacal beaches, Costa Rica has countless tourist attractions, know below some places you can visit near the Center:
Located in Ujarras, The oldest church in Costa Rica is a sight worth seeing. Built in the 1560s, the Church of Our Lady of Clean Conception may now be in ruins, but the site offers a glimpse into the region's past. Today, the traveler will find a beautiful garden, as well as remnants of traditional Spanish colonial architecture
Lake Cachi is an artificial lake built in the 1970s. As one of the first hydroelectric projects in the country, the lake and the Cachi dam provide power and prevent flood risks in the area. Although the structure of this city is in striking contrast to the greenery that surrounds it, it is a surprisingly beautiful attraction to visit.
As Cachi is a small community, one of the best ways to explore it is with a bicycle. Travelers can find a place to rent one, and enjoy the scenery at a leisurely pace, or venture on a difficult journey through its steep streets.
La Casa del Soñador (The Dreamer´s House)
Besides the lake and the dam, one of the most outstanding attractions of Cachi is La Casa del Soñador. This impressive wooden house is a unique structure unlike anything I have seen. Elaborated by the artisan Macedonio Quesada, sculptor and carver of wood of world-wide fame, the House of the Dreamer is made entirely of branches of coffee and bamboo. Although he died in 1995, his children now live in this place. The little wooden shop also has sculptures of all sizes, which are available for purchase by visitors. So you can take home some of the history of Costa Rica with you.
The Lakester Botanical Garden, the largest in the country, "has 11 hectares and the specialty is orchids, there are more than 18 thousand and come from 1200 species, as well as a secondary forest and 2 km of trails" added Jimmy Díaz from the Garden Botanical Lankester.
It has some of the most exuberant virgin cloud forests in the region. With about 18 square kilometers of cloud forest and part of the Talamanca mountain range, this park is one of the most biodiverse in the country. In fact, the park is composed of two life zones: lower rain forest and tropical rainforest. The park spans more than 12,500 hectares and is home to a wide variety of wildlife, including more than 400 species of birds and 45 species of mammals.
Find more information on what you can do in Costa Rica here.
Upcoming Events
There were no results found.