As cities across the country pledge their commitment to go 100% renewable, a challenge is presented to rural communities, like Delta County, who have been historically coal-producing, to transition into adopting energy practices of the future with limited resources compared to bigger cities. Since 2015, Solar Energy International (SEI) has recognized this struggle, and as a result sought out a means of economic development for its surrounding community involving a rapidly-evolving industry that happens to be our expertise: solar.
This is how the SEI high school (Solar for Schools High School Solar Career and Technical Pathway) program was born. SEI AmeriCorps VISTAs took our industry-leading solar energy training curriculum, PV101-Solar Electric Design and Installation (Grid-Direct), and adapted it to create a trade training program for local high school students in Delta County.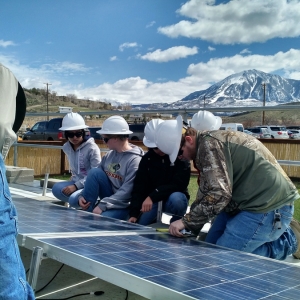 Bringing internationally-renowned solar training to students in rural high schools was widely successful on multiple fronts: it provided a pathway to careers in the U.S.'s fastest-growing industry to students whose families and communities had been affected by the coal mine closures, it garnered community support for solar and awareness of renewable energy, and it piqued interest in STEM-related fields for participating students.
AmeriCorps VISTAs who oversee the SIS high school program took this success to the next level. Our latest project is an extension of our Solar in Schools high school program. In partnership with our rural electric cooperative, Delta-Montrose Electric Association (DMEA), and the Montrose and Delta County School Districts, we are installing 10kW of solar PV systems on six local high schools during 2018. Our objective is to include 200 high school students in the installation of these solar arrays at their high schools and have over 200 students a year learn about solar in their science or math classrooms. DMEA pledged $150,000 of their unused capital credits to fund this endeavor.
We are so excited to announce that now, with the help of a grant awarded to SEI by the Jared Polis Foundation, we can take our high school solar training to the next level. SEI AmeriCorps VISTA Beata Ramza, who is currently overseeing the program, explained that the hope is to host a 4-day teacher training using SEI instructors, and a future partnership with the Knowles Teacher Initiative, to host a solar and engineering training for area high school teachers, who will then start to incorporate solar, and the presence of installed panels on schools, into their lessons.  
"Our hope is that the systems will offer not just energy, but also educational opportunity," SEI AmeriCorps VISTA Beata Ramza explained.
AmeriCorps VISTAs and the SIS program further support our belief that as the country, and the world, transitions to renewable energy, rural America has the potential lead the way. Interested in being a part of the movement? SEI is hiring a new VISTA!