GLOBAL SOLAR CONNECTION INITIATIVE
Get Trained. Stay Connected. Get Certified.
To combat the growing sense of isolation and disconnection brought on by COVID-19, we are launching the SEI Global Solar Connection Initiative! The purpose of this initiative is to create a global sense of connection and community around renewable energy education. We are offering multiple opportunities to get connected and start (or further) your solar energy education.

Take advantage of reduced tuition for any of our upcoming July Online Courses of 40 contact hours or more. Use discount code 50AUGOFF upon check out!
Enroll now in SEI's RE100: Introduction to Renewable Energy class. Experience our Online Campus and learn the basic concepts behind renewable energy technologies throughout the world.
Our On-demand Continuing Education program allows you to select individual courses, or choose a discounted training package consisting of multiple online, on-demand CE courses.
$99 Solar Safety Training
We've deeply discounted our Solar Safety Training Package, recognized by NABCEP for equivalency of OSHA training requirements for NABCEP certification. Get it now for $99!
SEI Live: Interactive Workshops & Webinar Series includes live training seminars covering topics such as best practices, O&M and more

. Webinars also include a Q&A session.
Solar Professionals Trained
Megawatts of Solar Installed
Of the World's Solar Involve SEI Students
VIEW ALL UPCOMING TRAINING

See all of our approaching online, classroom and hands-on professional solar training courses in one place.
GET A CUSTOMIZED EDUCATION PATH
Become a NABCEP certified Solar Professional with our industry-leading expertise.
For 29 years, SEI has been dedicated to training the global solar energy workforce. We deliver hands-on experience, safety, and technical skills solar training to scale the global workforce at a pace to that significantly impacts climate change — whether that's equipping utilities with the skills to operate large-scale solar farms, or helping people access clean, reliable energy for the first time. Join our online training programs to kickstart your solar career while earning training requirements for NABCEP today.
Call us: 1-970-527-7657, option 1 (7am-6pm MST)
INDUSTRY-LEADING ONLINE TRAINING
Learn from the comfort of your own home.
SEI's Online Courses are accessible from anywhere in the world and comprehensively cover solar energy technology concepts and beyond. Utilizing SEI's handbook, online instructors and class participation, our online courses prepare you for a vital role in the solar industry.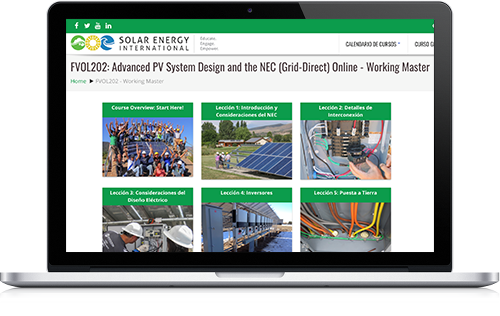 COMPANIES WHO HAVE TRAINED WITH SEI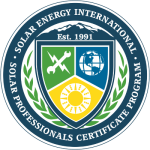 EXPLORE SEI'S CERTIFICATE PROGRAMS
SEI's Solar Professional Certificate Program (SPCP) is the industry's most comprehensive training program. With custom program tracks, SPCP prepares professionals with foundational solar skills and technical theory in the solar industry segment of their choice. The SPCP is designed for individuals who want to distinguish themselves among employers and clients who care about quality, skilled solar design, installation, operations, and maintenance. All SPCP tracks are a combination of hands-on, safety, and technical skills training.
GET NABCEP CERTIFIED WITH OUR TRAINING
SEI's online and in-person training program counts towards the training requirements for taking the NABCEP Associate and professional certification exams. NABCEP offers two levels of credentials:
1.) PV Associate Credential, which can be taken after training.
2.) Professional Certifications, which requires both training and field experience.
EXPLORE THE SOLAR CAREERS OF OUR ALUMNI