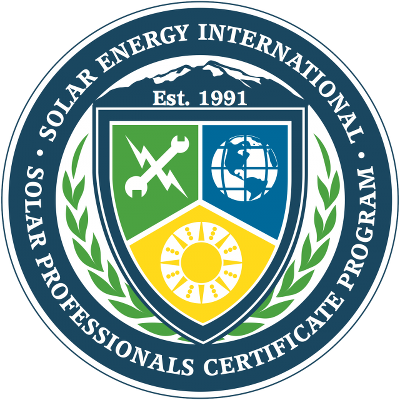 Overview
As you enter into the renewable energy career field it is critical that you understand the difference between your local laws regarding licensing and professional certification, as licensing is distinct from certification. States and localities establish licensing requirements for contractors and electricians in order to protect consumers from unsafe practices and protect the reputation of the industry, as improper installation may create safety risks or result in poor equipment performance. While licensing is mandatory for certain practices, certification is usually a voluntary standard that installers attain to differentiate themselves from competition and to instill confidence in consumers. Certification may entail completing coursework, installation experience for a certain period of time, and/or taking an exam, but it is typically not required by the local jurisdiction to legally install equipment.
Certification vs. Licensing
Certification and licensing have different advantages and disadvantages. From a financial point of view, voluntary national certification is preferable to mandatory state licensing because it results in a lower cost of installation and provides greater consumer choice than mandatory licensing. In states that do not require solar contractor licensing, certification can provide a baseline level of quality. State licensing may be restrictive, as state licenses do not typically transfer, so geographic mobility is limited. However, state licensing can protect consumers from potential safety hazards and will help ensure that systems are installed properly. While both licensing and certification have drawbacks, requiring solar contractors to be licensed or certified is preferable to no quality control of system installation and will result in baseline standards being met, which will in turn lead to higher consumer satisfaction.
Certification
The North American Board of Certified Energy Practitioners (NABCEP) is a nationally-recognized, independent, voluntary certification program for photovoltaic (PV) and solar-heating system installers, that can be earned to demonstrate specific skills or knowledge. To become NABCEP-certified, installers must have a certain amount of work experience (see NABCEP Handbook for specific qualifications) and must document all training and installations. Installers must also pass a rigorous exam, sign a code of ethics, and take continuing education courses for re-certification every three years.  SEI recognizes NABCEP as the leading certifying authority in the solar industry.
Proper training and workforce development are critical to a well-trained clean energy workforce. SEI individual courses and Solar Professionals Certificate Program can be used to meet the education requirements for NABCEP certification.  A Certificate Program is not a Certification, but rather a course of study, similar to a diploma available to people wishing to enter the solar industry.
SEI is fully equipped to provide the necessary courses to prepare you for the NABCEP PV Associate and full certification exams. Click the button below to get started.
Licensing
Solar contractor licensing commenced in the 1980s alongside the introduction of incentive programs for solar water heating. State regulation and licensing of solar contractors continues to evolve as the industry grows. Currently, 12 states and Puerto Rico have solar contractor licensing requirements. The contractor licensing requirements described here refer to solar-specific licensing requirements, rather than general electrical or plumbing contractor licenses. Most states require a licensed electrical or plumbing contractor for PV and solar-thermal systems, respectively.
Some states require solar installers to obtain a separate, specialized solar contractor's license. In most cases, solar is a specialty classification under the general electrical or plumbing licenses and all appropriately licensed contractors can install solar systems without the solar specialty license. However, contractors may be able to obtain a solar specialty license and install systems without having the full electrical or plumbing license. This reduces the cost of licensure for contractors who only install solar systems.
The Interstate Renewable Energy Council has a national map of solar licensing activities in the U.S. Click the button below to view map. Furthermore, certain local jurisdictions within each state may have different requirements than that listed by IREC.  For the most accurate understanding of licensing requirements it is best to talk to your local Authority Having Jurisdiction (AHJ) or building department.
Conclusion
Even in states that do not have contractor licensing requirements, financial incentive programs often include installer requirements, such as pre-approval or, some cases, NABCEP certification. Although intended as a voluntary, value-added credential, NABCEP certification is now either mandatory or preferred for contractors who seek to install systems eligible for state incentive programs. For example, to be eligible for state rebate funds in Maine, Minnesota or Wisconsin and possibly more, a PV system must be installed by a NABCEP-certified professional. California, Delaware and Massachusetts, etc. rebate programs prefer or recommend NABCEP-certified professionals. In Utah and Rhode Island, NABCEP-certification is a prerequisite for qualifying for a state solar contractor license. In the absence of state licensing or certification requirements, local governments like counties or cities may adopt regulations or establish their own licensing procedure.