If you'd like to contribute to a scholarship fund, click the Donate Now button and indicate "Walt Ratterman," "Heather Andrews," "Veterans," "Johnny Weiss", "Live it Like Austin," or "General Scholarship" in the Write in Your Own Cause box on the donation payment page.
If you are from a developing country and would like take SEI workshops in order to bring renewable energy technologies to your community, you may qualify for the Walt Ratterman Scholarship.

If you are from a developing country and would like take SEI workshops in order to bring renewable energy technologies to your community, you may qualify for the 
Walt Ratterman Scholarship
. SEI is deeply saddened by the loss of Walt Ratterman, who perished in the devastating Jan. 12, 2010 earthquake in Haiti. Walt was an instructor, alumni, supporter and friend of SEI.  He was also an incredibly dedicated one-of-a-kind individual who touched thousands of people's lives around the world.  Walt was in Haiti working on solar projects for health clinics with the organization that he cofounded,
SunEnergy Power International
(SunEPI).  SunEPI works around the world to improve people's quality of life with renewable energy technologies in remote, rural areas.
Some of Walt's work can be seen in Adrian Belic's award winning film "Beyond the Call" which documents Knightsbridge International, a humanitarian and medical aid organization to which Walt belonged that worked in some of the most dangerous places in the world.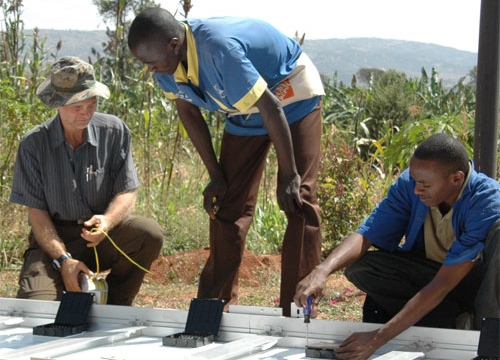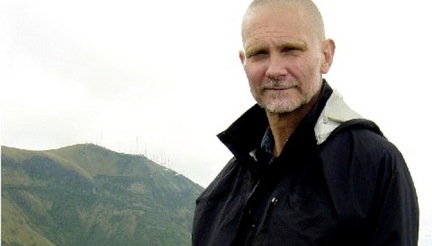 Walt and his Knightsbridge buddies were described as a cross between Indiana Jones and Mother Theresa, and there is no better way to describe Walt.  Fear was not a word in his vocabulary, and he had a heart of gold.  And that is probably an understatement on both accounts.  Whether it was crossing the border into Burma in the middle of the night with solar equipment to train Burmese medical technicians, or wearing a burqa in Afghanistan under the Taliban to see what it was like to be a woman in that country, Walt's quest for knowledge and his desire to help those in need was extraordinary.  If there were people in need, and Walt could help, it didn't matter their geographic, political or religious affiliation, he would be there.  To Walt, humanitarian aid knew no boundaries.

Walt brought solar training and humanitarian aid to Rwanda, Uganda, Afghanistan, Benin, Burundi, Pakistan, Kazakhstan, Palestine, the Philippines, Burma, Thailand, Cambodia, Tibet, Ecuador, Peru, Nicaragua, Haiti, and the list goes on.  And the list of NGO's he worked with is almost as long as the countries he worked in.  The Solar Electric Light Fund, Green Empowerment, the Border Green Energy Team, Solar Energy International, Engineers without Borders, Light Up the World, and many others all benefited from Walt's incredible knowledge and dedication.
SEI feels privileged to have known and worked with Walt over the years.  Although he is now gone from this Earth, his spirit lives on, in the many thousands of lives around the world that he has touched, and the remarkable work that people he has inspired will keep on doing.
He was truly a solar hero.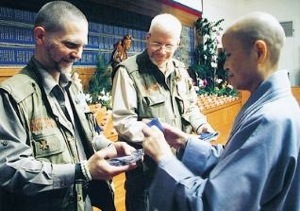 In 2012, SEI established the Heather Andrews Scholarship Fund to support women's solar training. Heather was a SEI alumna and solar champion who passed away Feb. 8, 2012, after complications from brain surgery. This scholarship supports female SEI students pursuing hands-on training at our Paonia PV Lab in the charming town nestled in the Rocky Mountains Heather held close to her heart. It also supports female SEI students with partial tuition scholarships for SEI online training.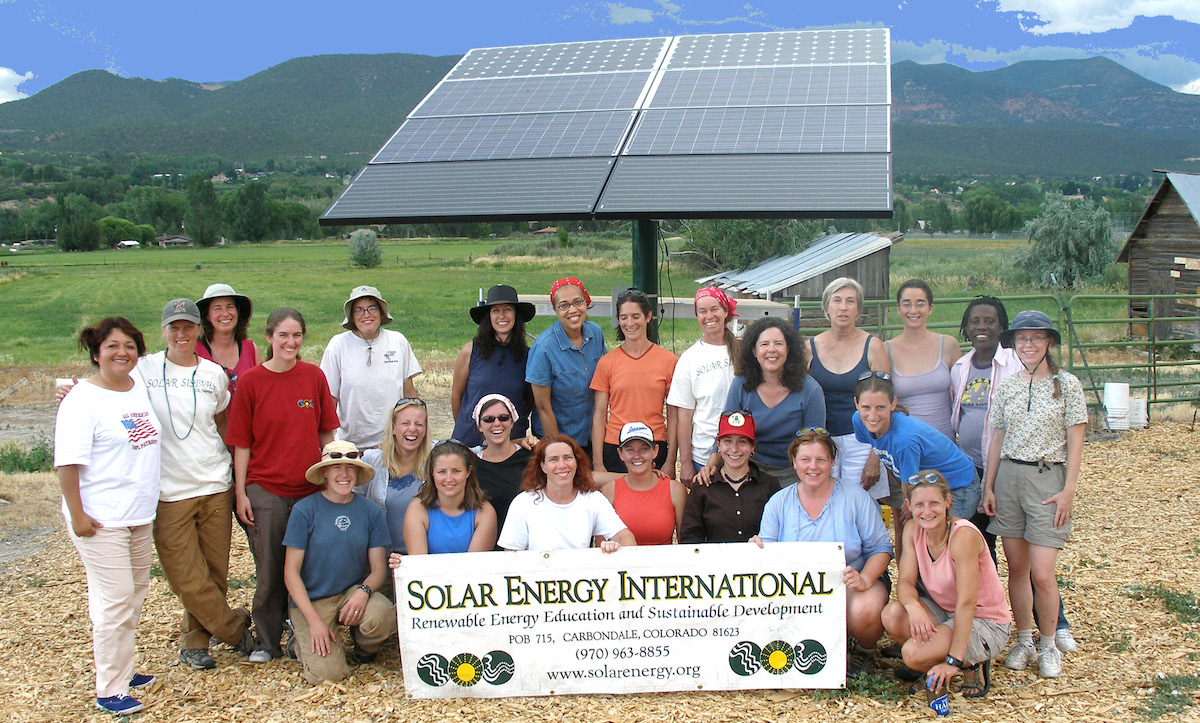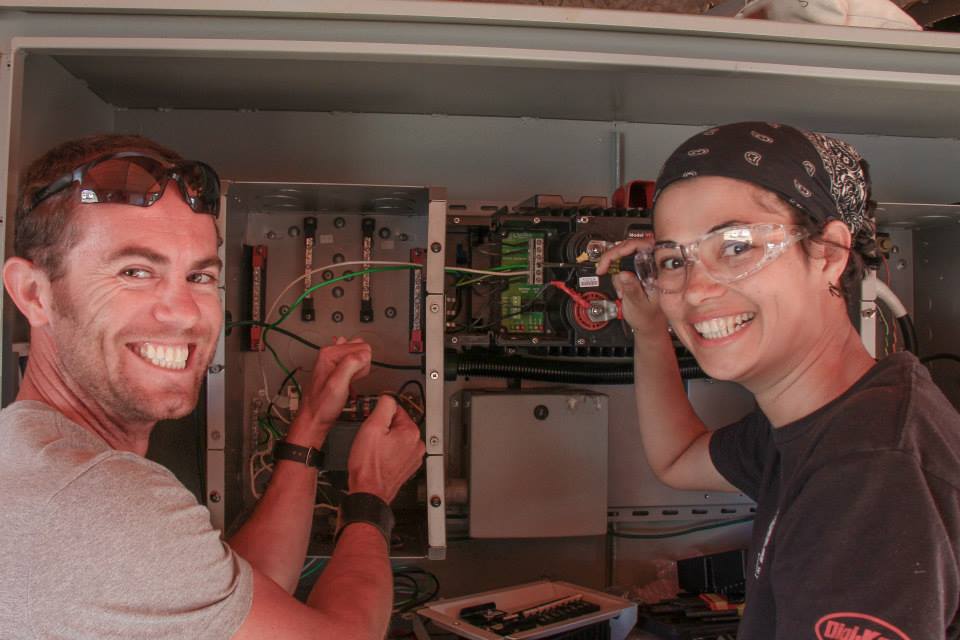 The 
SEI Veterans and Active Duty Military Program
 assists veterans as an approved training provider for Veterans Education Benefits.  SEI's Solar Professionals Certificate Program is an approved technical training program for many federal and state based veterans education funding.  This is a truly inspirational outreach program for veterans and active duty military personnel.   SEI has experienced a dramatic increase in recent years of veterans who wish to attend SEI training and are looking for funding opportunities to take full advantage of all that SEI has to offer. In addition to being approved for eligible veterans to us their Veterans Education Benefits, SEI also works with foundations and outside supporters to provide scholarship funding from time to time.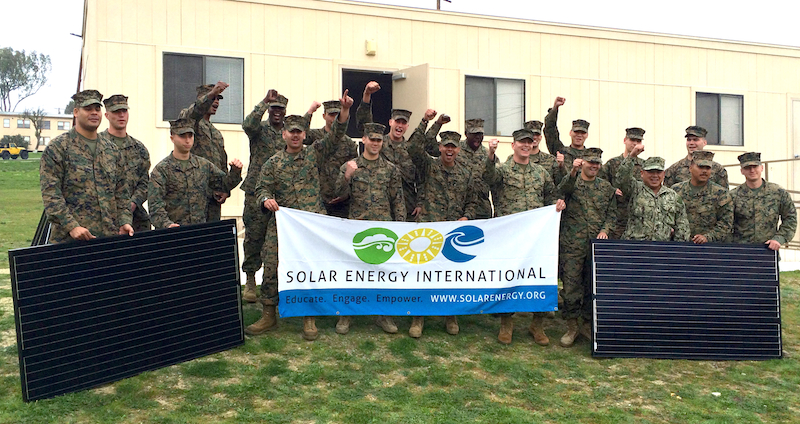 In 2013, SEI established the Johnny Weiss Scholarship Fund in honor of our Co-Founder, Johnny Weiss. In 2013, Johnny transitioned his role to an advising consultant and we wanted to honor him for his vision in co-founding SEI in 1991. Because of Johnny's vision, SEI has trained over 22,000 people and has had a significant impact on the renewable energy industry. This scholarship is for a person, chosen personally by Johnny Weiss, who demonstrates Johnny's commitment to making the world a better place through service. A preference is given to Native Americans or people from the developing world. This scholarship is for a full tuition course.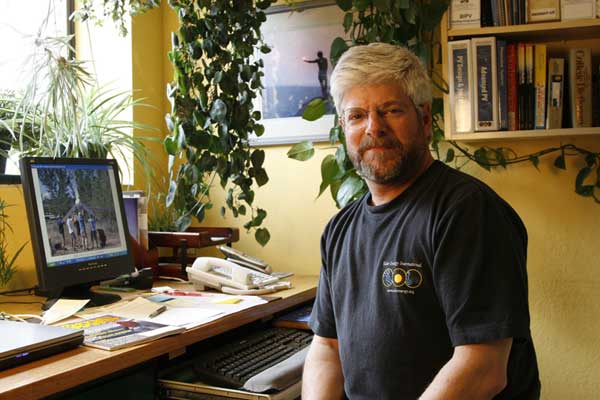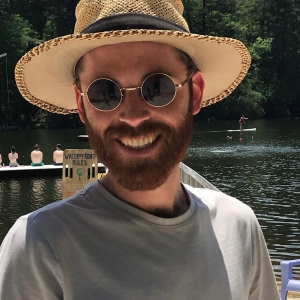 The Webster Family and the National Independent Service Association created the Live It Like Austin Scholarship Fund to honor our SEI student, supporter, and friend Austin Dale Webster.
From the Webster Family:
We could certainly talk for days about Austin, the amazing son, brother, friend and person. However, we will simply give you a small glimpse into his special heart, and how he discovered his passion for making the world a better place through solar energy.
Though Austin did not have many faults in our eyes, he was always looking to better himself.  Austin was a notorious "list" writer all his life.  These lists addressed everything; things he needed to do for school, things he needed to do at his house, things he needed to do at work, things he needed to do on a Thursday, and things he needed to do next year. In his scraggly script, he wrote "pay rent to Jean", "check ticket sale dates for Counterpoint", "get dad to cut my hair", and other routine tasks.
Then there were his big lists;  "What Do I Believe?", "What Do I Want?", "What Have I Done Right?" and "What Can I Do Better?". Austin wanted to be inspired and to inspire. Austin wanted to be wealthy in happiness. Austin wanted to have no enemies. Austin believed that the right thing to do isn't always the easy thing. Austin valued honesty and straightforwardness. Austin believed it was important to remain optimistic in certain contexts, but to also be realistic. Austin felt he should be less judgmental.  Austin felt he should connect with family and friends more, and show gratitude.  Austin believed he could do anything he wanted, but not everything. Austin believed his primary goal was improving the world and this should be the primary goal for everyone. Austin believed that "All of this is a miracle."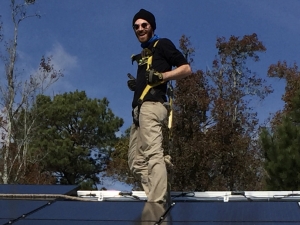 Austin fell in love with solar around the end of 2016. This love was nurtured by his "networking" at the City Tap, a bar where he worked in Pittsboro, NC. The Tap is a unique local bar, catering to aspiring musicians, local breweries, and people from all walks of life. It was at the Tap that Austin truly found peace in the man he had become. Austin possessed a heartfelt and genuine passion to help provide natural, clean, and affordable sources of power for families of all backgrounds. Through his contacts at the Tap and other extensive research, Austin found The NC Clean Energy Technology Center at NC State University.  He approached us with his ideas and desire to start the Renewable Energy Technologies Diploma Series.  In May of 2017, he eagerly registered for the first workshop in the series.  Completion of this 40-hour workshop sent him on his way into the world of photovoltaic (PV) systems and becoming a certified PV installer. In the fall of 2017, Austin accepted a job with Sun Dollar Energy, a family owned solar energy company which offers residential solar panel installations. To say Austin was happy is an understatement.  Working on rooftops, in the heat and the cold, Austin found his calling. In June of 2018, Austin completed a second workshop at the Technology Center. Austin was saving money for his journey to Solar Energy International (SEI) in Paonia, Colorado, with plans to enroll in their Solar Professional Programs. He was already taking SEI's introductory on-line courses. Austin passed away on July 27, 2018 under circumstances beyond his control. Though he will not achieve further solar certifications, we know that he would be honored to assist other deserving individuals to reach this goal.  This is our purpose and our objective. With the help of our special friends in the National Independent Service Association, the Live It Like Austin Scholarship was established.
Without a doubt, our sweet, gentle man improved our world and continues to make the world better for all of us. Hopefully and with every ounce of our existence, we can all follow his beautiful and inspiring example.
With love, hugs and remembering always to Live It Like Austin,
Teri, Richard, Audrie, Vini, Viviana, Andrew and Jessica
**SEI also has a General Scholarship Fund from which we award tuition assistance to those in financial need, from any country, and who are often underemployed or unemployed and in search of a new and meaningful career.**
If you are interested in applying for a scholarship (General, Johnny Weiss, Walt Ratterman/International, Heather Andrews/Women), please follow the link to the right to fill out the application.  Please read about the scholarship fund prior to filling out application, and be sure to thoroughly and accurately read and respond to all questions on the application. If you are interested in our Veterans Program and additional scholarships for Veterans, please use the Solar Professionals Certificate Program application to apply once you have read about the program and ascertained if it applies to you!
"SEI is to Solar as Harvard is to Law.
-Tony Michael