Solar Energy International (SEI), in collaboration with the Colegio de Ingenieros y Agrimensores de Puerto Rico (CIAPR), provides comprehensive education in the design & installation of solar energy systems through SEI's Online Learning Platform with this program exclusively designed for CIAPR members.
This Programa Educativo en Energía Solar provides a Certified PV Professional certificate upon completion. The renewable energy courses in this program are approved by the Department of Continuing Education of CIAPR, and members of CIAPR can earn between 109 to 126 continuing education credits depending on the combination of courses.
CERTIFIED PV PROFESSIONAL CERTIFICATE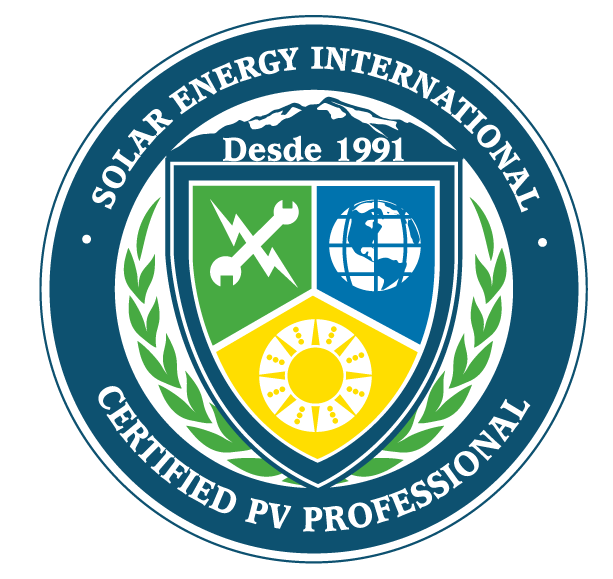 To complete the Programa Educativo and receive a Certified PV Professional certificate from CIAPR, the trainee is required to take a total of Five (5) online courses within 18 months of the first course taken. Courses are provided in English and Spanish.
Required courses include:  FVOL101, FVOL203, CE522. (NOTE: FVOL101 must be completed first)
Elective courses include (choose only two):  CE505, CE510, CE513, CE514, CE517, CE518, CE519, CE523, CE524, CE525
Receive up to $400 discount when purchasing the whole package at once!
There are two options available:
1-REGISTER FOR THE WHOLE PROGRAM UP FRONT
CLICK HERE to purchase the whole program at once and receive up to $400 discount. The total amount of the program including the discount if you pay at once is $1,287.
2-REGISTER FOR ONE COURSE AT A TIME
You can register for one course at a time over 18 months. Discounting is not available with this option. When choosing this option please let us know by emailing [email protected] or call +1-970-527-7657 opción 8, so that we can track your progress in the program. Sign up to each course using the links below:
REQUIRED COURSES
ELECTIVE COURSES (CHOOSE TWO)
Each course you complete qualifies for Continuing Education Credits through CIAPR. To receive those credits you must present the individual course Record of Completion from SEI to CIAPR.  You will be able to download the individual course Record of Completion at the end of each course, in the 'course wrap-up' section.
To receive the Certified PV Professional certificate from CIAPR you must complete and pass all 5 courses in the program and present CIAPR with a support letter issued by SEI.  This letter can be requested by email at [email protected] or by phone at +1-970-527-7657 (option 8) upon completion of all 5 courses.  It is the student's responsibility to request this letter, if desired.
REQUIRED COURSES
You must complete these 3 courses to comply with program's requirements. Please consider that the courses FVOL101 and FVOL203 are not available all year long; they are 6 week long courses with a set start and end date. Be sure to check on the available dates when enrolling into the program.
FVOL101: DISEÑO E INSTALACIÓN SOLAR ELÉCTRICA (SISTEMAS INTERACTIVOS) – 60 hours ($595)
Este es un curso fundamental para cualquier persona que quiera iniciar una carrera en energía fotovoltaica (FV) y/o comprender los pormenores de la generación de electricidad con base en el efecto fotoeléctrico. La plataforma del curso FV101 le permitirá continuar desarrollándose en áreas como: diseño, inspección, instalación, mantenimiento, ventas técnicas y soporte técnico; todo basado en los más rigurosos códigos eléctricos y en prácticas recomendadas por profesionales con décadas de trayectoria en la industria.
FVOL203: FUNDAMENTOS DE SISTEMAS FOTOVOLTAICOS BASADOS EN BATERÍAS – 40 hours ($445)
Este curso le proporcionará al estudiante una comprensión de los conceptos fundamentales necesarios para trabajar de forma segura en sistemas FV basados en baterías; estos incluyen los sistemas FV aislados (o autónomos) y los sistemas FV conectados a la red con respaldo de baterías.
CE522: 2017 NATIONAL ELECTRICAL CODE™ AND PV SYSTEMS– 6 hours ($299)
The National Electrical Code® drives industry-wide best practices as well as product development cycles of PV component manufacturers, so whether you're an installer, designer, manufacturer, engineer, or building official, it's critical to stay on top of the game.
ELECTIVE COURSES (CHOOSE TWO)
You can select anytime within the 18 month program duration each of the following individual CE courses.  Once a CE course access begins, you will have 60 days to complete that course before the it expires.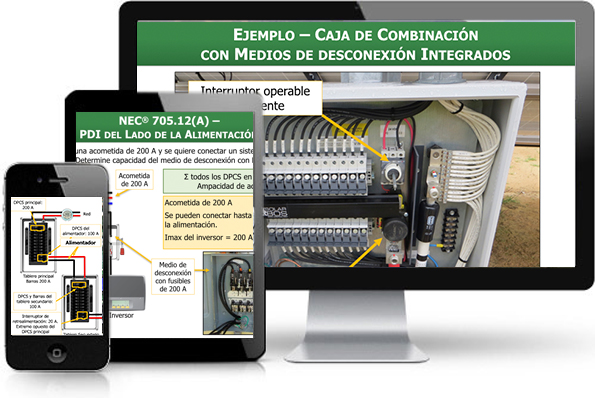 If you are looking to add continuing education credits to your career, take our advanced 60 hour PV online training in Spanish: (FVOL202) Diseño Fotovoltaico Avanzado y el NEC.  Please note that while this course is approved by CIAPR for continuing education credits, it is not part of the Programa Educativo and does not count as one of the elective courses.
Description
(FVOL202) Diseño Fotovoltaico Avanzado y el NEC: En este curso se estudian los detalles de ingeniería y diseño avanzados para el diseño eléctrico y la instalación de sistemas FV con recomendaciones de las prácticas más utilizadas por profesionales en la industria. Este curso se basa el Código Eléctrico Nacional (NEC) de EE.UU. en su última versión en español, 2014. El curso incluye los cambios pertinentes a sistemas FV publicados en el ciclo NEC 2017, el más actualizado en inglés.
Prerequisite
Students MUST complete 101 with SEI, or demonstrate field experience and pass a placement quiz.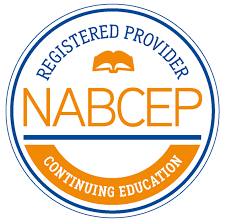 NABCEP offers entry level knowledge assessment, professional certification, and company accreditation programs to renewable energy professionals throughout North America and the world. SEI's online and in-person training program counts towards the training requirements for taking the NABCEP Associate and professional certification exams. If you are also interested on NABCEP certification, please click here to learn more.