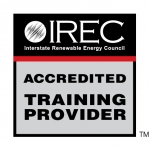 Solar Energy International's PV training program is accredited through the Interstate Renewable Energy Council 
(IREC)
. The IREC Credentialing Program accredits clean energy training providers and certifies instructors and master trainers.  IREC's leadership in this area lays a foundation for the clean energy economy through training standards and credentials that foster a high quality workforce. IREC's emphasis on industry validated, credible credentials is a key factor in closing the skills gap between education and industry and is mirrored and reinforced by national activities. SEI is proud to have achieved this third party accreditation, which includes a rigorous 360 degree review of everything from curriculum to our process and procedures.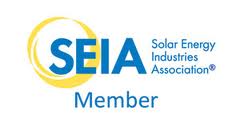 SOLAR ENERGY INDUSTRIES ASSOCIATION MEMBER
The Solar Energy Industries Association (SEIA®) is the driving force behind solar energy and is building a strong solar industry to power America through advocacy and education. As the national trade association of the U.S. solar energy industry, which now employs more than 250,000 Americans, they represent all organizations that promote, manufacture, install and support the development of solar energy. SEIA works with its 1,000 member companies to build jobs and diversity, champion the use of cost-competitive solar in America, remove market barriers and educate the public on the benefits of solar energy. SEI has been a member of SEIA since 2009.

Solar Energy International has a close relationship with The North American Board of Certified Energy Practitioners (NABCEP).  NABCEP is the most respected, well-established and widely recognized national certification organization for professionals in the field of renewable energy. NABCEP offers credentials for skilled professionals, specialists and those new to working in the areas of photovoltaics, solar heating and small wind technologies.  NABCEP's mission is to develop and implement quality credentialing and certification programs for practitioners by supporting and working closely with professionals and stakeholders in the renewable energy and energy efficiency industries.
SEI is a registered provider of the NABCEP PV Associate's Exam, and our training counts for training towards certification, as well as recertification.
"Very great class that better equipped me to handle the art form that is solar pv."
-Ben Peters