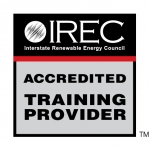 Solar Energy International's PV training program is accredited through the Interstate Renewable Energy Council 
(IREC)
. Accreditation is a third party review and attestation of an entity's conformance with an established standard. Accreditation is awarded for a fixed period of time and requires renewal. This credential from IREC is a nationally-recognized mark of quality training in the clean energy industry.IREC leads national efforts to ensure that the clean energy workforce is highly skilled and trained to meet employer needs. As the renewable energy industry grows, so does the demand for quality training. Training that meets the highest standards and results in marketable, job-related skills stands out from the rest. The IREC Credentialing Program offers that distinction.

AMERICAN SOLAR ENERGY MEMBER
Established in 1954, the nonprofit American Solar Energy Society (ASES) is the nation's leading association of solar professionals & advocates. Their mission is to inspire an era of energy innovation and speed the transition to a sustainable energy economy. They advance education, research and policy.
ASES leads national efforts to increase the use of solar energy, energy efficiency and other sustainable technologies in the U.S. They publish the award-winning SOLAR TODAY magazine, organize and present the ASES National Solar Conference and lead the ASES National Solar Tour — the largest grassroots solar event in the world. ASES is the U.S. section of the International Solar Energy Society.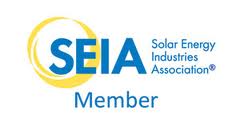 SOLAR ENERGY INDUSTRIES ASSOCIATION MEMBER
Established in 1974, the Solar Energy Industries Association is the national trade association of the solar energy industry. As the voice of the industry, SEIA works to make solar a mainstream and significant energy source by expanding markets, removing market barriers, strengthening the industry and educating the public on the benefits of solar energy.

Solar Energy International has a close relationship with The North American Board of Certified Energy Practitioners (NABCEP).  NABCEP offers entry level knowledge assessment and professional certification to renewable energy professionals. Raising industry standards and promoting consumer confidence, NABCEP is known as the "gold standard" for PV and Solar Heating Installation Professionals and PV Technical Sales Certifications.
Solar Energy International's PV and Solar Hot Water courses were created using NABCEP's industry standard job task analysis (JTA). A JTA is a formal, industry-accepted study, validated by a group of subject-matter experts that defines competencies in knowledge, skills, and attitudes as the basis for education/training curricula.
Solar Energy International is also a NABCEP PV Associate Exam provider. All of SEI's PV and Solar Hot Water courses count towards NABCEP's education requirements, whether its for the PV Associate level test or as an advanced-level course for certification or as continuing education.
"Incredible experience, incredible training, incredible staff, incredible location."
-Brian Angelo