We are proud to announce that the 2015 round of Solarize North Fork Valley resulted in over $400,000 in local investment through the installation of 120kW of solar in 23 new systems. So…. we have grown the program to include all of Delta County!
For our tiny communities of Hotchkiss, Crawford and Paonia, this is significant and now it is only the beginning. Click below to learn more about the new improved "Solarize Delta County" initiative.
"Very helpful! Convinced us to go solar now after all the years of trying to decide whether or not it was feasible to go solar"
"The amount of information we received on the guided tour was really good, it gave us a good starting point to find out more information about going solar at our house."
"We couldn't be happier with the professionalism of the solar crew who installed our system. They were extremely courteous, polite & pleasant people to get to know."
"You made the whole process seem easier and doable by hosting the community events and supporting everyone through each step of the process."
"I went solar. I think that your process is great. I'm not sure what you could have done better. Your event speakers were great. The installers were professional and easy to work with on the project."
"My hope is that the success of this program will get the news around the grapevine and that the next round will be even more successful."
"The Solarize effort provided me the information that I needed to understand and decide to go solar. All the people working the program, SEI and the energy professionals, were very helpful in all conversations that I had with them. The process and support provided me with the information and knowledge so that I could confidently move forward with the PV project for my home."
The idea behind Solarize is to tackle these 3 major market barriers to adopting solar for communities: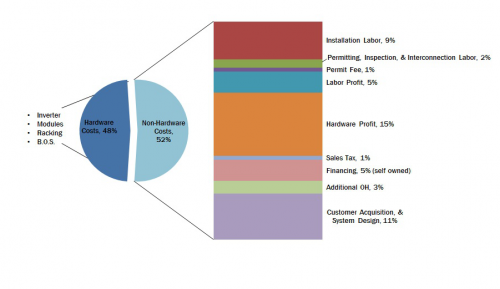 The cost of solar electricity looks like this. You have your hardware costs, accounting for 48% of average system cost, which include your inverter, modules, module racking, and what we call balance of systems (conduit, wiring, meter, etc). And your non-hardware costs, accounting for 52% of the system.
With the price of solar equipment dropping significantly each year, Solarize looks to reduce the non-hardware costs of solar in order to make it more affordable to residents, specifically looking to the customer acquisition portion of the cost of solar. Customer-acquisition activities can add considerable time and cost to PV installations, perhaps especially in areas with less-mature markets where perceived technology risk and unfamiliarity with PV might increase bid-failure rates.
So where Solarize is able to provide the partner installer with jobs in the pipeline through providing hot leads, installers are able to provide residents who sign up for a PV system through Solarize with pricing that reflects the lower customer acquisition costs. This is the basis of our tiered pricing structure.Solarize partner installers will offer rebates to all those who sign contracts by the program closing date as various tier levels of solar is sold through the program.
The rebates are as follows:
100kW of residential and small commercial* solar sold through the program – $400 off per system for those who participate

150kW of residential and small commercial* solar sold through the program – $500 off per system for those who participate

200kW of residential and small commercial* solar sold through the program – $600 off per system for those who participate
*Large commercial systems > 25kW and larger will be counted separately from the cumulative system capacity contracted in residential and small commercial, but will still benefit from tiered rebates based upon total volume contracted in their category (150kW or more contracted large commercial = $1000 off per system, 200kw or more = $1500 per system, 250kw or more = $2000 per system).
Simply put, the more solar sold through Solarize, the less the cost is for everyone who participates!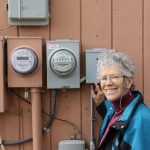 For many residents, the most complicated aspect of going solar is knowing where to begin.
Solarize is all about providing an easy starting point. Solarize Delta County provides residents with education on every aspect of solar including energy efficiency, solar electric technology, solar site assessments, incentives and rebates, financing solar and energy efficiency, and much more!
Equipped with this information, residents are able to make an informed decision about whether solar is right for them. Those who want to move forward with solar have the option of working with our Solarize partner installer, who can offer them Solarize pricing.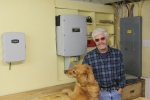 A critical component of any Solarize program is its deadline. Residents must sign a contract with the Solarize installer by August 15th, 2016 in order to take advantage of the special tiered pricing offer.
This tiered pricing structure serves as a motivator for residents to talk with their neighbors about Solarize and encourage one another to take action. More neighbors going solar means lower prices for everyone.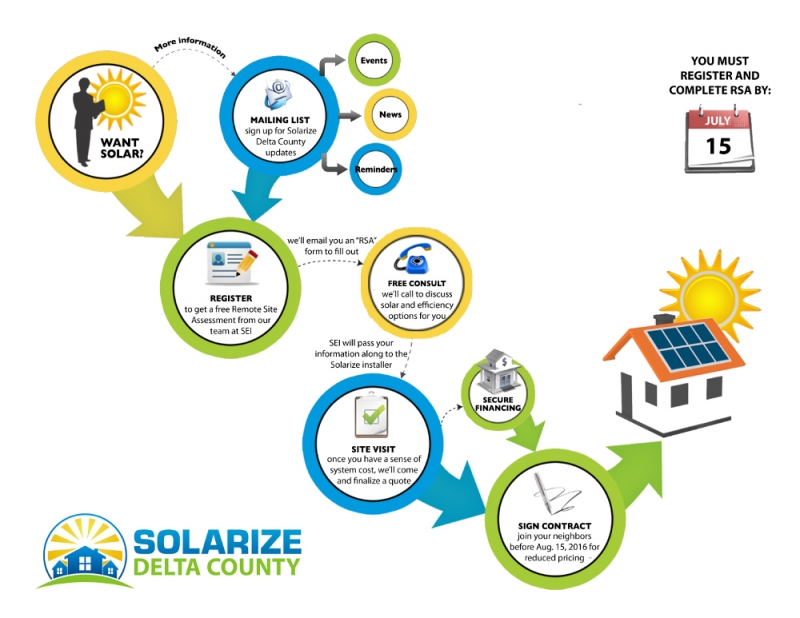 Solarize North Fork Valley was inspired by the Solarize program model originated in Portland, Oregon. In Portland, Solarize began as a grassroots effort to greatly increase the installation of residential rooftop solar electric (photovoltaic) systems.
What the originators didn't anticipate was the entire "market-kickstart" provided by their efforts. In each of the communities that have adopted the Solarize model, non-Solarize contracted installations have increased as a result of the heightened awareness and education provided by the campaign.
As a result of this fact, communities around the nation have used the Solarize model to not only increase the installation of PV systems in their communities, but also to create jobs in the industry. Nationwide, one out of every 83 jobs created in 2015 was in the solar industry.
At SEI, the success of the industry on both a national and international level has been ever-apparent. Each year, SEI trains over 5,000 students from around the world providing industry-leading technical training and expertise in renewable energy through online courses, in person courses, and hands on PV labs in Paonia, Colorado.
While SEI has always been focused on training for the national and international solar market, the time is ripe for SEI to bring our impact home to a our local communities. To do this, SEI secured Americorps VISTA positions to work on Economic Development Through Solar for Delta County. This was the genesis for first round Solarize North Fork Valley in 2015. Following the success of the first round, Solarize Delta County was launched with a similar goal to bring some of the same success the solar industry has seen on a national and international level to our communities, with the long-term goal of creating more jobs locally.
Leveraging new partnerships, financing, and a team of Solar Ambassadors, Solarize Delta County will not only expand the benefits of "going solar" to more county residents but also galvanize the community around a bigger vision of local energy independence and renewable energy as means of economic revitalization.
| Funding Option | Pros | Cons | Loan Amount Limits | Avg % Int Rate | Loan Period | Approx Pmt/Mo Assuming $25K Loan Amount | Who Should Apply? | Other Notes |
| --- | --- | --- | --- | --- | --- | --- | --- | --- |
| | Qualifies for 30% Federal Tax Credit Immediately | Large Cash Outlay – Risk of Reduced Cost Recovery if House is Sold Early | n/a | n/a | n/a | 0 | Anyone with enough cash to fund a complete solar installation | |
| | Loan Interest on Primary Residence is Tax-Deductible | Can Carry up to 2.5% Origination Charge | Up to 80% LTV | 2.79%-4% | Up to 30 Years | $105 | Homeowners with average or better credit and more than 20% equity | BEST FINANCING OPTION FOR THOSE WHO QUALIFY! |
| | Local! | Limited Loan Programs | Up to $5,000 | Call Banks for Rates | Call Banks for Terms | Call Banks for Terms | Anyone | |
| | No Collateral Required | 3-5% Funding Fee | Up to $35,000 | 6.68% to 35.97% APR | Up to 5 Years | $495+ | Individuals w/ Good to Excellent Credit | Small Business loans available up to $300K |
| | No Collateral Required | 1-5% Funding Fee | Up to $35,000 | 6.68% to 28.69% APR | Up to 5 Years | $495+ | Individuals w/ Good to Excellent Credit | Small Business loans available up to $100K |
| | Local! Relationship-based. Flexible Terms | Limited Availability | No Cap | 5-10% | 3-7 Years | $105 to $500+ (Interest Only vs. Full Amortization) | Anyone with a good local reputation/references, and reasonable collateral/security | Consult L.I.O.N. Groups for more info |
| | 0% Interest Possible with Intro Rates | Balance Transfer between cards may be required about once per year to maintain very low rates | Limit Based on Credit | 0-20%+ | Ongoing | $250+ | Anyone with Excellent Credit and/or Unused Available Credit | |
| EnergySmart Revolving Loan Fund | Funding Up to 115% LTV and no down payment | Not Available in Delta County Yet | Up to $25,000 | 3.75% to 8.5% | Up to 10 Years | $250+ | Homeowners with Fair or Better Credit | |
Geral Espinosa
The sun has set on the recent Solarize campaign, but the future of the solar market in Delta County is bright. Results of this program revealed that as a community, Delta County invested $500,000 in […]
Solar Energy International
Last summer, solar installers Empowered Energy Systems of Hotchkiss were busy installing 23 new solar PV systems, contracted through Solarize North Fork Valley. Totally 120 kW, these projects joined the more than 300 other net-metered […]
Solar Energy International
The future of energy in Rural America is unfolding right in our backyard. Last summer our local utility servicing Solar Energy International's headquarters in Paonia, Colorado, Delta-Montrose Electric Association (DMEA), won a favorable ruling before […]
Thanks to our Solar Partners for helping to spread the benefits of solar with Delta County