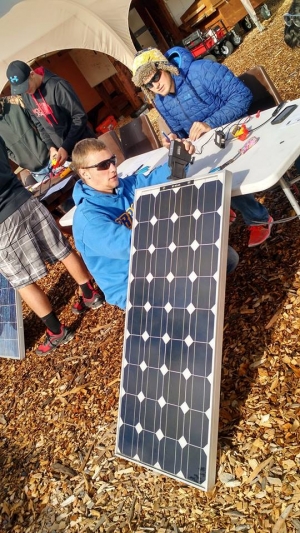 There are 13 students at Paonia High School at the fore-front of the  growing applications of renewable energy production in Colorado's North Fork Valley; Paonia, CO. These inquisitive high school students are exploring the nationally-growing industry of solar PV.
Paonia Colorado, known for its roots in agriculture and coal mining is the home of Solar Energy International (SEI). SEI is committed to an innovative future powered by clean energy and is honored to make our solar training available to area youth.
The 13 students are currently taking SEI's Introduction to Photovoltaics, which is adapted to fit 52-mintue periods over a 4.5 month-long semester. The students will complete 60-hrs of classroom-based online instruction and 30-hrs of hands-on lab-based education at SEI's state-of-the-art PV lab. The capstone will culminate with a PV install on their high school. This course is offered through Delta-Montrose Technical College as a Career Technical Education (CTE) branded course.
Pilot Semester: August-December 2015
Location: Paonia High School, Paonia, Colorado
Instructor: Pete Mueller-Carr
Upon successful completion of the course the students will each receive an industry-respected Certificate of Completion and most notable, the skills to enter the solar workforce as an entry level installer. The course concepts introduce the students to science, technology, electrical engineering and math. A student will also be able to take this knowledge on to college to greater explore these concepts.
"Solar Energy International is proud to be working with our local school district to offer solar training in Paonia High School. SEI is committed to building a well-trained and professional workforce throughout the country and the young adults of the North Fork Valley are no exception. We strive to inspire young people to be the creative, dedicated and conscious adults of tomorrow. As our community transitions away from the coal mining jobs that have historically been the backbone of the local economy, it's imperative that SEI work to develop the local renewable energy market to ensure that our young people have jobs." commented Kathy Swartz, Executive Director at SEI.