April 23 was a historic day for Solar Energy International (SEI). We inaugurated our first international Solar Training Center in Costa Rica. Since we started our Spanish Program in 2013, SEI has trained more than +9000 Spanish speakers. This new training center gives us the possibility to expand SEI's world-class solar training to more Spanish-speaking professionals. SEI seeks to empower more people with solar education to improve the life quality of life in the communities in which they live, and to help them build a healthy solar industry in the region.
From the start
This project is the result of a 3-year educational relationship between SEI and its local partners CFIA (Federated College of Engineers and Architects of Costa Rica) and CIEMI (College of Electrical, Mechanical and Industrial Engineers). Since June 2016, the three organizations began planning the expansion of SEI's training program for Spanish speakers to include our hands-on practical trainings. Designing and planning began in November 2017, and six months after that conversation started we launched our FV201L: Laboratorio Fotovoltaicos de Sistemas Conectados a la red course with a full class of 22 students from 6 countries.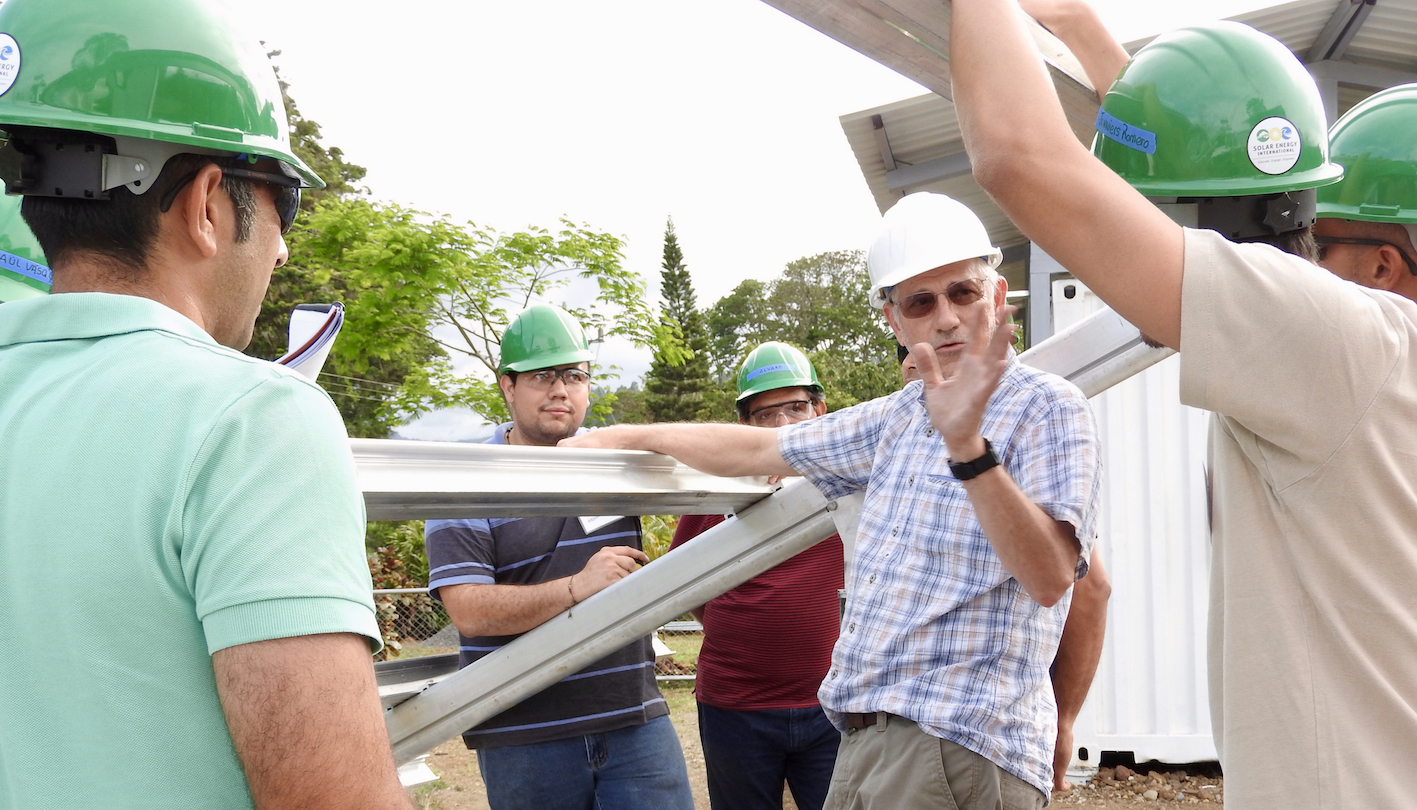 While many members of the SEI team were involved in this development, some played a very active role to make this project a reality. Starting with our Latam Business Development Director Matthew Harris, our SEI Instructor and Curriculum Developer Karolina Fernandez, our Director of Campus and Hands-on Training Pete Mueller, Danny Bailey our PV Lab Manager, Rebekah Hren PV Curriculum Developer and Trainer, Sarah Wilder Director of Curriculum Development and Instruction, our instructors Chris Brooks and Brad Burkhatrzmeyer, Paulina Dunham Spanish Student Services Advisor & Training Coordinator and Pía Day Latam Marketing and Communication Manager.
And of course, SEI Executive Director Kathy Swartz whom is always leading SEI efforts to fulfill its vision of a world powered by renewable energy.
Our partners in Costa Rica, CIEMI and CFIA, worked with us side by side to make this happen, and we are very grateful for their commitment and dedication. They really understand the SEI spirit and will continue to keep our high quality standards on every SEI training provided in Costa Rica.
FUN NUMBERS
+9000 Spanish-speaking students already trained with SEI.

18 Spanish-speaking countries reached with SEI  training, in addition to the large number of Spanish speakers residing in the United States.

175 days to plan, develop and install SEI's training lab in Costa Rica.

22 students completed the quota for the first lab class in Costa Rica.

3 different solar stations available for the lab training in Costa Rica.
SEI Solar Training Center en CR, one of a kind in Latin America
The new international training center is located in the province of Cartago, Costa Rica. It is located within the facilities of the Integral Training Center Uxarrací CFIA (Federated College of Engineers and Architects). Which provides training and recreation spaces for professional and personal development of students and their families.
Built to the same high quality standard as the SEI facilities in Paonia, CO. In compliance with the US National Electrical Code (NEC), which allows students to learn about the most up-to-date design and safety parameters.

Designed in compliance with OSHA regulations that ensure the safest possible work environment.

Installed with leading technologies and products available internationally.

Equipped with safety elements such as

harnesses

, electric insulating gloves, helmets and protective glasses available for all students.
It has 3 solar PV systems where students can practice designing and installing three types of interconnected solar systems from beginning to end, guided by the most experienced instructors in the solar industry. At SEI we provide the opportunity for students to work with as many system configurations as possible in a week. In addition, SEI PV systems are completely modular. What is learned in 201L SEI lab week can be applied on a larger scale to install systems of any size in the future.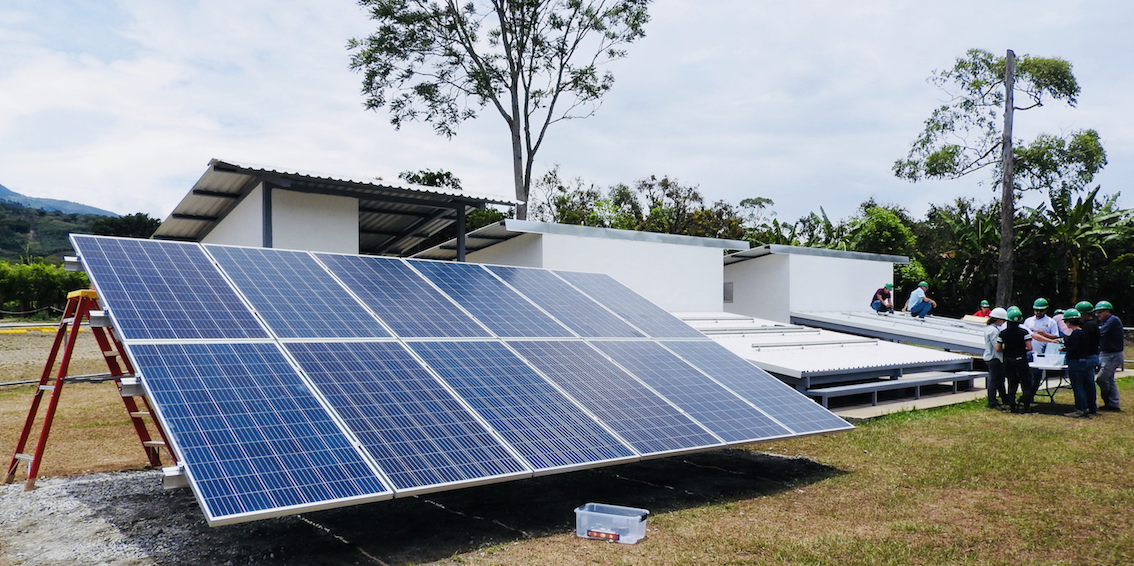 Meet the three stations installed for the 201L lab training in Costa Rica:
Sloped Roof Lab Station 1- Inverter System with DC-to-DC converters (optimizers):

This grid-connected PV system is installed on a sloped trapezoidal metal roof. It is mounted with a standard rail-based racking system. The inverter with optimizers creates a solution that meets very simple rapid shutdown requirements for residential and commercial systems. It also offers great design flexibility when there is partial shading, circuits of PV modules of unequal length, or different inclinations and orientations of the roof.

Sloped Roof Lab Station 2- Microinverter System:

Grid-connected PV system with  modules mounted on a rail-based racking structure anchored in landscape orientation to a sloping metal roof with microinverters. This interactive system uses 240V split-phase output microinverters, widely used in residential systems and in sites with partial shading. In addition, when installed on a sloped standing seam metal roof, the experience of working on a typical residential slope is included.

Ground Mount Lab Station- String inverter System: Grid-connected

PV system installed on the ground, similar to a typical large commercial system installation with metal racking on concrete piers. This system is designed with PV source circuits connected to a combiner box, and to a  240V split-phase string inverter with AC and DC disconnects.
The SEI experience also in Costa Rica
If you ask any student who has traveled to take our courses on the SEI campus in Paonia, CO they can tell you that it is much more than an educational experience. Paonia is a magical place that invites you to connect with your learning experience from a different place, in harmony with nature and accompanied by colleagues and instructors who share your passion for solar energy. The beauty of the landscapes that surround the campus, the small town that you can travel on riding one of the bikes available to students, the warmth of its people, the activities you can do in your free time, everything transports you to a parallel dimension outside your daily routine.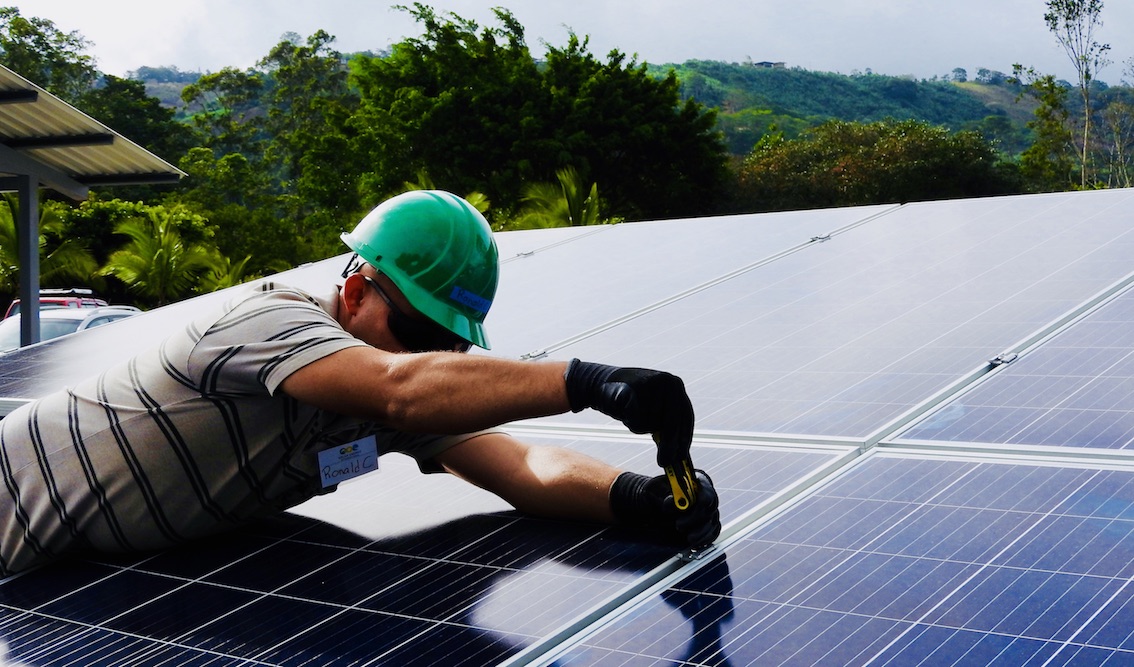 We've done our best to replicate this same experience at the campus in Costa Rica, where the incredible vegetation of the Ujarras Valley offers a unique landscape, the Lake Cachi and the waterfalls that you can ride to on the bicycles that SEI provides to students, the small towns that surround the campus creates the perfect learning environment. Plus the beauty of the Uxarrací center where the solar lab is located with its facilities available for a large number of recreational activities, make the magic of the SEI experience transcend all borders.

What are you waiting for? Start your solar career with SEI! Check the calendar for courses in Costa Rica and save your spot with time. Classes are feeling fast!