DEVELOPING WORLD PROGRAMS
Access to affordable, reliable energy is key to economic development, as there is a direct link between having electricity and the quality of a person's living standards. Unfortunately, more than half of the world's rural populations – some 2 billion people – still have no access to modern forms of energy. This keeps people in remote parts of the developing world from being able to work their way out of poverty.
Renewable energy technologies are a way to provide electricity to these people. Solar panels, wind turbines, small-scale hydroelectric projects and other forms of self-sufficient energy provide rural communities in the developing world with the electricity they need to power their homes, schools, hospitals, stores, and other industries.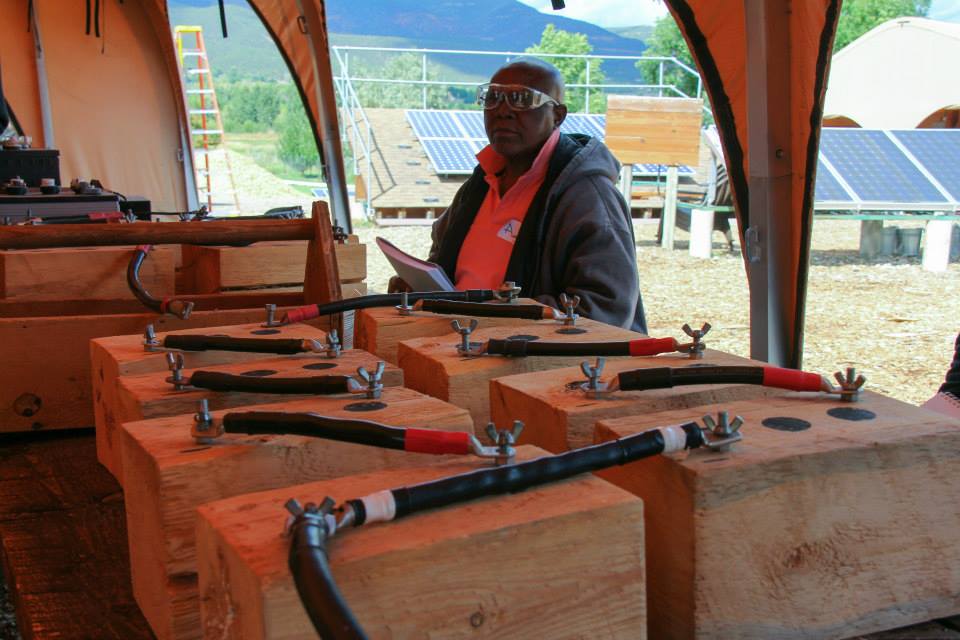 PV Technician Training in Haiti
Project Goal – to provide curriculum and training for PV technicians in Haiti in charge of systems at hospitals throughout the country.
PV training in Haiti In 2011 the Solar Electric Light Fund (SELF) contracted SEI to develop curriculum and train technicians in Haiti on the solar electric hospital systems at their sites through Partners in Health (PIH) and other SELF projects. Eighteen Haitian technicians attended the six-day training, led by SEI PV instructors Carol Weis and Brad Burkhartzmeyer. The students included SELF technicians, PIH hospital operators and maintainers, and new contractors that SELF was looking to use in the future. SEI took our highly technical class and tailored it to SELF's needs.Haiti students The outcome was a curriculum translated into French and Creole which was highly graphic to serve varying literacy levels, and was specific to the products that SELF uses in the field. The Haitian technicians left with a lot of new knowledge, and SEI is looking forward to the next course in Haiti which will address teaching the site managers and maintenance technicians by co-teaching with the local Haitian solar technicians.
Solar Water Pumping Training in Pakistan
Project Goal
– To train trainers from five FSU countries: Kazakhstan, Uzbekistan, Kyrgyzstan, Turkmenistan, and Tajikistan – in solar photovoltaic technology.
SEI provided a two-week long training in solar water pumping systems. The training was held in conjunction with the National University of Sciences and Technology in Pakistan. The class participants came from a variety of backgrounds. There were several students from NGOs working in the FATA areas, Balochistan, or the earthquake affected areas (or some combination thereof), including the primary NGO for the implementation of this project, Community Motivation & Development Organization (CMDO). In addition, there were students with engineering backgrounds from the university, including one lecturer at the Electrical and Mechanical College of NUST. Finally, Grundfos, one of the primary solar pump suppliers, also sent a student. Pakistan trainingEach participant received a very full three-ring binder of information that included step-by-step procedures on all aspects of photovoltaic water pumping including design, installation, and community development aspects of such systems, particularly in remote village environments. The binders also included a reference library with data sheets on solar panels, charge controllers, inverters, and batteries, which serves as a practical tool to help each student in their solar assessment and design projects.
PV Train-the-Trainers in Kazakhstan
Project Goal
– To train trainers from five FSU countries: Kazakhstan, Uzbekistan, Kyrgyzstan, Turkmenistan, and Tajikistan – in solar photovoltaic technology.
This training, held in 2006, was in partnership with the USAID EcoLinks Program in Almaty, Kazakhstan. SunEnergy Power International also aided SEI in the training. The initial stage of the training, held as part of an EcoLinks workshop on Renewable Energy Market Development in Central Asia, reviewed policies that could be adopted by the governments of the 5 Central Asian countries to further promote the development of renewable energy in the region. The second phase was a Training of Trainers for representatives from these five countries. The first and last day of the training consisted of hands-on labs with solar equipment, while the rest of the days were spent on classroom theory and design.
Solar Rural Technician Training in the Solomon Islands
Project Goal
– to train local technicians in the installation of solar electric systems for a solar home system project SEI teamed up with the Solar Electric Light Fund (SELF) to establish the first solar-electric village in the Solomon Islands in 1997.
The 50-house Sukiki Village Power Project was undertaken in partnership with the Guadalcanal Rural Electrification Agency (GREA), a non-governmental organization based in Honiara which was established as the local partner for the project. The project was sponsored by the Council of State Governments, and the US Asia Environmental Partnership, with additional support from the Maryland Department of Business and Economic Development, and the Maryland Energy Administration. SEI led a solar electric training course in Sukiki, a small village located on the southeast coast of Guadalcanal, to teach the fundamentals of PV design prior to installation of the solar home systems. Village technicians as well as other students from the College of Higher Education, the Ministry of Energy, Mines, and Minerals, and the Solomon Islands Electricity Authority (SIEA) were trained in PV design, installation, and maintenance in order to provide on-going technical support to the systems.
Photovoltaic Training in Palestine
Project Goal
– to provide a solar photovoltaic training for engineers in the West Bank, Palestine.
SEI teamed up with SunEnergy Power International to provide a week-long hands-on solar photovoltaics training for engineers in the West Bank, Palestine, as part of their affiliation with Engineers without Borders, International. One of EWB's partner organizations in Palestine manages a very pro-active group of engineers from all disciplines, interested in finding ways to help their fellow citizens in Palestine.
The class included 11 engineers from several of the cities throughout the West Bank, representing Bethlehem, Ramallah, Hebron, Nablus, and other locations. Initially, two engineers from Gaza joined the training by way of video camera linkup, but due to intermittent electricity in Gaza, this link did not function past the first day. The training included classes on basic design of solar systems, what it takes to make them continue working, discussions on all of the specific components of a system, and applications to real-life examples in Palestine. As part of the class, we had a hands-on section, where the class assembled components to build a solar home system that met the specifications of one of the system designs we were studying. We also visited three sites that are all candidates for various applications of solar systems, and used these site visits as the basis for the design class.