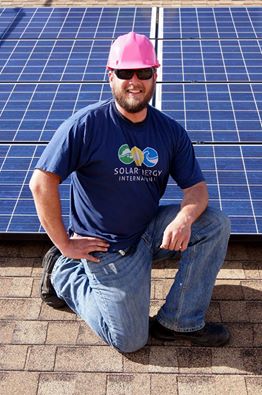 Solar installer training with Solar Energy International (SEI) was a dream come true for Daniel Gisonda for whom solar had been a lifelong pursuit. As a child, Daniel was frequently found exploring with Discovery Zone solar kits and to this day spends his free time tinkering with small solar projects such as converting a conventional refrigerator to run off of solar charged batteries. And now, after completing his service in the Coast Guard, these small projects grew into a larger plan for Daniel and his wife to build an off-grid home in Alaska.
Armed with big plans and a search engine, Daniel found SEI during his online searches to pursue his Solar Training quest. He enrolled in a series of classes that would take him through the basics of solar electric systems to more advanced knowledge on the configuration of battery based systems; also enrolling in Micro Hydro and Solar Water Pumping courses to keep his options open. Though his solar training was supposed to be in the pursuit of building an off-grid home, it quickly became about building a career.
Getting Bit by the Solar Installer Training Bug
It was clear from his first solar installer training class that Daniel had caught the solar bug, adding additional courses to his repertoire every time he was supposed to take his leave of SEI. Furthermore, it was obvious that simply doing solar as a hobby was not going to cut it. He knew right away that the pursuit of solar knowledge became the pursuit of a career. Thanks to the network of SEI instructors all over the world, Daniel was able to network with existing companies in Alaska and will likely have work awaiting him once he finishes his new home.
The solar connections didn't stop there. When Daniel sought a new career in solar after leaving the military, he saw that this could be a viable path for his fellow servicemen and women. In fact, he's already spread the word that "SEI is the place for solar training..everyone I know is a hands-on person and this is a hands-on place." And for those vets looking to follow in Daniel's footsteps, SEI In-person Classroom and Hands-on Labs are now approved for Veterans Education Benefits!