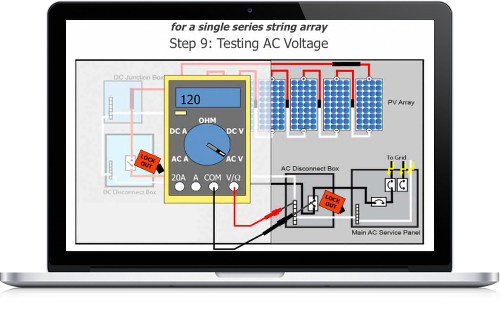 Among the many updates and additions to this highly technical solar training course, SEI has updated the curriculum for this online course to cover equipment specifications for modern equipment commonly used in the industry and updated all National Electric Code (NEC) references to 2014.
Additionally, SEI's curriculum team added three total system design examples in the online course that include residential, commercial, and megawatt-scale ground mount applications. Conductor sizing is also a major update to this course as this topic is one of the biggest challenges in the solar industry and a crucial concept to fully understand.
So if you are looking to take a deep dive into National Electrical Code (NEC®) standards as well as other best practices that pertain to designing grid­-direct PV systems – this is the course for you. The focus in PVOL202 is on residential and commercial­-scale systems, but the Code requirements, design parameters, and best practices are applicable to all types and sizes of PV installations.
Detailed lessons address requirements for disconnects, overcurrent protection, and wire sizing; interconnection requirements and calculations; grounding, ground-­faults, and surge protection; calculations for system sizing, inverter selection, and electrical configuration; ground and roof mount details; and commissioning and performance analysis procedures.