Do you envision a world powered by solar energy? Solar Energy International (SEI) is proud to announce an innovative new project leveraging the Google Cardboard Viewer platform that will give anyone interested in working in the solar industry a new way to experience this exciting career field.
As part of the Solar Ready Colorado initiative, SEI will be launching the Google Cardboard Envision360 project at the Solar Power Colorado Conference and Solar Career Expo on March 12-15.
In addition to having the opportunity to meet with leading solar industry employers from across the State of Colorado, complimentary Google Cardboard Viewers will be given to all registered Career Expo attendees. With these special VR Viewers, attendees will have the opportunity to immerse themselves in a 360 degree virtual reality environment that showcases real world solar energy jobsites and interviews with solar professionals. Registration info: https://www.eventbrite.com/e/colorado-solar-career-expo-registration-30101157372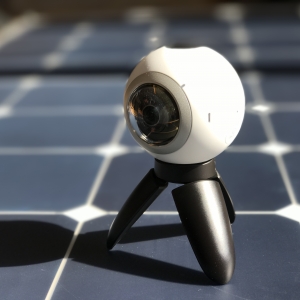 "For the last 6 months, our team has traveled all over the state capturing video with traditional and special VR cameras to capture the sites and sounds of the industry. We had the privilege of interviewing SEI alumni and other solar professionals who are working in the Colorado solar industry who now make up over 6000 Coloradans working towards a common goal of a world powered by solar energy.
We wanted to find a creative way to tell this story and we think this is a great way to get our message out: The solar industry is growing and SEI is here to give you the training you need to be successful!
The SEI Envision360 Google Cardboard project gives us the opportunity to give potential students a glimpse into what it feels like being on a roof, or in a utility scale solar farm, or in a warehouse preparing shipments of solar modules and components for a job site, and many other solar jobs that keep this industry moving forward. We've embedded the interviews of solar professionals from all across the Colorado solar industry as a unique way to hear their stories of how they got their start in this industry and give advice to people looking to enter this career", said SEI's Director of Marketing, Chris Turek.