With Latin America's emergence as the hottest region for solar development in recent years, Mexico has taken the lead with a dynamic energy transition that sets the stage for unprecedented solar growth. Solar Summit Mexico will leverage GTM Research's expertise in Mexico to ensure your company is uniquely positioned to capture specific opportunities while appropriately managing regulatory, political, and market risks.
Solar Energy International (SEI) is a proud partner of this must-attend event. Join us with GTM February 13-14 in Mexico City, Mexico using our exclusive discount code SEI15 for 15% off your conference registration. Learn more: https://goo.gl/dF3anG
On a recent chart from Greentech Media Latin America PV Playbook, Mexico takes close to 40% share of LatAm PV demand in 2017 on the heels of utility + DG solar installations to close out the year.  Mexico has over 6 GW of PV in the pipeline to take a dominant share of LatAm PV over the next 5 years.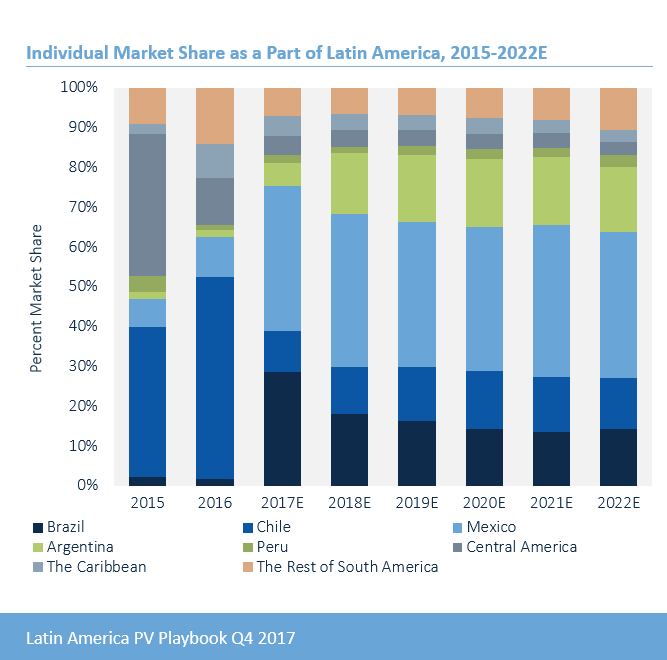 Are you ready for the Latin America solar revolution? Start a career with SEI in 2018, our Solar Professional Certificate Program in Spanish is the most complete technical training in the entire LatAm solar industry. Classes start on February, 26, save your spot!
If you are attending the summit, we will be happy to meet you. Get in touch with our Marketing and Communication Manager LatAm, María Pía Day to set a meeting : [email protected] / +1 970 527 5042 ext 201.
and SEI Engineering (SEIE)
SEI Professional Services (SEIPS) and SEI Engineering (SEIE) are extensions of Solar Energy International (SEI). SEI has a long and well respected heritage within the industry that dates back to 1991 as the leading non-profit technical training provider for the solar industry. SEIPS and SEIE were created in 2015 and 2016 respectively as a solar engineering and consulting company in response to the growing demand and requests from SEI's 60,000+ students, alumni, supporters, and the broader solar industry to offer formal solar engineering, design, consulting, and field services across the globe.  Visit: www.SEISolarPros.com