---
News from Solar Energy International
Exciting Changes in 2012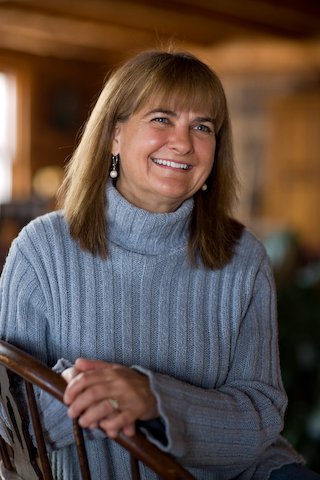 Solar Energy International rang in the new year with exciting leadership changes. The SEI Board of Directors and Executive Director Johnny Weiss recently announced that Johnny has officially transitioned into the position of advising Co-Founder, where he will now focus his time on program design and business development. SEI's Board Chairperson, Trési Houpt, has been named Executive Director effective Jan. 1.

Trési's background in nonprofit management and her leadership at the local, state and national level as an elected and appointed official in Colorado has advanced awareness on the critical issues that support the need for the advancement of renewable energy technologies. Her dedication and thoughtful approach supporting renewable energy allows SEI to continue to innovate and lead in training well into the 21st Century. The Board and Staff welcome Trési!
---
Upcoming Trainings On-Line and Around the World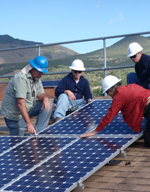 If you're in need of PV training, we have workshops coming up in Texas, Arizona, New Jersey, Hawaii, California and Colorado in 2012. Not to mention our online courses which you can take from anywhere.

And if you're looking for a more tropical experience this winter, check out our unique opportunities to learn about renewable energy technologies for rural development in Costa Rica, or to see first-hand the Energy Revolution that saved Cuba close to one million tons of imported oil in one year:
Download SEI's latest training catalog to see what's new at SEI.
---
Technician Training in Haiti
The Solar Electric Light Fund (SELF)
recently contracted SEI
to develop curriculum and train technicians in Haiti on the solar electric hospital systems at their sites through Partners in Health (PIH) and other SELF projects.
Eighteen Haitian technicians attended the six-day training, led by SEI PV instructors Carol Weis and Brad Burkhartzmeyer. The students included SELF technicians, PIH hospital operators and maintainers, and new contractors that SELF was looking to use in the future. SEI took our highly technical class and tailored it to SELF's needs. The outcome was a curriculum translated into French and Creole which was highly graphic to serve varying literacy levels, and was specific to the products that SELF uses in the field.
The Haitian technicians left with a lot of new knowledge, and SEI is looking forward to the next course in Haiti which will address teaching the site managers and maintenance technicians by co-teaching with the local Haitian solar technicians.
---
Strawbale Pioneer Judy Knox Will be Missed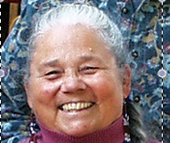 photo courtesy The Last Straw
SEI is sad to announce the passing of Judy Knox, a long-time friend, supporter, and past instructor of SEI. Judy was passionately involved in the strawbale revival, and her voice and vision drew many into its fold.

Judy and her husband Matts Myhrman founded Out on Bale (un)Ltd., an organization dedicated to educating people about straw bale construction, and published The Last Straw, a magazine focused on building with straw.
A tribute to Judy's life is being planned for Spring 2012 in Tucson, AZ.
---
Renewable Energy World Awards Finlalists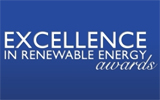 Nominations have been submitted, finalists have been chosen, and now it's your turn to help pick a winner.

Readers were asked to submit nominations for the 3rd Annual Excellence in Renewable Energy Awards, Renewable Energy World's awards program that looks for the best projects, innovations and leaders. Editors of the Renewable Energy World network of publications culled through hundreds of nominations to come up with finalists for awards that will be given in 11 categories. Solar Energy International's colleagues and neighbors at Clean Energy Collective, based in Carbondale, Colorado, are among the finalists.

Readers can cast their votes for the project or innovation that they feel deserves recognition. Editors will announce the winners in all 12 categories on Feb. 14 at the Renewable Energy World North America Conference and Expo in Long Beach, Calif. Make sure you participate before voting closes on Jan. 20.

To see the finalists and cast your vote visit

RenewableEnergyWorld.com.
---
Join SEI at the MiaGreen Conference in Miami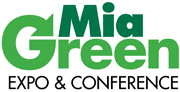 The MiaGreen Expo & Conference is the only event in the United States providing access to renewable and sustainable markets for ALL the Americas. SEI instructor Jeff Spies will lead a training on "Introduction to SOLAR Electric Design, Installation and Economics in the AMERICAS" on January 26 and participating in a panel discussion on January 27.

SEI is committed to providing training to the America's through our online Spanish PV courses, our trainings in Central America, and our upcoming PV101 training in Miami.
---
Renewables Surpass Nuclear in US in 2011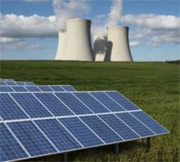 A recent analysis by the DOE's Energy Information Administration (EIA) estimates that the total supply of renewables in 2011 grew by a remarkable 11% over the previous year's total.

In fact, renewable energy sources - biomass and biofuels, geothermal energy, solar power, wind energy and hydropower - provided a record 12.25% of U.S. energy production, during the first six months of 2011. Power generated by renewables exceeded that produced from nuclear power during the first quarter of the year. And the EIA says wind energy is projected to grow by 22 percent from 2010 to 2011. Final U.S. hydropower generation numbers in 2011 are estimated to reach their highest level since 1999.

To read a summary of the year's big renewable energy accomplishments read the latest blog at 25x25.org.
---
Featured Alum - Ben Farmer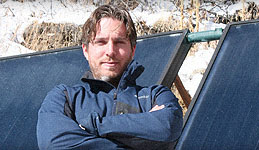 Ben is Sales Manager at altE Store, but also has two renewable energy systems installed at his home in Evergreen, CO. His home boasts both an 8.8 KW solar electric system and a solar hot water system. Ben was a work-trader at SEI in 2003, and soon after started working at altE in MA. He moved back to Colorado in 2008 and installed both solar hot water and PV on his house located on a south facing mountainside at 8,000 feet. "I always knew solar hot water was where my money would be spent first,"Ben explains. "Out of need to buy a new water heater, I decided this was the time to take the plunge!".