Table of Contents
We've Moved!
Upcoming Workshops
New Video Series
SEI Instructor Training
Nicaragua's 1st Solar Restaurant
Solar Suitcase Ambassadors
Solar 2012, WREF & COSHA
The EV-Everywhere Challenge
Featured Alum - Bob Kenan
---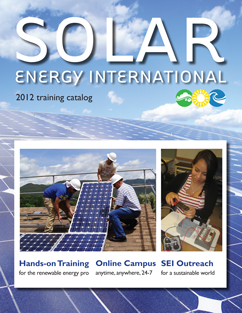 Download SEI's latest catalog of courses!
---

Featured Workshop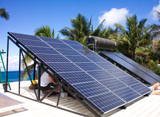 Diseño e instalación de sistemas fotovoltaics (de conexión directa a la red)
En-linea
March 26 - May 6

---
Upcoming Hands-on Workshops

PV101: Solar Electric Design & Installation (Grid-direct)
Mar. 26 - 30 -- Honolulu, HI
Apr. 2 - 7 -- Guemes Island, WA
Apr. 23 - 27 -- Grass Valley, CA
May 7 - 11 -- Boulder, CO

PV202: Advanced PV System Design & the NEC
Apr. 2 - 6 -- Honolulu, HI
May 7 - 11 -- Boston, MA

Solar Hot Water Design & Installation
Apr. 9 - 13 -- Guemes Isl, WA

Solar Electric Lab Week (Grid-direct)
Apr. 30 - May 4 -- Paonia, CO
---

Upcoming International Workshops
Renewable Energy & Energy Efficiency in Cuba
April 16 - 28 -- Cuba

Sustainable Community Development: Renewable Energy for Rural Villages
November 3 - 11 -- Nicaragua

---
Upcoming Online Workshops
FVOL101: Diseño e instalación de sistemas fotovoltaicos
March 26 -May 6

PVOL101: Solar Electric Design & Installation (Grid-direct)
April 23 - June 3

PVOL203: Battery Based Design
April 23 - June 3

PVOL202: Advanced PV System Design & the NEC (Grid-direct)
May 21 - July 1

---
---
Solar Energy International has a strong community presence on social networks. Please consider joining these SEI groups:
---
Your Generosity
Ensures our Success!
SEI depends on our donors to continue our educational programs.

Please join us! In 2012, we have ambitious and exciting plans to expand our Outreach Programs and reach more people than ever before. As always, we need your help to make this happen.

Click here for details on how to donate to SEI.


Forward this newsletter
to a friend



---
News from Solar Energy International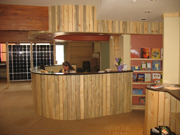 We've Moved!
SEI has moved into new offices in Carbondale, Colorado. We are now part of Carbondale's Third Street Center, an eco-friendly facility, renovated from the old Carbondale Elementary School, and home to over 30 non-profit organizations and artist studios.

If you're in the neighborhood stop by to check out our new digs!

Click here to read more
---
Upcoming Workshops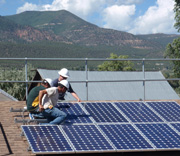 There is still room in some of our PV workshops that we have scheduled online and in numerous places across the country from Massachusetts to Hawaii, and places in between. Check out our workshop schedule to find a solar workshop that works for you.

It's also the last week you can register for our Renewable Energy and Energy Efficiency trip to Cuba. Don't miss out on this exciting opportunity to learn about Cuba's Energy Revolution!
---
New Video Series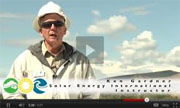 SEI has come out with three new videos that describe our world class training and our Outreach Programs. The Renewable Energy Education is Our Passion video is an overview of SEI, and includes interviews with friends, associates, alumni, and colleagues of SEI.

The SEI Launches Solar Professional's Certificate Program video showcases our training programs, and highlights both our in-person and online trainings.

The Outreach Program video describes our work with grassroots and development organizations around the world to promote sustainability and improve quality of life. It also showcases the work we do to educate schoolchildren and teachers about wise energy use and renewable energy sources and careers.

Check out the videos on SEI's YouTube Channel!
---
SEI Instructor Training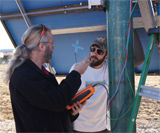 SEI recently completed our 5th Annual PV Instructor Training. We had over 34 of our PV instructors and staff gathered together in Paonia, Colorado, for three incredible days to discuss technical issues and share expertise. It's hard to imagine a bigger PV brain trust gathered together — not because they had to be, but because they wanted to be.

Throughout the training we had experts present on everything from 2011 code changes to PV System Design Software to the Chinese Module Trade Dispute. The nights went late and the mornings started early and yet our instructors were as enthusiastic and passionate as ever. They really are an incredible group.

Click here to read more.
---
Inauguration of Nicaragua's First Solar Restaurant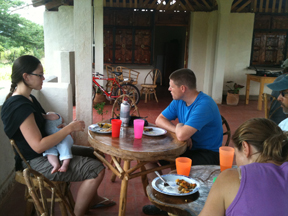 Come celebrate the opening of the Solar Restaurant in Sabana Grande, Nicaragua with the Solar Women of Totogalpa!

SEI has been working with Grupo Fenix and the Solar Women of Totogalpa (SWT) since 2005. The Solar Women's main objective is to work on the sustainable development of their community to generate dignified employment that promotes renewable energy and protects the environment. They recently completed construction of their solar restaurant, built out of adobe, powered by PV, with food cooked in solar cookers and with biogas. They will be holding the international inauguration of the restaurant in November, and SEI has a week of activities planned around the inauguration.

Watch a video of the Solar Women's Group on the Oprah Winfrey Network.

Join us to celebrate this momentous occasion:

RD207: Sustainable Community Development: Nicaragua Reunion
---
Solar Suitcases Ambassadors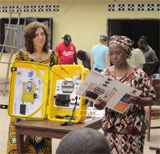 WE CARE Solar and SEI are teaming up to train a group of women to be Solar Suitcase Ambassadors. Solar Suitcase ambassadors will take a leadership role in Solar Suitcase installations and trainings in developing countries.

The award-winning WE CARE Solar Suitcase is an economical, easy-to-use portable power unit that provides health workers in rural areas with highly efficient medical lighting and power for mobile communication, computers and medical devices.

Women who are interested in volunteering their time overseas to help improve maternal health care around the world will be accepted to the program through a stringent selection process. We are seeking women from diverse regions including United States, Africa, and Haiti.
Click here to read more.
---
Solar 2012, WREC, and COSHA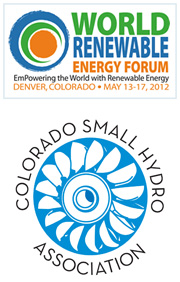 For the very first time, the American Solar Energy Society's National Solar Conference will be held under the same roof with the biennial World Renewable Energy Congress, in Denver, Colorado, May 13 - 17. The combined event is WREF 2012. The conference will draw prominent speakers and technical presentations from universities, renewable energy laboratories, installations and industries around the world.

WREF 2012 will examine how renewable energy technologies address the world's economic, environmental and security challenges at every scale, from off-grid villages to gigawatt power plants.

The event will also include the Colorado Small Hydro Conference, where you can meet other property owners interested in hydro development, current hydro owners and operators, utilities, government staff from municipalities with currently untapped potential in their water lines, ditch companies, environmental consultants, and state and local officials.
---
The EV-Everywhere Challenge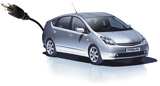 President Obama recently launched DOE's EV-Everywhere Challenge, allowing scientists, engineers, and businesses to collaborate to make electric vehicles (EV) more affordable than gasoline-powered vehicles in 10 years. The challenge is part of a strategy to help reduce dependence on foreign oil.

The DOE initiative, which will bring together DOE's Office of Energy Efficiency and Renewable Energy's Vehicle Technologies Program, its Office of Science, and its Advanced Research Projects Agency — Energy (ARPA-E), will target dramatic technological and cost improvements in batteries, electric motors, power electronics, lightweight structures, and fast-charging technology. The goal is to enable U.S. companies to be the first to produce a 5-passenger affordable EV with a payback time of fewer than 5 years.

Read the entire article on RenewableEnergyWorld.com
---
Sun Shadows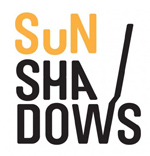 SEI's Solar In the Schools program encourages K-12 classes to get outside and measure the shadow of a stick in the name of international solar science! Join forces with pupils and teachers all over the world to measure the shadow of a 1m long stick at your local solar noon. You don't need much to participate, just some sun and a stick!

Click here to read more about the Sun Shadows Program
---
Featured Alum - Bob Kenan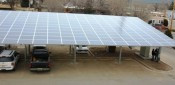 Bob, a graduate of SEI's PV206: Solar Business and Technical Sales course, is the director of technical sales at PCC Solar based in Taos, New Mexico. He recently sent SEI photos of his latest project, a 70 kW PV canopy for the Taos EcoPark. The array will generate enough electricity to power stadium lights for three fields at the park.