Results are in! Solar Energy International (SEI)'s first partnered community through the Solar Forward program, Gunnison County, has officially concluded their Solarize program. Their efforts resulted in over 100 kW of new, installed solar in the County, and solar market development that spans beyond the Solarize campaign.
Check out the final results by the numbers:
15 residential solar projects installed*

100 kW total in combined installations*

$75,000 reinvested into the local economy

118,058 kilograms of carbon emissions offset

Four local jobs created
*Installers anticipate the possibility of a few more systems coming in
Even more exciting, according to the Gunnison Country Times, where the program was highlighted, is that residential and commercial solar development has been surging in the valley since April 1. Since then, a total of 25 new residential solar projects totaling 136 kW have either been installed or are in the works. Educational outreach on solar and energy efficiency for the SEI-supported Solarize program began in February and concluded at the end of May.
What is Solarize?
In short, Solarize is a group buy-in model that makes solar more accessible in communities. People are encouraged to go solar together through a discount and an educational outreach campaign. The program is lead by program coordinators who partner with local installers, saving them time and money by doing marketing and basic lead acquisition, those savings become a 'discount' for participants in the program.
SEI has experience in implementing Solarize programs in rural Colorado communities, with installation numbers totalling over 500kW of installed solar to-date. We have adapted this model to make it accessible for the unique needs of rural communities, and our program model empowers nonprofits in communities to be the driver of this program. The Solar Forward program is totally free to participants.
Solarize in Gunnison County
The Solarize program in Gunnison County was made possible through a partnership with the 501(c)(3) nonprofit, Coldharbour Institute. Coldharbour Institute resulted from the 2015 merger of Coldharbour Sustainable Living Center and the Office of Resource Efficiency. In that same year, Coldharbour began a relationship with the Master of Environmental Management Program at Western Colorado University. CI's mission is to facilitate education, incubation, and demonstration of regenerative personal, community, and land practices. One of the biggest goals of CI is to bring together groups with common goals in order to achieve those goals in a more holistic manner.
Coldharbour Institute applied to be in the Solar Forward program to receive SEI's technical assistance in implementing a Solarize program in Gunnison County. In 2018, CI/Gunnison County was accepted into the program as its first community. Two Masters of Environmental Management students, Ellen Ross and Hunter Edberg, lead the Solarize program as their graduate program capstone. They launched the program in February and it continued through the end of April. SEI provided the team with a dedicated technical adviser which provided customized workshops, a toolkit, and ongoing consulting throughout the duration of the program.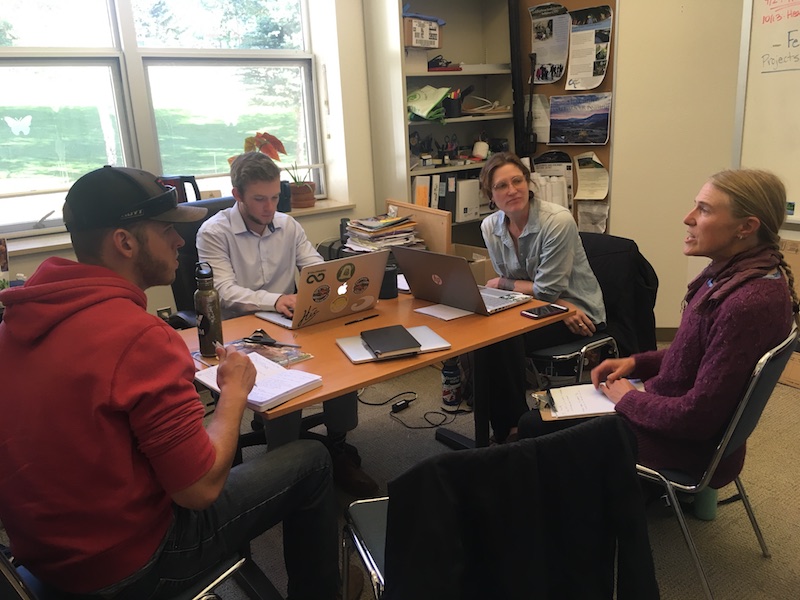 How does Solar Forward help communities Solarize?
The Solar Forward program gives nonprofits or community groups located in rural Colorado communities the opportunity to partner with SEI to implement initiatives aimed at kickstarting solar markets. These initiatives include a Solarize program.
Nonprofits can apply to be accepted into the program, and upon entry they receive a toolkit for a Solarize program, and a year of advising from an SEI technical adviser.
The toolkit is comprised of customizable tools and documents needed for a Solarize program. The toolkit and consulting are totally free to communities, and some of the offerings include:
Request for Proposal and system for choosing a partnered installer

Customizable marketing tools including banners, flyers, yard signs and more

Guides compiled by industry experts on social media marketing, event hosting, and more

Tools on how to make sense of solar financing and other frequently asked questions on solar installations

Powerpoint presentations and educational tools for community members

Up to 8 hours of free technical consulting to set up your website and lead management database

Free SEI industry-leading trainings for program coordinators or installers
Solar Forward is accepting applications on a rolling basis. For more information, contact the Solar Forward Program Manager Mary Marshall at [email protected] or call 970-527-7657 extension 116.