How much do solar panels cost on average in your city and how you can work out how much solar will cost for your home?
Buying solar panels for your home is a big investment and so it is natural you want to do quite a lot of research before making a decision. Most people buying solar panels for their home want to know that they are getting a good quality solar power system and that they get a good price for the type of solar panels they are buying.
This article will give you details of current live solar offers in your area from solar companies near you and also explain the factors that might make buying solar for your home more or less expensive than the average home in your area.
How much do solar panels cost in your city today ?
The SolarReviews and Solar-Estimate websites each publish data on the prices they see for residential solar systems across America based on the interactions they see between consumers and local solar companies through their websites. SolarReviews and Solar-Estimate are both major destinations for consumers seeking competitive solar quotes for their homes and businesses
SolarReviews puts average residential solar panel cost across America as at September 2018 at $10,800 after claiming the 30% federal solar tax credit . This equates to a cost of $15,428 for a 5kw solar system before the tax credit which is $3.08 per watt. This is a cash solar price.
Consumers have many zero down solar finance options in 2018. Solar systems purchased by way of zero down solar loans are usually around $0.30 per watt more expensive, or around $1500 per system, dearer, (before the solar tax credit). This extra cost is because solar companies usually have to pay an origination fee to the solar finance companies to get you a cheaper rate on the loan.
You can find out more about the best solar loans available in your state by speaking to solar companies near you. Generally speaking each solar company will have a relationship with one or more solar financing providers and will be able to offer you loan options. Here is an article comparing Greenky and Dividend Solar two of the largest solar loan providers in the US.
Solar-Estimate.org is the other website that publishes solar panel cost for each city from current solar prices being offered by  local solar providers through that marketplace. This site does not publish a national average but it publishes state and city average solar prices for full installed residential systems.
Average solar panel cost for each state can be found on its home page but it also publishes solar panel cost data for specific cities based on the solar offers it is seeing in those cities at the time.
At the very bottom of this article are links to solar panel cost data for specific cities in some of the major solar markets around the country:
How much will solar cost for your home ?
Whilst it is great to have a ballpark average solar panel cost for your city your home is unlikely to be average and what you really want to know is how much it will cost to install solar panels on your home.
This is a much more complicated thing to work out because it depends on a number of factors including the location of your home, the size, tilt and orientation of your roof, any shading you may have, your electricity usage and the electric rates charged by your utility.
Generally speaking, the aim of a solar panel installation is to install a solar power system that will produce the same amount of electricity that your home uses. This is the case because the net metering laws in most states limit the size of eligible solar systems to a system size that produces a similar amount of energy to what your home uses.
In some cases, however, the aim may be a zero electric bill which means installing a solar system that produces more than your electric usage to cover fixed daily charges from your utility or make up for a lower rate being paid for excess solar power compared to what you are charged for power you buy (this is the case with APS in Arizona, NV Energy in Nevada and with the investor owned utilities in California under the NEM 2 net metering program )
So to work out the cost of installing solar panels for your home you first need to work out a few basics such as:
How much electricity does your home use?
Here is a link to an article that shows the average electricity use of homes in each state. This same article also answers the question how many solar panels do I need to power a house in each state assuming an average sized home with average electricity usage.
How many solar panels do you need for your home?
To answer this question more information is needed than state averages. You also need to know how much power you are actually using. In this regard there is a trade off between producing an easy estimate of the number of solar panels needed to power your home and producing a more accurate estimate. An easy estimate can be produced by a solar power calculator just from an average monthly power spend. This is often the way that online solar panel calculators work because it makes them super easy to use without requiring consumers to dig through their power bills.
However, to get a more accurate estimate of the amount of solar panels you need for your home you need to have more accurate information about your power usage and this requires copies of your power bills. When you speak to a solar company the first thing they usually ask you is for a copy of your power bill.
How much power do solar panels produce in your city on a south facing roof?
We are fortunate in America that the National Renewable Energy Laboratories (or NREL ) have produced sophisticated and accurate data that answers the question, how much electricity do solar panels produce (in Kwh) for each of the more than 3300 weather locations around America. This is why almost every solar energy calculator uses the NREL PVWatts data for their solar panels kwh production calculations
This will show you how much solar panels will produce per kilowatt of peak DC panels installed at your home. On the PVWatts calculator you can also vary the direction of your roof and it will change the forecast electrical output of the solar panels.
If all this is a bit hard you can use the links to the solar panels calculator above and elect to request quotes from solar providers near you. Solar companies hoping to get your business will do all of these calculations for you and give you an accurate solar estimate of how much solar panels will produce on your house, how many solar panels you need, the cost they will charge you to install them and the savings and return on investment you can expect.
How much will solar save you?
The solar savings estimator  will also calculate how much solar will save you. Solar savings come in the form of avoided utility power cost over the life of a solar system. The gross solar savings is the total avoided utility power cost and the net solar savings figure is the gross avoided cost less the cost of the solar panels and any interest you pay on your solar loan
Most consumers are surprised at how large solar savings become over the life of a system. Savings that begin at only $30 per month in the first year of a project can grow to savings of $500 per month in year 25 of a solar systems life and see you make a profit of as much as $100,000 (in some states) over the life of the system. The size of your solar savings depends largely on how expensive utility electricity is in your region and what the future rate of utility price inflation proves to be.
Are solar panels worth it?
Whilst a homeowner will often have many questions about solar all of these questions are usually to help them educate themselves to answer the most important question of all, are solar panels worth it for me. Solar-Estimate has produced a series of articles that looks at this question for specific states and cities in the USA including:
Are solar panels worth it in Los Angeles
Are solar panels worth it in San Antonio
Are solar panels worth it in Florida
Are solar panels worth it in Texas
Are solar panels worth it in South Carolina
Are solar panels worth it in the Bay Area
The degree to which installing solar panels for your home is worth it depends on the payback period and the return on investment you get.
This is, in turn, a function of how much you pay for power, how much power you use and the cost of solar panels in your city
In states where power prices are most expensive, or solar rebates are best, solar panels payback can be as short 5 years and even in states where electric prices are lower payback periods are still 8 to 10 years. In an era when bank savings produce little returns solar can be a very attractive investment given the high certainty that you will continue to need to use power into the future.
Another handy article if you are in the early stage of evaluating solar panels for your home or business is the pros and cons of solar energy. This article talks about both the advantages and disadvantages of installing solar panels for your home and there is also a discussion of the advantages and disadvantages of solar loans and solar leases
Will it get to the point where it is crazy not to have solar panels on your home?
Climate change is a much more dire issue than what our public debate is currently acknowledging. Here is a graph from NASA showing that the planet has warmed .6℃
since 1980. This is not data from hippies or self interested groups it is government weather data from folks like NASA and the Japanese Meteorological Agency.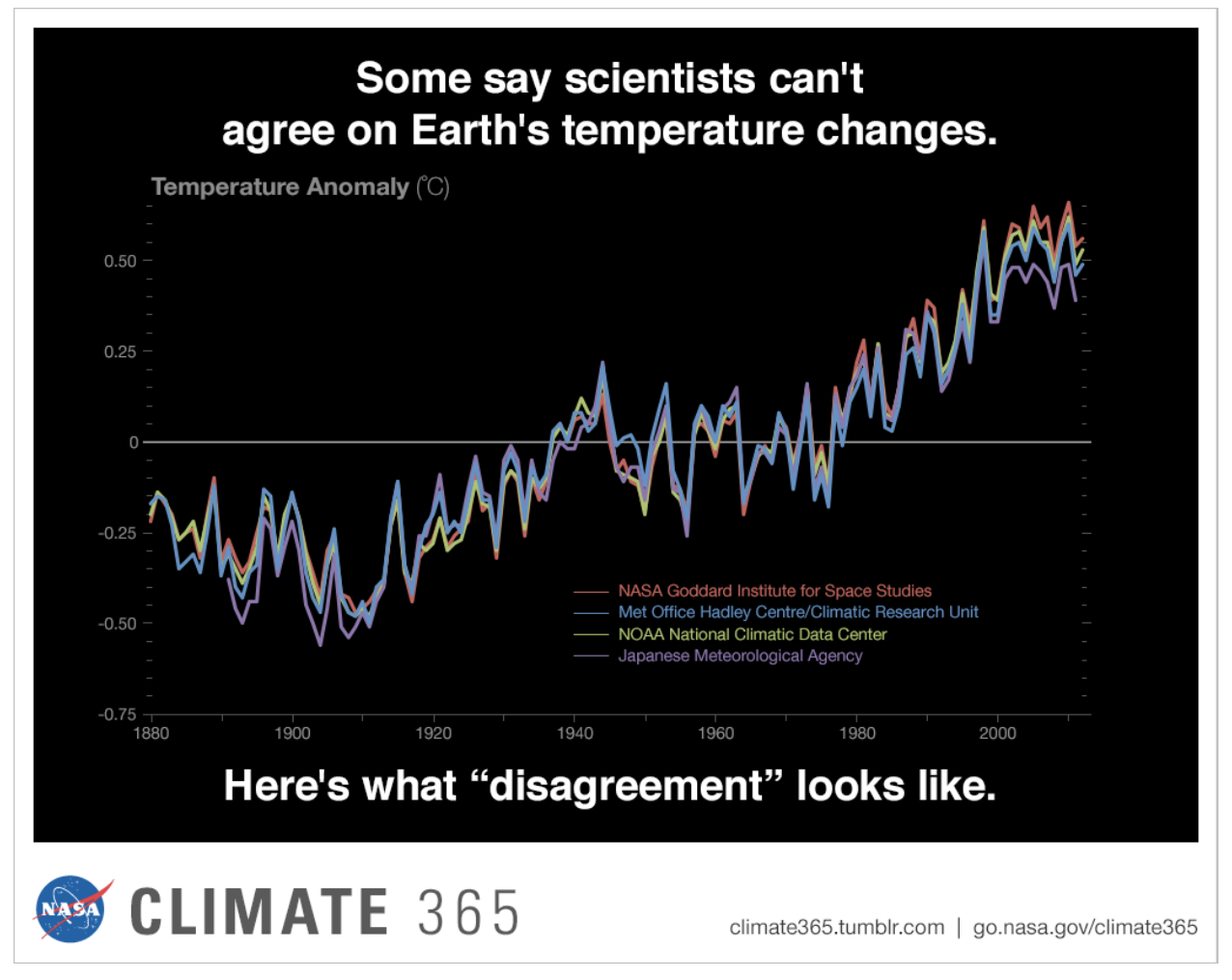 What this shows is that at some point greater action will be required on climate change than what is currently the case and this is likely to lead to higher power prices. Given 4℃ is considered a global extinction event further action on climate change and a banning of fossil fuels is coming. This will make the solar system on your roof even more valuable than it is now and increase the savings and investment return it yields.
The same graph also points to a rise of electric vehicles as transportation accounts for 28% of greenhouse gas emission in the US. The recent drop in Tesla prices with the release of the Tesla Model 3 has really shaken up the debate about electric vehicles. Over the coming years there will be a whole host of new electric vehicles on the US market with almost all of the major auto manufacturers realizing this is a growing segment of the market. The price of EV's will fall and before long you will be test driving one.
Electric vehicles use kilowatt hours of electricity, not gallons of gas, and the simple fact is that on a per kilowatt hour basis solar is already much cheaper than grid power. At a solar cost of $3.50 per watt the levelized cost of solar power (cost of system divided by total kwh's produced over the life of the system ) it is around 7 cents per kilowatt hour compared to the average price of grid power in the US which is currently around 13 cents per kwh, and as high as 20 cents per kilowatt hour in California and much of the north east.
There are two other trends that are changing the game when it comes to the attractiveness of powering your home with solar panels. The first is the introduction of the Tesla solar roof which is a giant leap forward for the solar industry in terms of trying to make solar panels more aesthetically attractive. These solar roof tiles are designed to look exactly like the non-active roof tiles and are really cool. The downside is that currently the Tesla solar roof cost is currently around triple the cost of regular Tesla solar panels. However, other companies are working on similar solar shingles and soon there will be many more aesthetically pleasing options for residential solar at more affordable prices.
The other major trend that is changing the attractiveness of solar is the cheaper availability and improved quality of solar batteries. Again this trend has been led by Tesla's release of the Powerwall 2, the latest Tesla battery.
The new version of the Powerwall has a storage capacity of 13.5 kwh's, more than double the Powerwall 1. It also now includes an integrated battery inverter and  battery charger for a price around $7,000 plus installation. The Tesla Powerwall 2 could now be a compelling solution but some are still wondering how long does the Tesla battery last? Some battery chemists are expressing doubts that Lithium-Ion batteries will last that long in real world conditions.
The warranty is for 10 years but it notable that the warranty is not form the Tesla parent company but from Tesla N.V, an overseas subsidiary. This raises some concern that perhaps the engineers at Tesla are also concerned about the Tesla home battery lasting 10 years.
Nonetheless it is a ground breaking solution and one I would be happy to buy. Even if it falls a bit short the potential of solar batteries to help in the fight against climate change is something we all should support.
All of these factors mean solar panels will become more necessary over time and this makes it important that you consider solar panels while the 30% federal solar tax credit can still pay for a significant part of your system. The solar tax credit steps down at the end of 2019. You can start by entering your details into the solar panels calculator and generating an online solar estimate tailored to your home.
Current solar panel cost in the top solar cities in America as at September 2018
California
Current solar panel cost in San Diego
Current solar panel cost in Los Angeles
Current solar panel cost in Fresno
Current solar panel cost in San Jose
Current solar panel cost in Stockton
Current solar panel cost in Corona
Current solar panel cost in Riverside
Current solar panel cost in Sacramento
Current solar panel cost in Murrieta
Current solar panel cost in Escondido
Current solar panel cost in Chula Vista
Current solar panel cost in Palmdale
Current solar panel cost in Palm Springs
Current solar panel cost in Temecula
Current solar panel cost in Long Beach
Current solar panel cost in Manteca
Current solar panel cost in Irvine
Current solar panel cost in Moreno Valley
Current solar panel cost in Bakersfield
Current solar panel cost in Oceanside
Current solar panel cost in Santa Ana
Current solar panel cost in Palm Desert
Current solar panel cost in Shingle Springs
Current solar panel cost in Lancaster
Current solar panel cost in Anaheim
Current solar panel cost in Huntington Beach
Current solar panel cost in San Marcos
Current solar panel cost in Tracy
Current solar panel cost in Santa Clarita
Current solar panel cost in Antioch
Florida
Current solar prices in Orlando
Current solar prices in Jacksonville
Current solar prices in Fort Lauderdale
Current Solar Prices in Kissimmee
Current solar prices in Saint Petersburg
Current solar panel cost in Hollywood
Current solar panel cost in Pompano Beach
Current solar panel cost in West Palm Beach
Colorado
Current solar panel cost in Denver
Current solar panel cost in Colorado Springs
Current solar panel cost in Littleton, CO
Georgia
Current Solar Prices in Atlanta, GA
Idaho
Current solar prices in Boise, Idaho
Massachusetts
Current solar prices in Boston, MA
Minnesota
Current solar prices in Minneapolis
Current solar prices in Saint Paul
Nevada
Current solar prices in Las Vegas, Nevada
New Jersey
Current solar prices in Trenton. NJ
Current solar prices in Atlantic City, NJ
New Mexico
Current solar prices in Albuquerque, NM
Current solar prices in Las Cruces. NM
Current solar prices in Santa Fe. NM
Current solar prices in Rio Rancho. NM
New York
Current solar prices in Brooklyn, NY
Current solar prices in Rochester, NY
Current solar prices in Staten Island
Current solar prices in Buffalo, NY
Current solar prices in Bronx, NY
Current solar prices in Poughkeepsie, NY
Current solar prices in Yonkers, NY
North Carolina
Current solar prices in Charlotte
Current solar prices in Raleigh
Current solar prices in Columbus, Ohio
Current solar prices in Portland, OR
South Carolina
Current solar prices in Columbia
Current solar prices in Summerville
Current solar prices in Charleston
Current solar prices in Lexington
Current solar prices in Mount Pleasant
Current solar prices in Myrtle Beach
Current solar prices in Easley
Current solar prices in Moncks Corner
Current solar prices in Simpsonville
Current solar prices in Fort Mill
Current solar prices in Greenville
Texas
Current solar panel cost in San Antonio, TX
Current solar panels cost in Austin, TX
Current solar panels cost in Houston, TX
Current solar panels cost in Fort Worth, TX
Current solar panels cost in Dallas, TX
Current solar power system cost in Round Rock, TX
Current solar panel cost in Plano, TX
Current solar system cost in Arlington, TX
Current solar panel cost in Katy, TX
Current offers on residential solar panels in Spring, TX
Utah
Current solar panel cost in Salt Lake City, UT
Current solar pricing in Ogden, UT
Current solar panel offers in West Jordan, UT
Current solar panel cost in Sandy, UT