Paonia, Colorado- On June 1, 2015, Solar Energy International (SEI) commissioned the first public electric vehicle (EV) charging station in Delta County, Colorado.
"SEI is proud to make our electric vehicle charging station free and open to the public," stated Kathy Swartz, SEI's Executive Director.  "The energy powering SEI's charging station is 100% solar powered through our state-of-the-art solar training facility."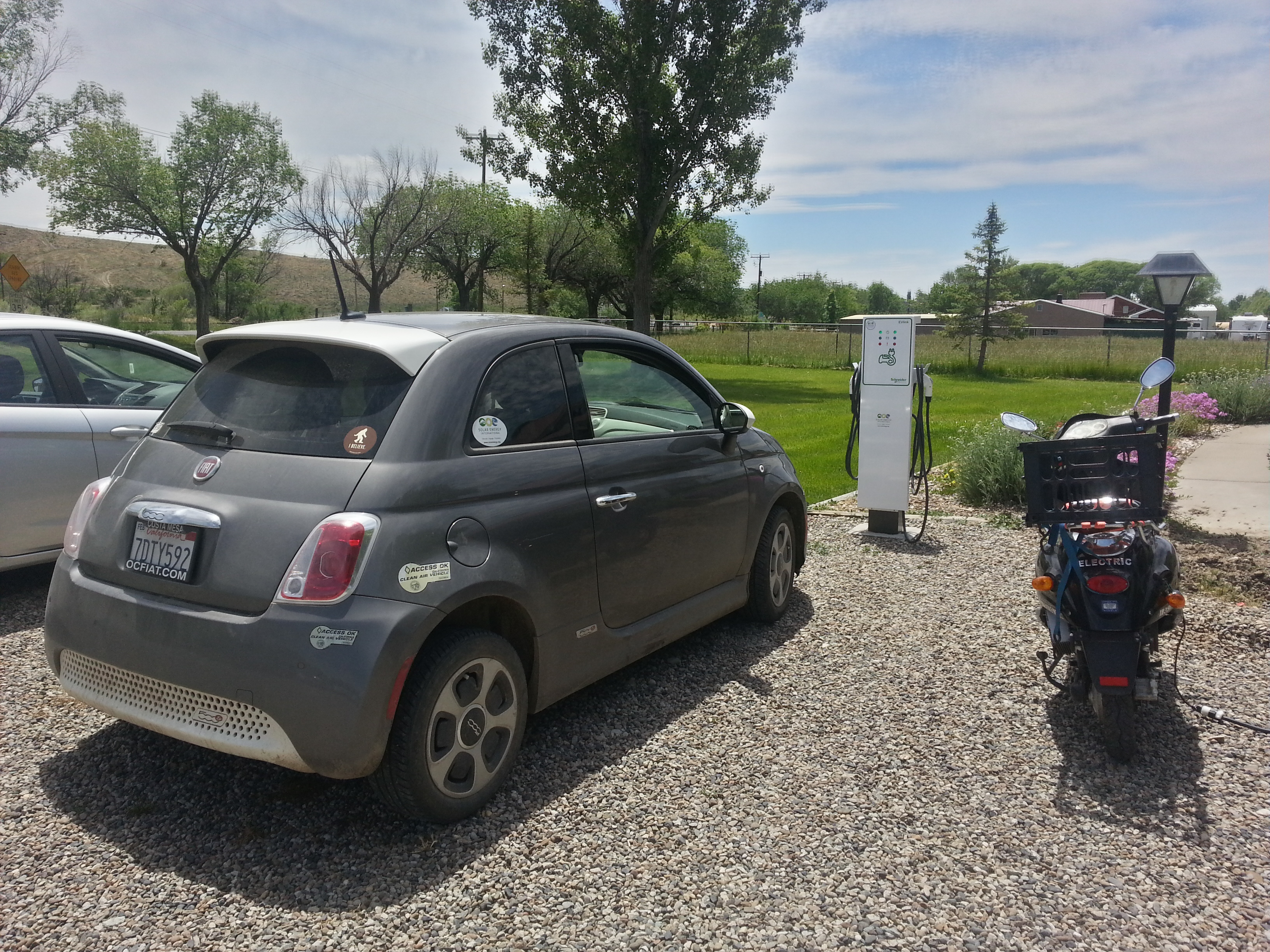 "This EV charging station literally puts Delta County on the map today as an accessible destination for clean, reliable transportation.  Historically these efforts have focused on the Front Range or much larger communities. With this charging station, we are able to provide this service to locals and visitors alike," said Pete Mueller, SEI's AmeriCorps VISTA volunteer and author of the grant.  Electric vehicle charging stations can be located on www.plugshare.com and on the smartphone app,  Alternative Fueling Station Locator, managed by the National Renewable Energy Laboratory.
SEI is located less than two miles from Hwy. 133, which is the main road from the Roaring Fork Valley to the North Fork Valley and beyond to Montrose and Grand Junction. It allows participants to drive the West Elk Loop Scenic and Historic Byway by giving drivers the ability to conveniently charge their electric vehicles. There are currently no public charging stations between Carbondale and these communities. SEI supplies bicycles for participants to use while their vehicle is charging. It's less than a mile into town so folks can go out to eat or explore downtown while they are waiting.
"An electric vehicle charging station is a valuable asset to our town and to economic development," stated Michael Drake, President of the Paonia Chamber of Commerce.  "Paonia is now accessible to electric vehicle owners visiting Paonia for our festivals, art, music, wineries and outdoor recreational opportunities."
In addition, this EV charging station serves as a teaching tool for the hundreds of participants from around the world who come to Paonia each year to learn about renewable energy.
The EV charging station was made possible by a generous grant administered by the Colorado Energy Office through Charge Ahead Colorado.  The Charge Ahead Grant provides funding for electric vehicles and electric vehicle supply equipment to bolster the presence and viability of electric vehicles throughout the state.  SEI received a generous donation of an EV Link Level II, dual capacity charging station through our friends at Schneider Electric, a global specialist in energy management.
Founded in 1991 as a non-profit educational organization, SEI provides industry-leading technical training and expertise in renewable energy to empower people, communities and businesses worldwide. For more information, please visit www.solarenergy.org or call (970)527-7657. We encourage you to stop by and charge your electric vehicle!