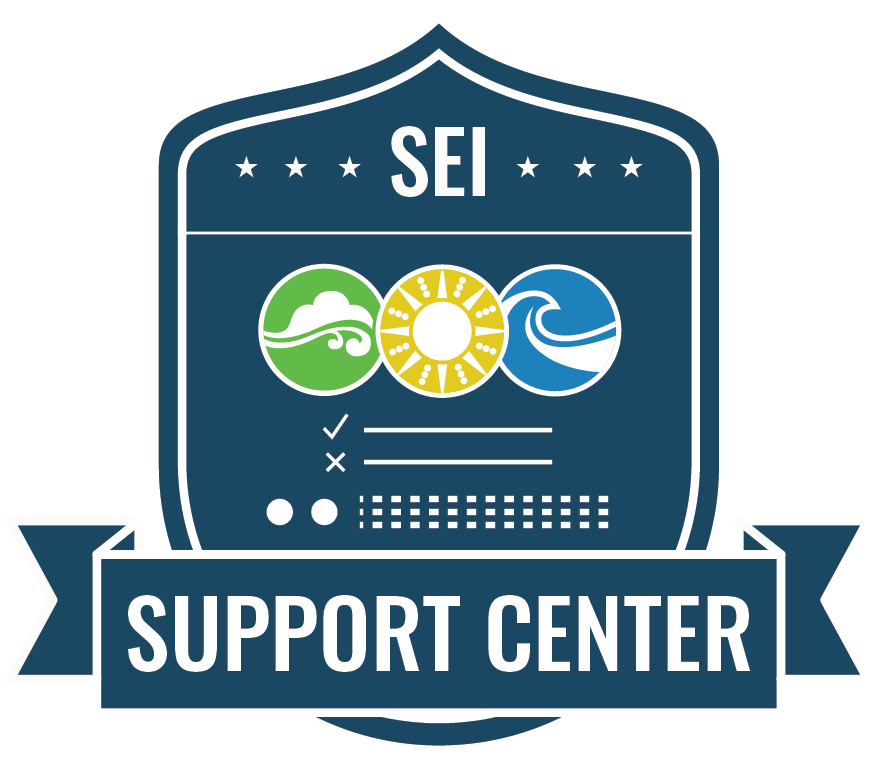 NABCEP CERTIFICATION & SOLAR CAREERS
Learn about certification and careers in solar.
The SEI Student Support Portal is your one stop online resource to find the answers to the most common questions about our training program and the overall SEI Student experience. Here you will find resources, including certification information, our training program structure, tuition and scholarship information, and other commonly asked questions. If you have questions that are not found here in the SEI Student Support Portal or would like to speak with a Student Services Counselor, don't hesitate to reach out to us via email or phone.
Request General Information
Contact a Counselor
Required fields are denoted with *
How do I get started in the solar industry?
Rather than getting too focused on the Certification process, consider starting with what you can achieve with training only, before gaining your field experience. Starting a career in the solar industry is one of the most rewarding choices in life one can make. Check out the Solar Foundation's Solar Career Map that shows many of the jobs in our industry. SEI's training program will prepare you for many of these jobs and prepare you for a career.  Also check out NABCEP's Solar Career Pathways to show the various certification pathways that SEI's training program will prepare you for. More Info…
How do I get started in the solar industry?
With just two courses at SEI you can take the NABCEP PV Associate Exam. Then, many of our students go on to enroll in a full Solar Professionals Certificate Program with SEI, which will give plenty of hours and knowledge to eventually take Certification exams and, perhaps more importantly, be highly successful in their chosen career path. So start with what you can, the PVA (PV Associate Exam) and the Solar Professionals Certificate from SEI, and then use these two credentials to get started working for an employer or start your own business, and soon enough you will have the field experience as well for the NABCEP full certification exam.
To earn an SEI Solar Professionals Certificate, you must complete the required courses, but do not need actual in the field experience. Our courses can give you more than enough advanced level training hours to meet the educational requirements for the final Certification exam(s) with NABCEP. However, it can take several years of working in the field to have enough field experience required to take the NABCEP exams. Click here for details and categories that you can apply under to take the final certification exams with them.
Because it can take quite a bit of time working in the field to gain NABCEP's full Certification, it is suggested to start out with the NABCEP PV Associate Exam and SEI's Certificate Program, so that you have something to show potential employers and customers as you get started in the industry. Full NABCEP Certification is not something that you can just take a few courses on and then an exam and be certified – it is actually more time consuming than that. We always recommend patience in understanding, and beginning, the process with NABCEP, as well as focus on what you can be doing to get started with the training, knowledge and experience that you will need to work in the industry.
What licensing and certifications do I need?
Entering the solar industry is exciting, but there is a lot of information to learn – not only about how solar PV systems operate and are installed, but also about how to legally perform the work in your local area. More Info…
What licensing and certifications do I need?
Before we get started, please remember that if you initially plan to apply for jobs and work for someone else, then it is unlikely that you will personally need a business license or certification at first. Your employer will hold the business license and will hire or subcontract the necessary licensed electricians or certified installers, or might be certified him or herself. Registering and completing training, gaining knowledge, and starting on your certification path will certainly help you get the job! As you enter into the renewable energy career field it is critical that you understand the difference between your local laws regarding licensing and professional certification, as licensing is distinct from certification. Let's explore the three main concepts of training, licensing and certification:
Training
Delivered as stand-alone courses or full Certificate Programs, training provides the technical knowledge to design, install, sell, and maintain solar PV systems. Training providers like SEI teach courses through which you can learn the technical aspects of the industry. Some classes are theory-based, while other classes give you a chance to gain hands-on experience and confidence with installation methods. At SEI, you can take one or two classes to gain specific skills or you can apply to enroll in our Solar Professionals Certificate Program (SPCP) to get a comprehensive solar education. Our program is flexible to meet your training needs.
Licensing
Licensing involves satisfying the legal requirements (applications, licenses, rules) that determine who is legally qualified to operate a business and perform solar installations and maintenance. Every location has different requirements which can vary widely from place to place. Some locales are heavily regulated, while other places have very few requirements. Sometimes all you need is a business license, sometimes you need a licensed electrician on the job, and sometimes you may be required to have a certified installer as the project manager.
States and localities often establish licensing requirements for contractors and electricians in order to protect consumers from unsafe practices and protect the reputation of the industry, as improper installation may create safety risks or result in poor equipment performance. Solar contractor licensing commenced in the 1980s alongside the introduction of incentive programs for solar water heating. State regulation and licensing of solar contractors continues to evolve as the industry grows. The contractor licensing requirements described here refer to solar-specific licensing requirements, rather than general electrical or plumbing contractor licenses. Most states require a licensed electrical or plumbing contractor for PV and solar-thermal systems, respectively.
Some states require solar installers to obtain a separate, specialized solar contractor's license. In most cases, solar is a specialty classification under the general electrical or plumbing licenses and all appropriately licensed contractors can install solar systems without the solar specialty license. However, contractors may be able to obtain a solar specialty license and install systems without having the full electrical or plumbing license. This reduces the cost of licensure for contractors who only install solar systems.
The Interstate Renewable Energy Council has this national map of solar licensing activities in the U.S.. Furthermore, certain local jurisdictions within each state may have different requirements than that listed by IREC. SEI does not provide counseling/guidance on these requirements because they differ considerably from place to place. Many requirements are decided by your state, city or local/municipal government, whichever authority has jurisdiction – AHJ for short. For the most accurate understanding of licensing requirements it is best to talk to your local AHJ or building department.
Certification
While licensing is mandatory for certain practices, certification is usually a voluntary standard that installers attain to differentiate themselves from competition and to instill confidence in consumers. Certification may entail completing coursework, installation experience for a certain period of time, and/or taking an exam, but it is typically not required by the local jurisdiction to legally install equipment.
The North American Board of Certified Energy Practitioners (NABCEP) is a nationally-recognized, independent, voluntary certification program for photovoltaic (PV) and solar-heating system installers, that can be earned to demonstrate specific skills or knowledge. To become NABCEP-certified in the past, installers must have had a certain amount of documented field experience. Please visit the NABCEP Certification Handbook for specific qualifications. Installers must also pass a rigorous exam, sign a code of ethics, and take continuing education courses for re-certification every three years. SEI recognizes NABCEP as the leading certifying authority in the solar industry. The requirements to qualify for NABCEP's exams varies depending on which credential you're working towards, but our Student Counselors can walk you through the options and the basic requirements. You can also learn more on their website.
NABCEP is sometimes recognized in countries outside of North America as well. NABCEP offers different levels of credentials and certifications, ranging from those appropriate for entry-level installers up to advanced professionals.
Even though NABCEP certification is voluntary and may not necessarily be required by your AHJ (Authority Having Jurisdiction) to operate the business, the local utility or grant program(s) that offer rebates and financial incentives to your customers may require it. You will want to research your state and local rebate programs, if any, by clicking here.
Regardless of whether NABCEP certification is required to operate in your state/locality or to qualify for financial incentives, we still encourage students to work towards it. Earning your NABCEP certification is a way to distinguish yourself in the competitive solar market. It demonstrates to potential employers and customers your knowledge, experience, and qualifications.
What's the difference between Licensing and Certification?
Certification and licensing have different advantages and disadvantages. From a financial point of view, voluntary national certification is preferable to mandatory state licensing because it results in a lower cost of installation and provides greater consumer choice than mandatory licensing. In states that do not require solar contractor licensing, certification can provide a baseline level of quality. State licensing may be restrictive, as state licenses do not typically transfer, so geographic mobility is limited. However, state licensing can protect consumers from potential safety hazards and will help ensure that systems are installed properly. While both licensing and certification have drawbacks, requiring solar contractors to be licensed or certified is preferable to no quality control of system installation and will result in baseline standards being met, which will in turn lead to higher consumer satisfaction.
What is NABCEP Certification?
NABCEP offers different levels of credentials, ranging from those appropriate for entry-level installers up to advanced professionals. The most well-known credentials with NABCEP are the PV Associate Exam and the full Certification Exams.More Info…
What is NABCEP Certification?
NABCEP Certifications
You can get fully Certified as either an installation professional or a technical salesperson. For the minimum knowledge required for the NABCEP Installation Professional Certification Exam, we recommend the information from our PV101, PV203, PV202 and PV350 (optional) training, either online or in person. Please note that the 'OL" in the SEI course code indicates "online". For the Technical Sales FULL Certification Exam with NABCEP we recommend taking our PV101, PV203, PV202 and PV206 training. While SEI's training will give you the knowledge you need, and more than enough of the required training hours for the full Certification exam, you will still need field experience which means documentation of on the job installs or designs. A training course cannot give you this experience. To see exactly what field experience is required for each certification, click here and then click on the Certification field you are interested in. The NABCEP Candidate Eligibility Handbook is helpful in understanding the Certification process as well.
NABCEP PV Associate Credential
The PV Associate Program is intended for people who are currently working in or who are seeking employment in the solar industry. This credential is great for students in solar/renewable energy programs and individuals who are at an early stage in their solar careers. To qualify for the PV Associate Exam, SEI requires you to complete two courses, PV101 and PV203. These courses can be done online or in person. We do have a package deal called the NABCEP PV Associate Exam Prep Package which includes these two courses and the PV Associate Exam fee (computer based testing) for $1,495.
NABCEP Specialist Certifications
In January 2018, NABCEP began offering a new level of credentials called the Specialist Certification. Specialist Certification is available for three areas of focus: PV Design, PV Installation, and Commissioning and Maintenance. These Specialist Certifications are a great option for individuals who have experience in the industry, but whose jobs focus on a specific aspect of solar PV – design, installation, or commissioning/maintenance. Qualification requirements to sit for a Specialist Certification exam vary, so we encourage you to reach out to a Student Counselor at SEI ([email protected] or 970-527-7657 option 1) or to review NABCEP's website.
What is SEI's Solar Professional Certificate Program?
For students who want a comprehensive program of study, the Solar Professionals Certificate Program (SPCP for short) is an ideal option. More Info…
What is SEI's Solar Professional Certificate Program?
The SPCP offers different areas of focus that we refer to as certificate paths. These paths range from Residential and Commercial PV Systems, Solar Business and Technical Sales, and more. Each certificate path requires 5 or more courses, consisting of a combination of online and hands-on training. Many students choose to complete more than one certificate path, usually by adding on one or two additional courses. Completing our certificate program is like earning a diploma from our school.
For some training sessions, you can choose between online learning and in-person. You can choose to do most of your training online, but every certificate path requires at least one hands-on lab course, which can only be completed at one of our lab facilities in Colorado, Costa Rica or Oman.
The most popular Certificate Path is our Residential and Commercial Systems Certificate, with pricing starting at $4075 for five courses. Please note that the Certificate program pricing varies as it will be less expensive the more training that you opt to do online, and you will also get discounted pricing if you pay all the cost upfront as opposed to paying for one course at a time at full price. Click here to view all SPCP certificate paths.
You can apply for Solar Professionals Certificate Program here. The application process is to make sure that you are committed and qualified for the training program.
How do I get CE credits towards recertification?
For those seeking Continuing Education hours as they apply for NABCEP ReCertification, we have several CE webinar training packages that will provide the Continuing Education hours that you need at a discounted package price.  The training consists of pre-recorded webinar presentations.  At the end of each webinar you can print out the Record of Completion showing the NABCEP CE hours to present to NABCEP.
What is the registration process for NABCEP exams?
For the PV Associate Exam, you may only register through your training provider (SEI if you take training with us), after successfully completing the two required courses. For the full Certification Exams with NABCEP you must satisfy the training requirements and field experience requirements, and then you can apply to take the exam directly through NABCEP. More Info…
What is the registration process for the NABCEP exams?
PV Associate Exam
You may only register through your training provider (SEI if you take training with us), after successfully completing the two required courses. Most students opt to take this exam at a Computer Based Testing center, usually located at a community college computer room near you. Computer Based Testing of the PVA costs $150 and is offered any time of year. Once you complete the required courses with SEI, you can request us to send you an Eligibility Form. Once you submit this form and payment to SEI and SEI sends it into NABCEP, it takes up to 10 days for the testing company Scantron to contact you to set up a convenient time and place for the exam. After submitting the form you have up to 6 months to schedule your exam, after that you'll need to pay the fee again and resubmit the eligibility form. If you need to reschedule you must let Scantron know at least 7 days in advance. You can also take the PV Associate Exam in person (Paper and Pencil option) at the end of a battery lab week at SEI in Paonia, CO, for $180, but if you are not already planning on a PV301L Battery Lab, it will be more efficient to take it via computer testing at a location near you. You can register with SEI on the website or by phone.
Full Certification Exams
With NABCEP you must satisfy the training requirements and field experience requirements, and then you can apply to take the exam directly through NABCEP. The Full Certification exam with NABCEP is only offered twice a year in specified locations. You must fill out an application to take this exam, and the application is due about 3 months prior to the exam date itself.
When and where can I take NABCEP exams?
NABCEP exams can be taken throughout the year and applicants can choose from several exam formats. The NABCEP Associate Credential exams are available via, Paper and Pencil (P&P), Computer-Based Testing (CBT), and Live Online Proctoring (LOP). NABCEP Board Certification exams are available in Computer-Based Testing (CBT) format (with the exception of PV System Inspector and Solar Heating system Inspector), and all Board Certification exams, are offered as Live Online Proctored (LOP) exams.  Please visit NABCEP's website for more information about the various exam formats and scheduling.